News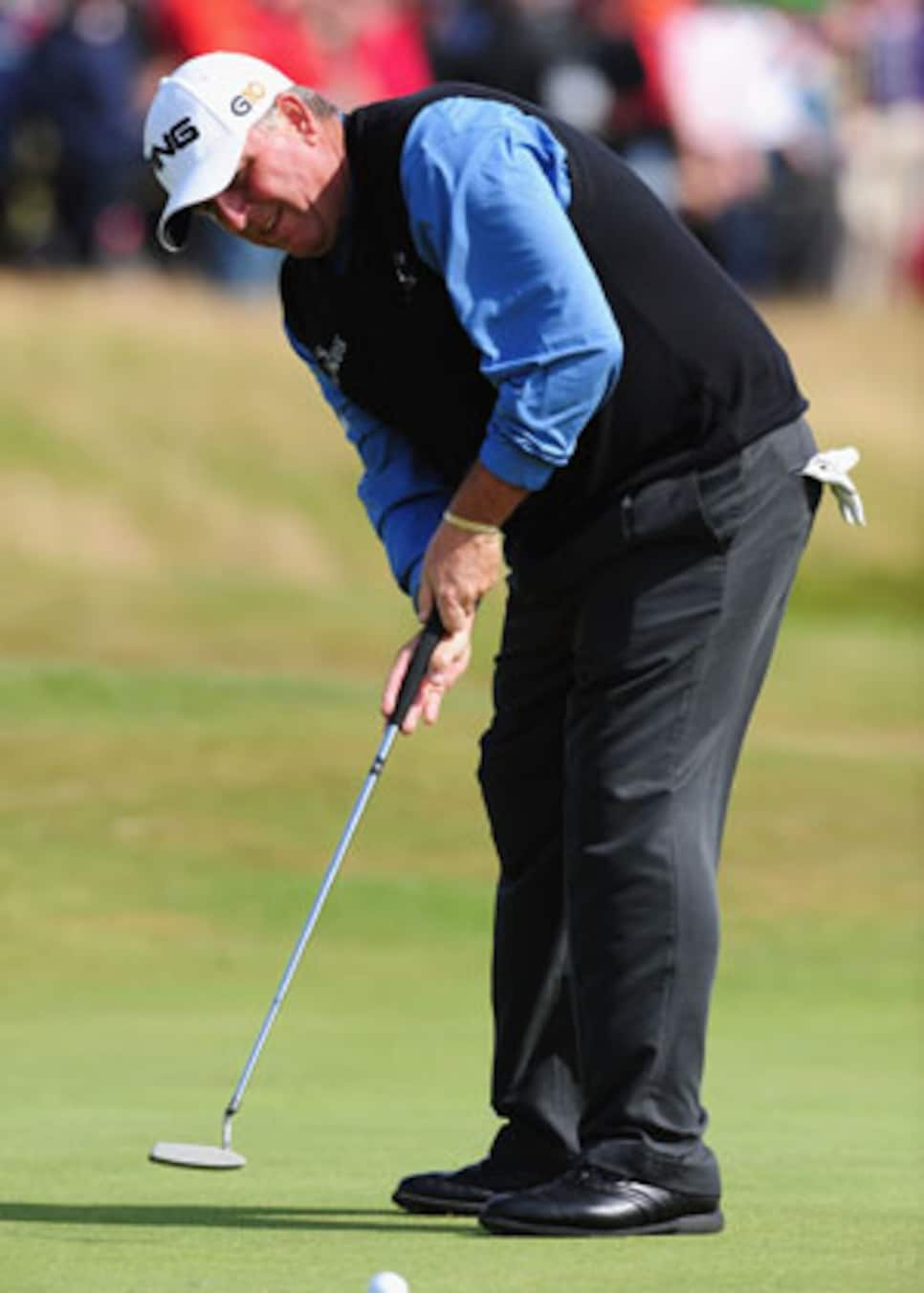 Mark Calcavecchia carried two putters in his bag during the Verizon Heritage.
When it comes to putters, Mark Calcavecchia has tried just about everything: dragging a misbehaving model from a moving car to punish it; shelling out $256 of his own money to buy one in an Edwin Watts golf shop; or, as he did at the Verizon Heritage, having two in the bag during competition.
It's true. At Harbour Town GL, Calc had a Ping G2i Craz-e H and Ping JAS Anser at his disposal. Even with (or possibly because of) the options, his putting was not good at Hilton Head. He averaged more than two putts (2.045) per GIR in the two rounds he played before missing the cut.
Although not typical, the use of two putters in a PGA Tour event is not unique. In fact, Calcavecchia tried it once before, at the 2008 Mercedes-Benz Championship, where he employed a conventional-length/belly combo during the opening round. As at Harbour Town, the experiment did not pay off.
"I carried two putters, using my shorter putter for the 30-, 40-, 50-footers," said Calcavecchia. "I wasn't very good with it, either. I needed my 5-wood [the club he took out to accommodate the extra putter] twice, so I just said, I'll figure it out with the belly putter and put my 5-wood back in."
Niclas Fasth was another who tried a dual-putter program with less-than-satisfactory results. Fasth ranked 180th in putting average at the time of the 2004 Chrysler Championship when he took out his 4-iron and added a Bettinardi by Ben Hogan mallet to go with a Callaway prototype blade putter. As did Calcavecchia at Harbour Town, Fasth missed the cut and did not putt well, averaging 1.813 putts per GIR for the two rounds.
In 2002 Jesper Parnevik also gave the two-putter approach a try, albeit with some curious timing -- at the Masters. After a third-round 77 knocked him from contention, the Swede added a Callaway Tour Blue blade that he felt worked well on short putts. Parnevik, however, missed a five-footer on the first hole with the club and the experiment was over as soon as it started. He used the T.P. Mills putter he had been using all week for the remainder of the round, including the comebacker.
One player who has made a two-putter play pay off is Sergio Garcia. During the 2008 WGC-Accenture Match Play, Garcia put a belly-length TaylorMade Rossa Monza Spider mallet in the bag (along with a conventional-length Rossa Monaco blade). The belly putter remained idle during his first-round match against John Senden for the first 14 holes, but after bogeying the 14th to lose the hole, Garcia used the belly version on the next two holes to close out Senden.
Garcia's rationale for having -- and using -- two putters was simple. "I went with [the shorter putter] for pretty much the whole round," he said. "But then I started feeling not quite as comfortable … so I decided to go with the safe route the last couple of holes."
When asked if he would ever do what Garcia did, Colin Montgomerie said, "Well, it's half the shots. We're allowed 36 shots, we're allowed 36 putts; that's why it adds up to 72. Why have 13 [clubs] for the 36 of them and only one for the other 36? Carry more than two if you want."
Paul Casey also was intrigued by the concept after hearing Garcia tried it. "I'll give him credit for thinking about it," he said at the time. "If he wasn't confident with that putter, then what a play to take two putters out. Some would say he kind of talked himself into it, but you've got 14 clubs, you might as well take what you want."
Even if it's two putters.
How much is Harbour Town GL a shotmaker's paradise versus a bomber's delight? Consider bomb 'n gouger J.B. Holmes didn't even carry a driver at the Verizon Heritage during the first round, opting instead to have a 13-degree Cobra Speed Pro 3-wood be the longest club in his bag. For the week Holmes still managed to average 291.8 yards off the tee despite averaging just 284 yards in the opening round.
In spite of a T-4 finish at the Masters, K.J. Choi used a new driver at the Verizon Heritage. Choi switched to TaylorMade's Burner SuperFast driver after playing a practice round with Charlie Wi (who uses that club). Choi spent time on Wednesday of the Heritage being fit for the club and liked the more penetrating ball flight it produced...After a recent change to Cleveland's CG Tour irons, Brian Davis noticed his shots were spinning less due to the CG Tour's higher center of gravity from his previous irons. To make his ball more compatible with his iron specs, Davis changed to Srixon's Z-Star ball, which spins slightly more than the Z-Star X he had been using. The move paid off as Davis finished runner-up at Harbour Town...Brian Gay put his Mizuno MX 900 4-iron and Mizuno MP 32 9-iron and pitching wedge back in the bag, giving him the same set makeup he used to win the Verizon Heritage last year. The rest of Gay's irons were Mizuno's MP 60 model.