News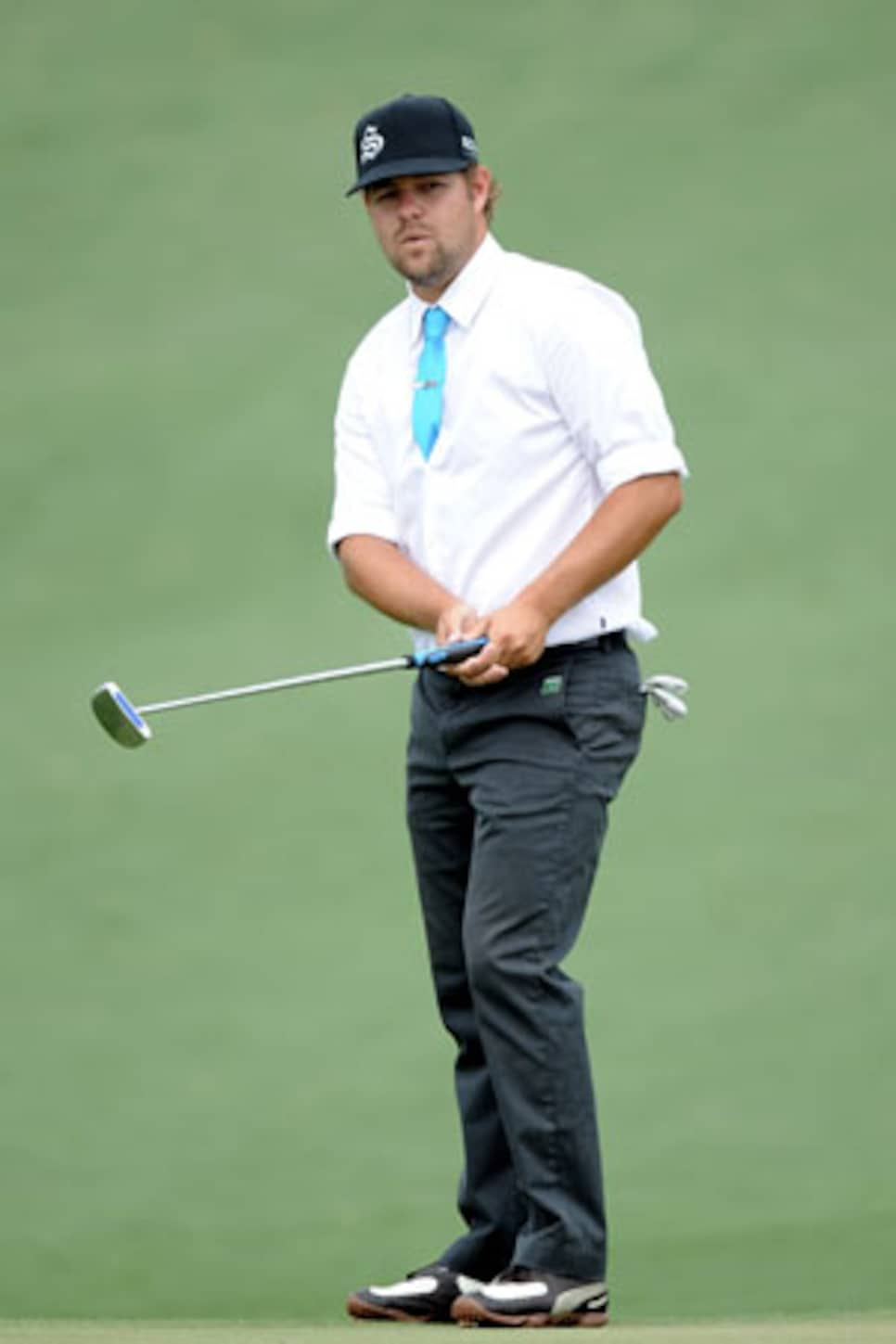 Ryan Moore used a Tiger Shark Great White GW-8 putter at the Masters.
After working with his instructor last week, Ryan Moore found that his hands were too far in front of the ball. To combat the problem, Moore wanted a non-offset, center-shafted putter to get the feeling of his hands in the right place. The day he was leaving for Augusta, Moore went to a golf store in Arizona to look for a putter because there was no time to prepare a custom model.
Moore found a Tiger Shark Great White GW-8 for which he paid $59. Although Moore eventually finished T-14, just putting the club in play gave the folks at Tiger Shark reason to dream.
Being at the Masters almost always conjures up memories of Jack Nicklaus' memorable run in 1986. Equipment aficionados, however, also equate Nicklaus' sixth green jacket with the oversize MacGregor Response ZT putter he used during his charge to victory. Such visibility is the reason some small putter companies stay in business, hoping to be in the hands of the right player at the right time.
"Having a player win a major with a particular putter can bring great fortunes to a company, but several factors must be in place [for them] to capitalize on it," said Clay Long, the man who designed the Response putter. "First, the putter must be visually identifiable on TV. It has to have features that can be seen and distinguish it from any other."
Long cites wins by Bernhard Langer and José Maria Olazábal using Scotty Cameron putters to win majors before Cameron was a cottage industry as examples of opportunities lost. "The putters were subtly marked," said Long. "I think even Scotty would admit red dots back in those days would have served him well."
Puttermaker Bobby Grace agrees with that thinking but said the company must be ready to capitalize before its 15 minutes of fame evaporates. "We did that with the Fat Lady Swings [that Nick Price used to win the PGA in 1994]," said Grace. "Within 30 days we were shipping 600 putters a day. The opposite example is Dandy, a company blessed to win the Masters with Vijay Singh. It was very odd and very noticeable. Many orders came in, but they couldn't deliver any. Opportunity has to meet preparedness."
Part of that preparedness is distribution. "You need some accounts that are carrying your putters so people can try them," said Long. "You need to have your product where people can see it."
Despite the hurdles, such success stories allow small companies the luxury of thinking they have a puncher's chance in the world of equipment heavyweights. Rich Beem won the 2002 PGA Championship with an STX model, and Payne Stewart (1999 U.S. Open) and Zach Johnson (2007 Masters) each won using a SeeMore putter, with some 50,000 orders coming in the six weeks after Stewart's win. Or Yes! Golf which enjoyed a major moment that put the company on the equipment map when Retief Goosen used a C-Groove putter at Southern Hills while winning the 2001 U.S. Open.
Still, like a person who enjoys a few cocktails, the buzz lasts only so long. That is why Stephen Boccieri, president of Boccieri Golf, which makes the Heavy Putter series, believes a major win would be nice but not necessarily the spark that would send his company's sales into the stratosphere.
"It's not enough to make a difference in the overall success of a company," Boccieri said. "Yes! and SeeMore got a spike in immediate sales but fell off as soon as the next major came along. A lot has to do with the small company being able to advertise the fact that they won. It's all about how many people you can reach. But often you don't have rights to the name and likeness"
That might be true. But a major win allows these companies to say that for one week they were the hottest putter in golf. That's a major accomplishment in itself.
TaylorMade debuted its latest driver at the Masters -- the R9 SuperDeep, a club with a face noticeably taller than its R9 SuperTri brother, but not as wide. The club, which Sergio Garcia put in play at Augusta National, features two adjustable weight ports and the company's FCT adjustable hosel.
Tiger Woods had a new driver at the Masters. Woods used a 420cc version of Nike's VR Tour driver at the Masters -- a 9.5-degree club equipped with a 75-gram Graphite Design Tour AD DI-7X shaft (Woods had previously used an 83-gram shaft). Woods switched after hitting a few shots with Charles Howell III's driver (which had the same Graphite Design shaft) at Isleworth in March. … A decade after winning the Masters, Vijay Singh had patrons looking twice as he teed it up at Augusta National using Srixon's Z-Star X Tour Yellow golf ball. Singh wasn't the only player in the field using the colored sphere. Tim Clark played it as well...Four players had wedges with lofts of more than 60 degrees at the Masters -- Mickelson, Kenny Perry, Oliver Wilson and Tiger Woods, who added a Nike VR 62-degree...Although most tour players use steel iron shafts that weigh in excess of 120 grams, Matt Kuchar might be playing the lightest iron shafts of anyone on tour -- Aerotech's Steel Fiber model that weighs a mere 95 grams.