News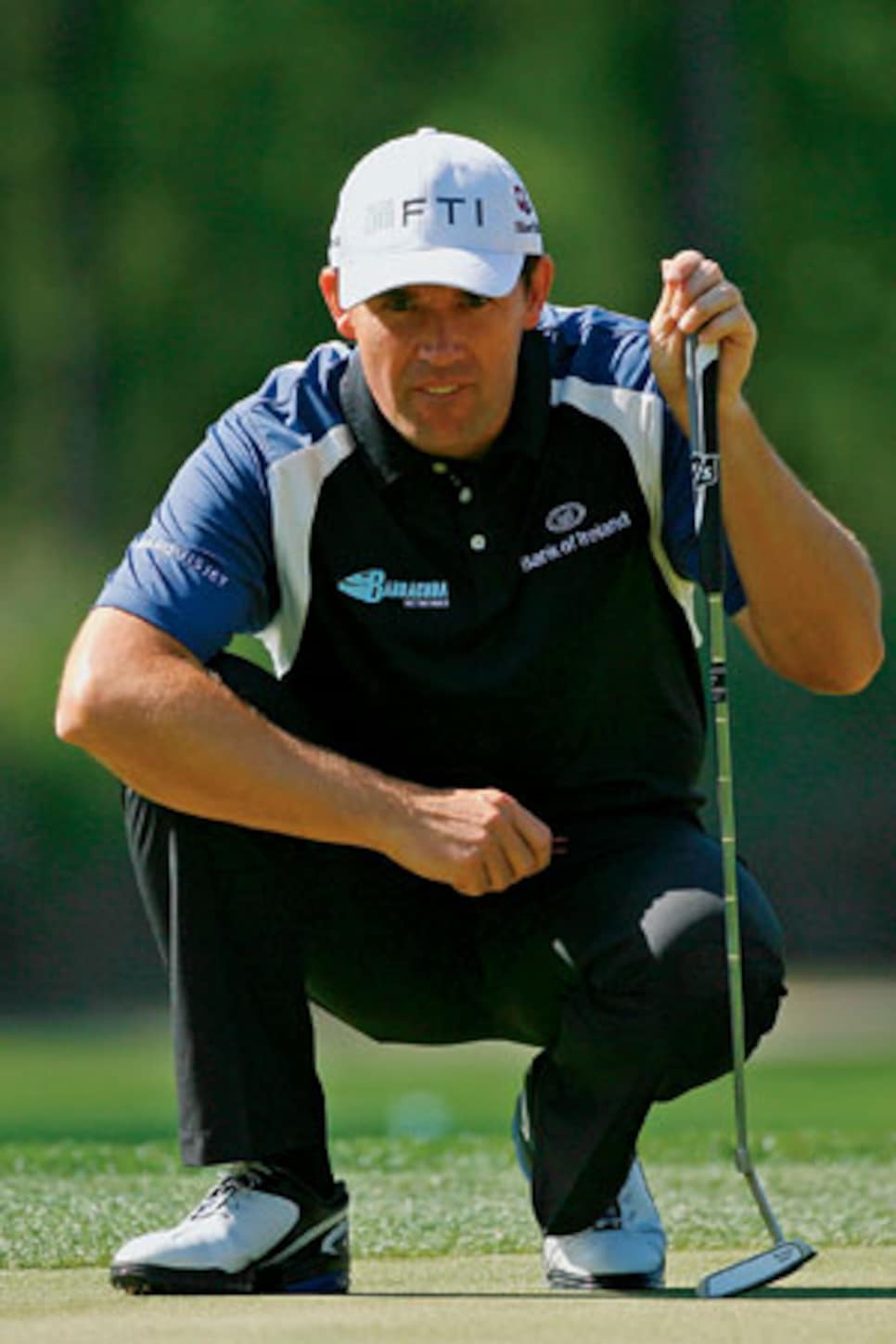 Padraig Harrington went back to the Odyssey White Hot 2-Ball blade he used to win his three major championships.
The game of golf has no shortage of conventional wisdom that, on balance, is pretty good advice. It is, for example, hard to argue with "never up, never in" or "don't miss on the short side." But when it comes to equipment, don't be too quick to accept all that you hear. Some seeming truisms are actually folk tales from the fairways. For example...
The best place to hit a driver is in the middle of the clubface.
Ask most golfers to point to the "hot spot" on their drivers, and they'll tap dead center of the clubface. Not a bad guess -- but not a correct one either.
As Nate Radcliffe, metalwoods development manager for Cleveland Golf, points out: "In most cases, the best combination of ballspeed and launch conditions will occur at the sweet spot or up to 5mm above the sweet spot. This is why on drivers of years past, coaches and manufacturers advised players to hit the ball high on the face."
Stronger lofts always result in greater distance.
Think that 7-degree driver is going to help you carry that bunker on the third hole? Odds are it won't even get you to it, let alone over it. Less loft/more distance is one of golf's biggest misconceptions. Stronger lofts result in more distance only if you generate enough clubhead speed to strike the ball with a high enough launch angle and with enough spin to keep it airborne. The fact is most golfers would greatly benefit by more loft, not less.
According to Tom Wishon, founder of Tom Wishon Golf Technology, although a stronger loft will almost always result in greater ballspeed, depending upon the player, it may also result in a launch condition with too low a trajectory to maximize distance. This is why you will often see a weaker player hit a 5-iron a greater distance than a 3-iron, or a 3-wood longer than a poorly fit driver.
Cast golf clubs are more forgiving than forged golf clubs.
It is the design of the head that makes the club forgiving not the forming method. Cast clubs have been, for the most part, designed as cavity-backs and thus have more weight distributed toward the perimeter. This "design" makes them more forgiving than, say, a muscleback design, but it has nothing to do with being cast or forged.
Increased ball speed will always result in greater distance.
According to Radcliffe, although increased ball speed will most likely lead to greater distance, it is possible to make the ball go faster yet have it travel less.
Radcliffe cites an example of a ball launched at 150 miles per hour with a nearly optimal launch condition of 16 degrees and 2,200 rpms of spin. Such a shot, he said, would produce a carry of 255 yards and a total distance of 278 yards. Yet a ball launched at 10 mph faster with inefficient launch conditions of 8 degrees and 2,800 rpms of spin would not yield any increase in carry or total distance.
The shaft is a club's "engine."
"The golfer is the 'engine' of the golf club because the golfer is the chief source of power for every shot," said Wishon. "The shaft is better described as the 'transmission' because it is one of the elements that can transfer the golfer's power to the ball."
Adds Radcliffe, "At the point of contact [which only lasts several hundred microseconds], the shaft becomes extremely insignificant and the mass and flex properties of the head take over."
After several weeks using Odyssey's Backstryke putter (which has an unusual hosel bend -- the shaft is inserted into the back portion of the putter instead of the front), Padraig Harrington was back with the Odyssey White Hot 2-Ball blade he used to win his three major championships at the Shell Houston Open.
A pair of players near the top of the leader board in Houston made putter changes that worked. Runner-up Vaughn Taylor went back to a SeeMore FGP that he had enjoyed success with in the past and putted well enough to rank 19th for the week in putts per GIR, and Kevin Stadler added a long STX putter and finished T-6, ranking 21st in the same stat...After missing five of his last six cuts on the PGA Tour, Graham DeLaet found that splitting his iron set led to solid results at Redstone GC. DeLaet used Titleist's CB irons for his 4- and 5-iron and the company's muscleback MB model in the rest of his set in finishing T-3...In preparation for the Masters, several players have replaced long irons with hybrids -- but Justin Rose isn't among them (and not just because he's not playing in Augusta). Instead, the Englishman who prefers long irons to hybrids had TaylorMade change the center of gravity in his R9 TP 3- and 4-irons, moving it lower to launch the ball higher. The goal? Softer-landing shots on the firm greens in Houston.