News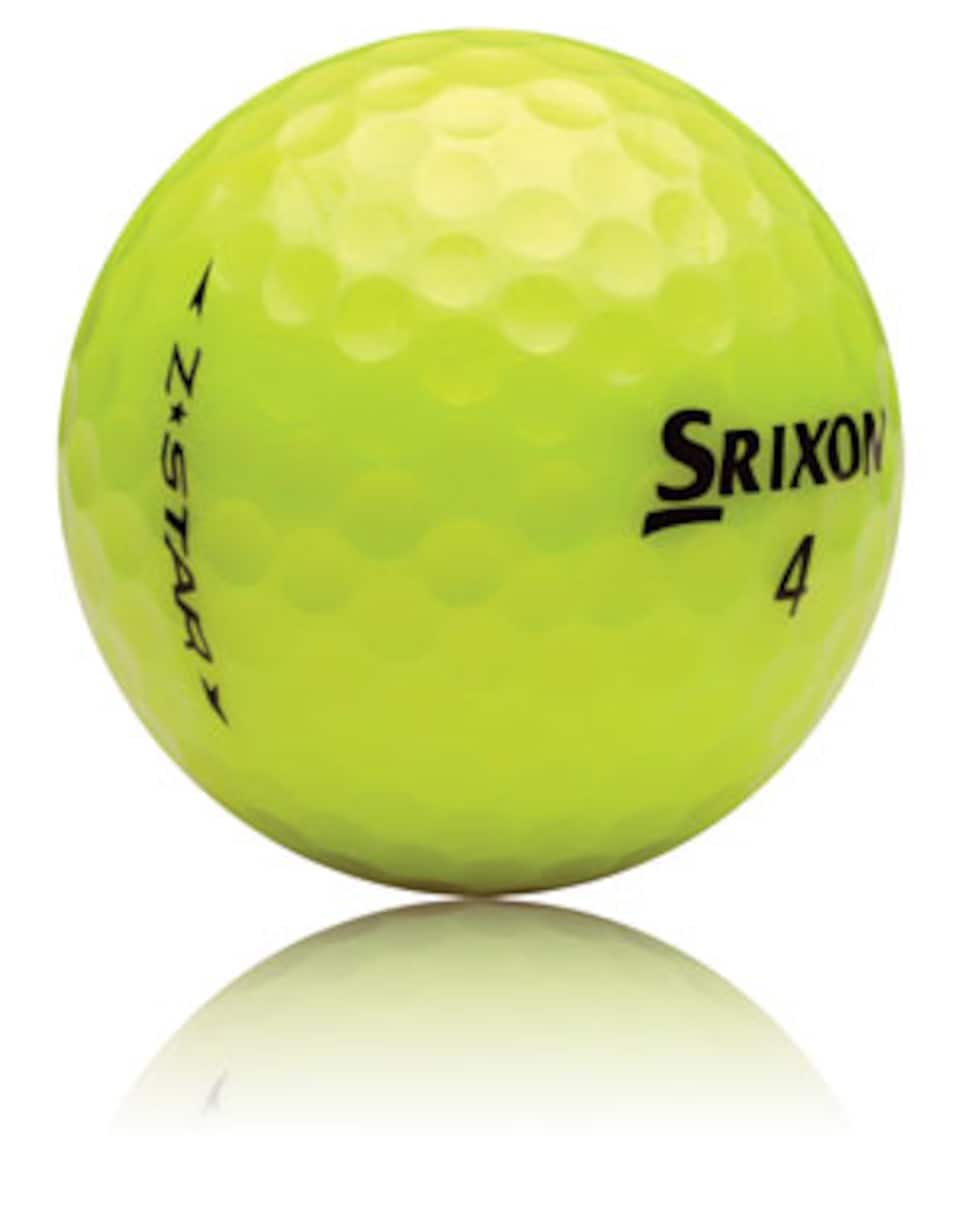 Other than its color, this ball features the same technology (including the extremely thin urethane cover) as Srixon's Z-Star ball.
Like it or not, it appears the colored golf ball may be making a comeback.
Srixon recently unveiled its TourYellow Z-Star golf balls. The model's not a novelty; the Z-Star is the company's flagship premium ball. So what gives? Why make a tour-level ball in a color normally reserved for range balls?
For starters, the ball isn't actually yellow, but rather a green/yellow combination. According to Chris Beck, brand manager for Srixon, studies have shown yellow to be the most visible color in the spectrum. Additionally, studies have correlated that green/yellow colors have a calming, stress-relieving effect.
For those who think that is hogwash, Beck is quick to point out the reason talk shows have a "Green Room," that is actually green, is to give guests a place to relax before appearing on live television.
Visibility, however, was the driving force. According to Beck, Srixon conducted several tests showing the yellow ball was easier to spot. "It was twice as easy to see at 210 yards and three times as easy to spot at 250 yards as a white golf ball," he said.
The concept of easier-to-spot golf balls dates to the 1890s when Rudyard Kipling (author of The Jungle Book, among others) painted golf balls with red paint to make them easier to see while he enjoyed one of his favorite pastimes -- snow golf. Kipling's experiment was adequate for his purposes, but the first attempt to market a colored ball to consumers (Wilson's Hol-Hi ball, offered in both "Canary Yellow" and "Oriole Orange" in the late 1920s) met with little success, although it may have had little to do with the hue. The balls sold for a whopping (at the time) $10.75 per dozen. That translates to approximately $136 in today's dollars.
Fifty years later Ping began producing golf balls, including its Ping Punch ball (now considered a collector's item), which had hemispheres of different colors. That effort failed, but the use of colored balls exploded when Wayne Levi (at the 1982 Hawaiian Open) and Jerry Pate (1982 Players Championship) won using orange Wilson ProStaff balls. Pate also made noise earlier in the year when he used an orange ball to card the first ace ever by a professional during the Bing Crosby National Pro-Am on Cypress Point's famed 16th hole.
In 2005 Nike brought out its limited-edition Nike One Black-On-Black with a well-timed publicity stunt. John Cook used the ball during the Sony Open in Hawaii, and the company had four of its tour players -- Stewart Cink, Justin Leonard, K.J. Choi and Rory Sabbatini -- tee off with the black ball at TPC Scottsdale's par-3 16th. Cink even made birdie with the ball, dropping a 30-footer during the opening round.
"It's a good thing I found the putting surface with the tee shot," said Cink at the time. "[The black ball] is hard to see it if you don't hit the green."
A bit later in 2005, Paula Creamer put a pink Precept ball in play during the final round of the Kraft Nabisco Championship and, in ensuing years, has gone on to use a pink Precept in the final round of most tournaments.
Is tour use in the future for the Srixon Tour Yellow Z-Star? Too early to tell, but Jim Furyk was intrigued enough to take a few dozen with him to try out. Tim Clark is a candidate, too. If either puts it in play, Srixon would receive some high visibility of a different kind.
Much has been made the first few weeks of the season about players using pre-1990 Ping Eye 2 wedges with aggressive grooves. What hadn't happened was a player using an entire set of Eye 2 irons -- until now. At the AT&T Pebble Beach National Pro-Am, Ted Purdy, a long-time Ping staff player, took the plunge, using a 3-PW set along with a pair of Eye 2 wedges. Purdy finished T-64 at the AT&T, ranking T-53 in greens in regulation.
Odyssey's new Backstryke putter recently garnered attention on the European Tour, but at the AT&T Pebble Beach National Pro-Am, Padraig Harrington became the first player to use the club (which features a shaft inserted in the back of the club to promote a hands-forward position) in a PGA Tour event. Using a 2-Ball model, the Irishman finished T-16, ranking T-36 in putts per round. "I don't want to know anything about it," Harrington told a Callaway rep about the unusual-looking flat stick. "All I know is that the ball goes right where I am aiming." Is this an equipment oxymoron? Although the rules call for PGA Tour players to use less-effective grooves this season, Phil Mickelson used a 64-degree version of Callaway's Jaws wedge. The club's main selling point is its ultra-aggressive grooves, although Lefty had to play with conforming modified grooves. TaylorMade's r9 SuperTri driver has been grabbing attention and lots of play, but it was the company's other new driver, the Burner Superfast, that Retief Goosen used at Pebble Beach.