News
Favoring Function Over Form, Flood Offers An 'Odd' Fix For Slicers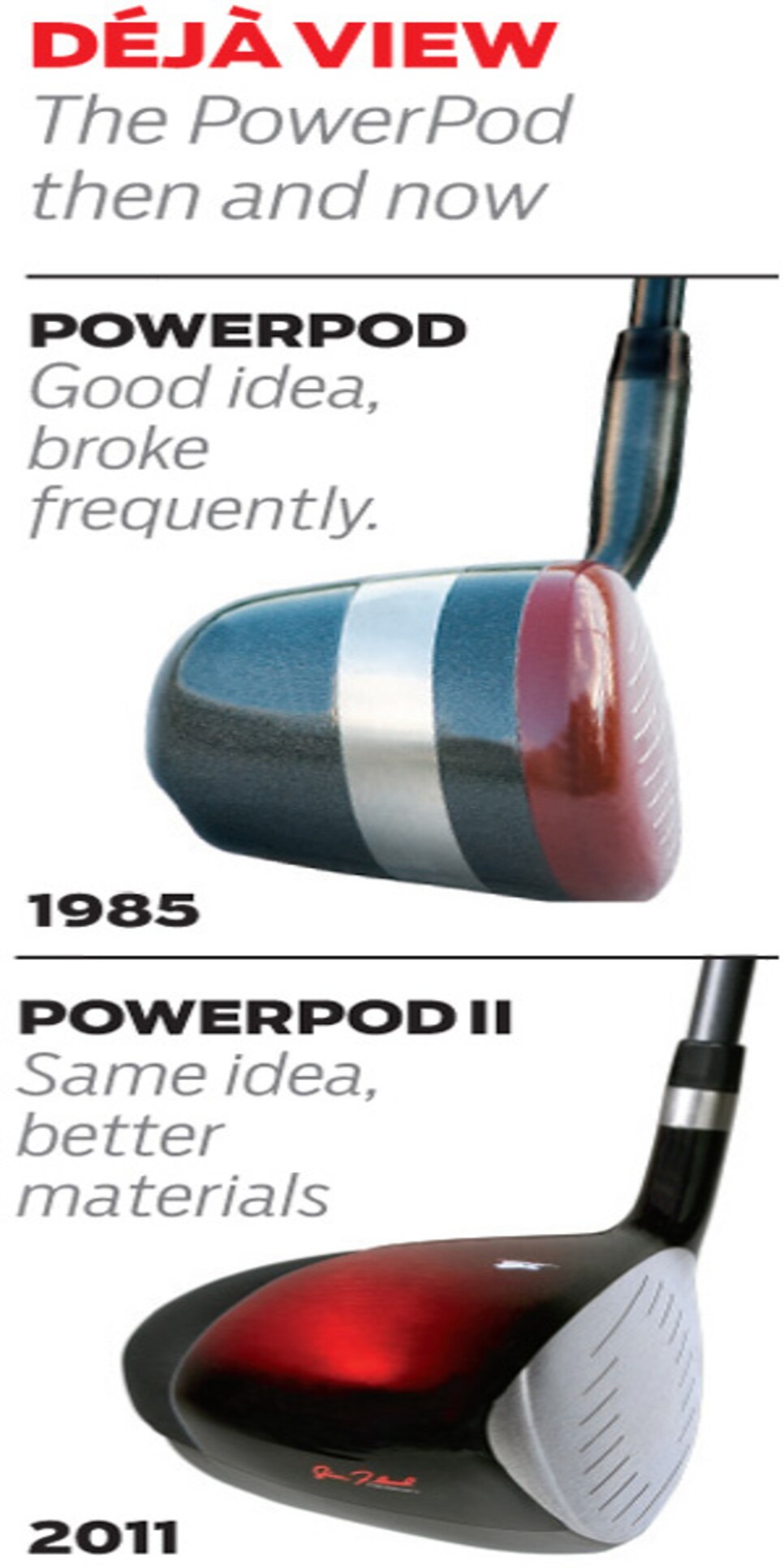 Recent years have seen some outside-the-box thinking in terms of club design. Putters continue to come in all sorts of shapes, while driver clubheads have morphed into squares, triangles and even changed colors to all-white. But it has been some time since we have seen truly bizarre-looking equipment make its way into players' hands.
Which is why the return of the PowerPod driver is intriguing -- if not completely unsurprising. In fact, in the November 2003 Golf Digest Johnny Miller said of the PowerPod, "It was a darned good anti-slice weapon, though it looked so weird that most players were hesitant to use it. These clubs, if redesigned using newer materials, could come back. Just watch."
Designed by Jim Flood, who some credit for inventing the graphite shaft, the original PowerPod was a steel driver with a three-inch circular face. Unfortunately, the club had a ring on the back portion that often came off after several off-center hits, leading the head to crack. In all, Flood said he had to replace more than $1.5 million worth of broken clubs.
Flood's new design won't have that problem. The clubhead does not have the three-inch circular face of the original, but features a trapezoidal face and a clubhead where the majority of the rear portion has been eliminated, leaving a mere shelf on the back. Flood's goal, however, has not changed -- keep the ball from slicing.
Flood, 77, is no stranger to quirky clubs. He also designed the Basakwerd putter that was used by Miller, Rod Funseth, Gene Littler and others.
"There should be more freedom in the rules for how a club can look," said Flood, who also designed a Tiger Shark putter based on the Basakwerd. "I'm not talking about clubs that fundamentally change the way the game is played, but clubs that have a functional reason for looking the way they do."
Odd-looking clubs have, at various times, cropped up and made it to market. Some, such as the shallow-faced Browning 440 irons, wide-soled Ben Hogan
Magnum irons or the scooped-top Spalding Executive woods had short shelf lives. Others deemed radical at the time of their introduction (Ping irons, Callaway Big Bertha drivers) signaled true paradigm shifts in equipment design. Some didn't last long but had brief moments of success, such as Cleveland's VAS irons that Corey Pavin used to win the 1995 U.S. Open at Shinnecock Hills GC.
Pavin's clubs caused more than a few double-takes among fans used to seeing the pros hit nothing more exotic than muscleback blades. But more than 15 years later it appears Flood simply was ahead of his time. Despite the USGA's rule that maintains clubs must be "plain in shape" and "traditional and customary," the look of golf clubs continues to be a topic of discussion.
Even if they're not truly bizarre.
With 20XI Ball Intro, Nike Has MOI Story
More than 10 years ago, Nike's multilayer, urethane-covered Tour Accuracy signaled a shift in tour-level golf balls. Now the company is hoping it has found another golf-ball technology that can meet with similar success.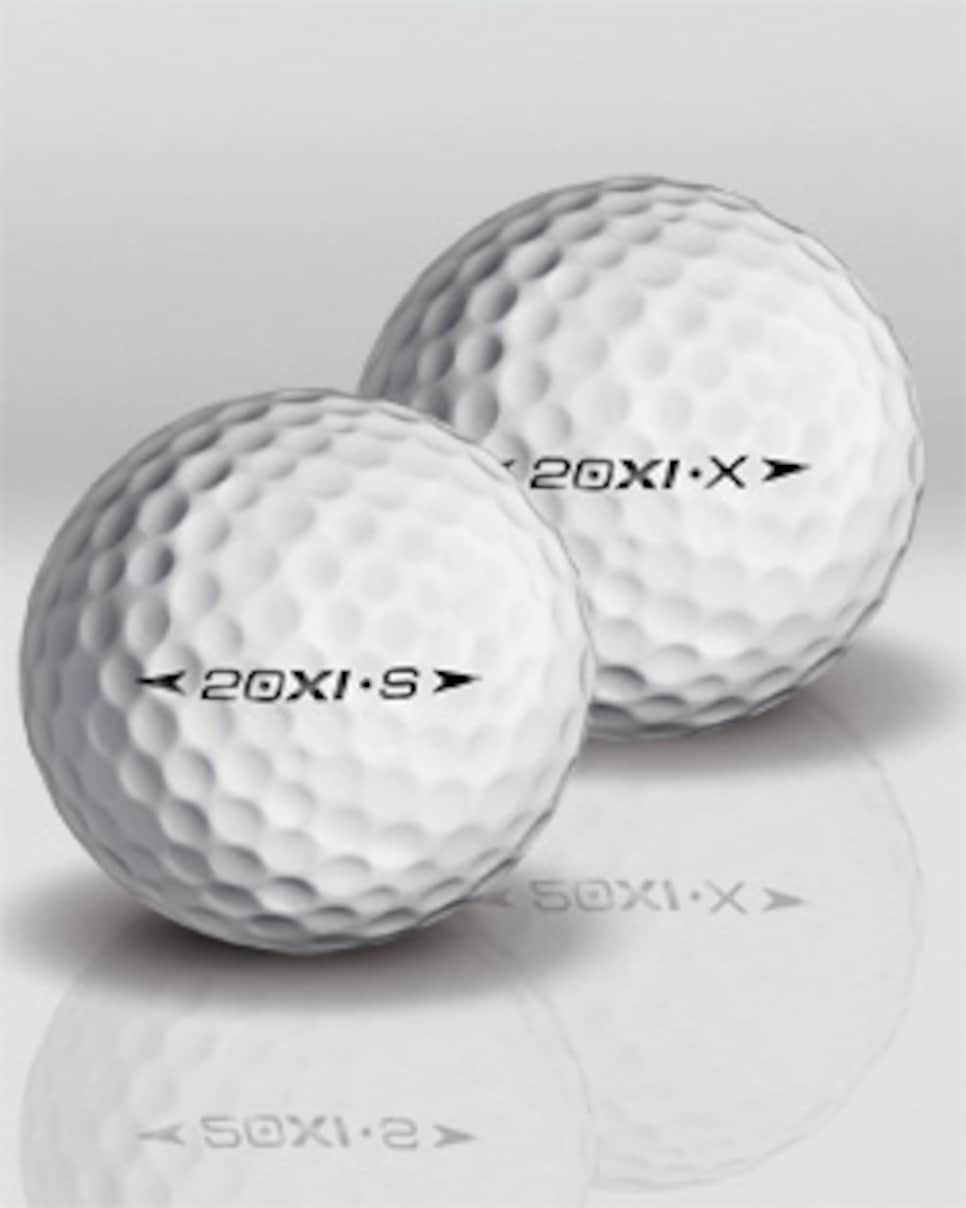 Nike's new 20XI line (right, courtesy of Nike
) boasts a four-piece construction featuring a resin core, which is lighter than a rubber counterpart. According to Rock Ishii, Nike's product development director for golf balls, that allows for heavier outer layers. The result, he said, is better perimeter weighting and a higher moment of inertia, which, just like a golf club, enhances forgiveness. In the case of a ball, it can assist in windy conditions due to reduced driver spin.
It's not often moment of inertia properties are mentioned in golf balls, but according to Ishii, six points in golf ball moment of inertia equates to one yard of carry into the wind. The resin core material (developed in conjunction with DuPont and more than four years in the making) also is designed to promote a faster initial velocity. Ishii says the design produces a "steeper spin slope," meaning more short-iron spin with less driver spin. The ball also has the benefit of being green-friendly through use of some renewable raw materials.
Ishii says the offering has tighter production tolerances for more consistency. Current tour balls, he said, are made from a mixture of materials susceptible to changes in atmospheric conditions, meaning manufacturers have to be cognizant of humidity and temperature in the plant. Using resin reduces the number of steps and is less affected by such conditions.
The 20XI comes in two versions -- S and X -- and the X ball has a slightly firmer cover and higher compression. Both feature a 360-dimple, urethane cover design and retail for $46 a dozen.
Odyssey's D.A.R.T. putters were just released but some versions that will not find their way onto store shelves were being shown to players at the AT&T Pebble Beach National Pro-Am.
The "Tour-only" D.A.R.T. options are a mid-length version with a 400-gram head, a long version with a 450-gram head, a black PVD version, and one with a red D.A.R.T. alignment device. None of the putters were used at Pebble Beach GL but some might be played at the Northern Trust Open...Good timing: Alex Cejka asked Callaway reps for a Diablo Edge 5-wood to test last week and ended up putting it in the bag at the AT&T. On Thursday at Monterey Peninsula CC's Shore course, he used the club to hole out his second shot on the par-5 10th for a double eagle...Although he led the PGA Tour
in sand-save percentage last year at 66.4 percent, Luke Donald is coming into the 2011 season with some new wedges. Donald will play Mizuno's MP T-11 forged wedges in his PGA Tour debut at the Northern Trust Open at Riviera.