News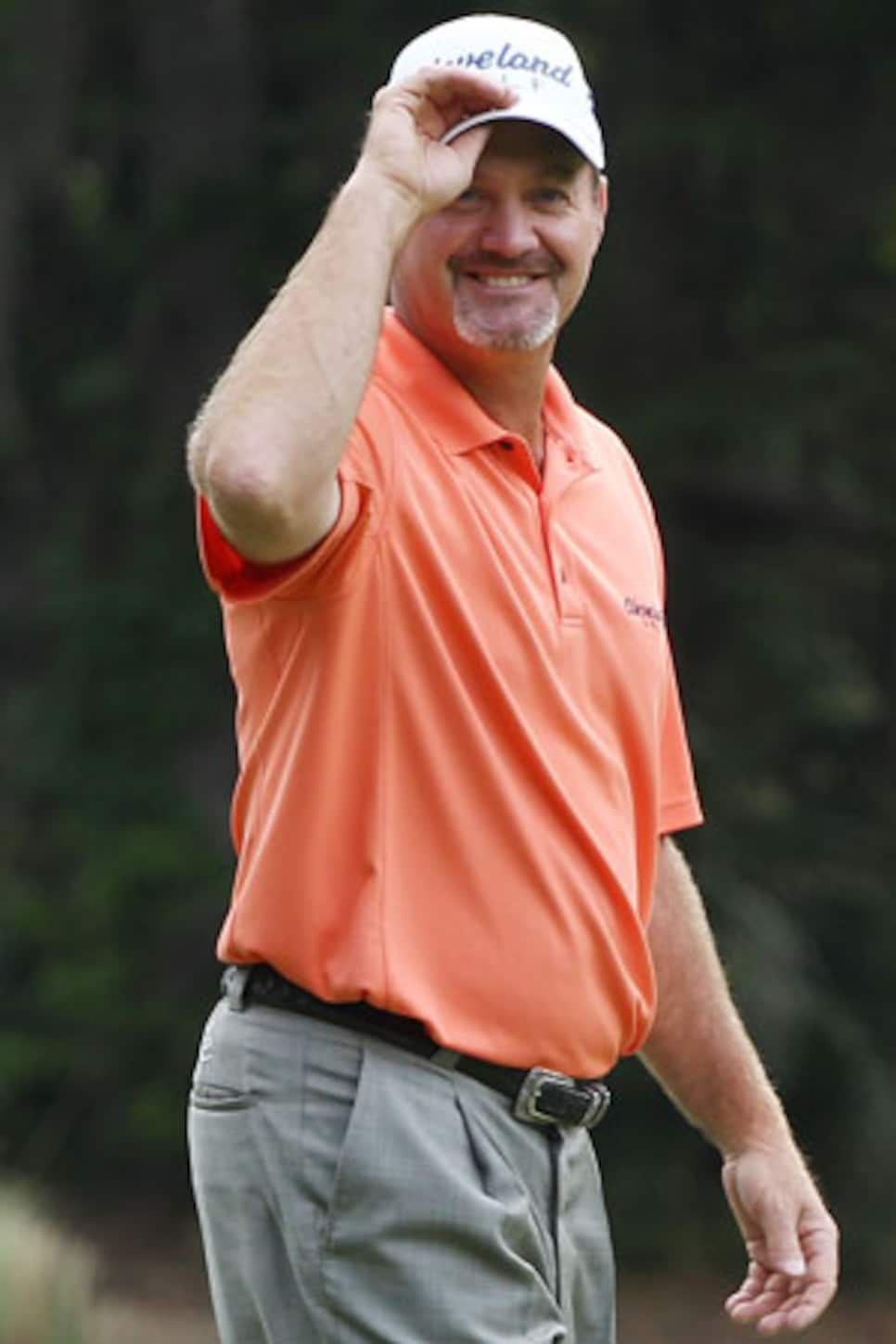 Jerry Kelly played a 44-gram Mitsubishi Diamana most of the year.
Want to know what makes the ball go far? Try this on for size: Head speed = [torque x (arm length + club length) x time] / club inertia. This formula may be one of the most important in golf and it is an equation club engineers work with every day as they attempt to reduce the overall weight of the club to boost distance
The key, however, is not to drop the mass too much.
To do that, manufacturers are addressing all areas of the club. Ever since graphite replaced steel as the primary material in driver shafts, manufacturers have searched for ways to make shafts even lighter. Driver shafts made from steel routinely weighed in excess of 128 grams. Now, however, it's rare finding any tour player using a driver shaft heftier than 86 grams, with many going lighter.
During the season some players tried considerably lighter shafts. Jerry Kelly played a 44-gram Mitsubishi Diamana most of the year while Boo Weekley recently put a 47-gram Miyazaki C. Kua in play. Science has helped as manufacturing processes have pushed the development of graphite with resins and high-modulus carbon fibers evolving to the point where shaft weight has been able to drop and stand up to the rigors of a PGA Tour swing.
Durability isn't the issue with lightweight grips, but feel is because golfers are used to grips weighing 50-plus grams. Lightweight grips are designed to reduce the static weight of the club and lower the balance-point closer to the clubhead, thus preserving or increasing swing weight. For those seeking to reduce weight through the grip, Golf Pride offers a 39-gram Dual Durometer Lite model while Lamkin's line includes a 40-Gram Ultralite offering. Even lower is Winn's Lite grip, weighing a mere 25 grams.
Designers agree that taking weight out of the shaft and grip is clearly beneficial. Hardly unanimous, however, is whether reducing mass in the clubhead is a good idea.
Nate Radcliffe, metalwoods development manager at Cleveland Golf, thinks it is. Cleveland developed its Launcher DST driver under 300 grams total weight (most weigh in the 310- to 325-gram range) featuring a clubhead weighing 198 grams (slightly lighter than the 205-gram average for most heads).
"The trick to designing an effective lightweight golf club is to decrease weight proportionally so more speed is produced," said Radcliffe.
Although light can make right (and might), there can be pitfalls. Swingweight, for one. When using a lighter shaft, the general thought is that you would need a heavier clubhead to keep the same swingweight.
So why go lightweight? See the earlier equation -- head speed. According to Radcliffe, a fast swinger dropping 30 grams from his or her driver will pick up 3 miles per hour of ball speed, more than offsetting the loss of 1 mph of ball speed due to less mass in the head. The bottom line: a boost of nearly eight yards. One tradeoff, however, is that moment of inertia falls about 500 points for every 10 grams of weight reduced in the head.
Still, everyday players need to go on a launch monitor. More speed but a worse launch condition will be counterproductive. You need to feel the club and launch the ball correctly to make the most of lightweight clubs.
And that may be the most important equation of all.
Tour pros are used to having their every equipment need taken care of by tour reps. But after the vans leave town (by tour rules)on Wednesday afternoon, sometimes players are on their own. Such was the case for Justin Rose Sunday morning at East Lake GC. Needing a change to his putter grip, Rose did what many East Lake members do -- he went in the pro shop and asked the staff to change the grip before his tee time.
Ping has taken steps to ensure that its four Ryder Cup players Hunter Mahan, Bubba Watson, Lee Westwood and Miguel Angel Jiménez) have no equipment issues in Wales. In addition to contacting each player to confirm what clubs they would be playing and making sure each brought a backup driver to Celtic Manor, the company is sending its European Tour rep to the event stocked with each shaft used by the quartet. Additionally, Watson asked for a Redwood Anser putter with 20 extra grams of weight for the normally slower greens in the U.K...Sneak peeks: Oddly, the Tour Championship wasn't a bad place to get an early look at some equipment companies' new offerings. Matt Kuchar used Callaway's yet-to-be-released Diablo Octane 3-wood (15 degrees) and Titleist's new 910H hybrid (21 degrees), while Jeff Overton played Mizuno's next wood offering with a JPX 800 3-wood (15 degrees)...Ernie Els had his Callaway FT Tour Driver bent closed last week in the Callaway tour trailer so that it had almost 10 degrees of loft. He also had it re-shafted with a Fujikura Speeder 757X shaft.