News
The Groove Verdict (Yawn)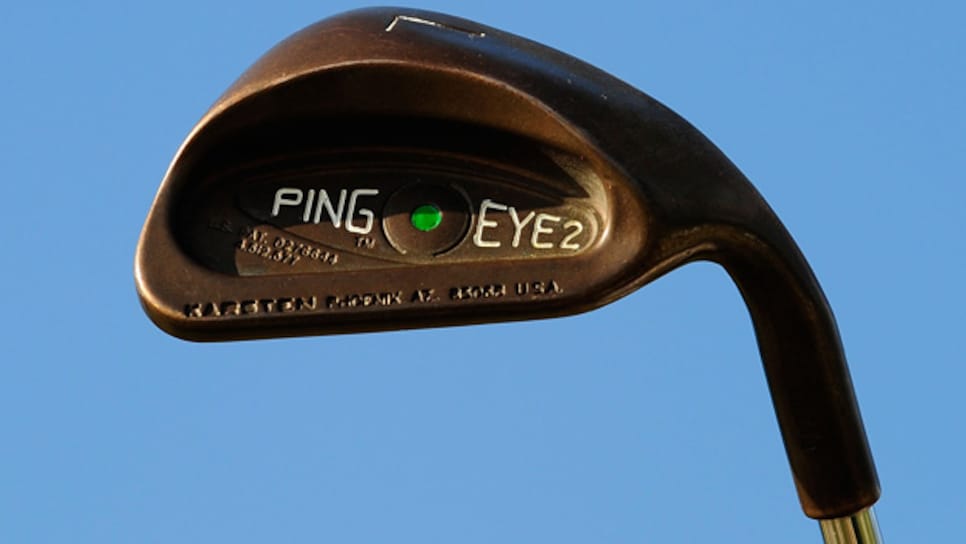 Ping Eye2 wedges were a source of controversy early in the season.
When talking about the impact of the new groove rule earlier this year, a common thought was we needed to wait until the end of the season before drawing conclusions about its efficacy. Well, the season is over. We have a year's worth of data to sift through, and there's only one logical conclusion we can reach: It didn't matter all that much.
Whether looking at it purely from a statistical standpoint or talking with players, the less-aggressive grooves that were made mandatory on the PGA Tour this year turned out to be pretty much a non-event from a competitive standpoint.
"No, not at all," said Sean O'Hair when asked if the rule change made much of a difference. "I think the stats were actually maybe a little bit better this year. I don't think the grooves themselves had any issue out there. For me, I actually thought it was easier out of the rough because you know you're going to get a flyer. Sometimes with square grooves it would fly, and sometimes it wouldn't. So it actually took the guessing out of it for me. I liked the new grooves a little bit better."
The numbers show there may be a reason for that. Or at least a reason not to abhor them. Although the tour's scoring average did rise to 71.15 (from 71.04 in 2009), driving distance was nearly the same (287.3 yards compared to 287.9 last year) and birdies per round was a virtual dead-heat (3.43 to 3.42 in 2009). Greens in regulation rose, from 64.7 percent last year to 66.26 percent this year. Driving accuracy rose from 62.91 percent to 63.51 percent. To put that jump of slightly more than a one-half percentage point into perspective: PGA Tour pros, on average, were hitting one additional fairway every 13.5 rounds. When you consider that the primary rationale for the rule was to restore accuracy to the game, that's not a lot. In short, whether the numbers moved up or down, not a single stat that can be related to grooves showed a significant move in either direction.
That doesn't mean, however, that the game being played is exactly the same as it was a year ago. "The stats haven't shown it to be a big difference, but that's just a credit to the players' ability to adjust," said Stewart Cink. "But [the grooves] have been a factor. Out of the rough you definitely don't have the control you used to have. I think being in the fairway is a little more meaningful than it used to be. If you have a close pin to the front or the side of the green and you're in the rough, you just can't fire at it anymore. There are arguments to be made on both sides, but overall I think the rule accomplished [what it was meant to]."
Tom Pernice Jr. agrees. "It's a factor when the greens are firm," he said. "But we only played firm greens a few times, so it didn't show up in the stats." One of the reasons it may not have shown up in the stats is course setup. When asked if the tour made changes to setups this year due to the new rule, veteran PGA Tour official Slugger White said yes.
"We went to a lower height of cut in the rough to see if that made a difference," said White. "Two-inch rough, maybe a little more, to try to put a little more premium on hitting it in the fairway. The players found the [change in grooves] didn't mean anything if they were in the fairway."
Although rough height changed, hole locations did not. "We're still trying to challenge these guys," said White. "Like I said, it made no difference if you played from the fairway, so our hole placements didn't vary for that reason, because they could get at it from the fairways. I haven't seen a big difference from the grooves, but the weather wasn't ideal so it may take another year before we know what the effect is."
If it's anything like 2010, there won't be much effect at all.
Stewart Cink and Justin Leonard put Nike's prototype RZN ball in play at the Children's Miracle Network Classic. According to a post on equipment website golfwrx, the RZN stands for resin, as in the resin material used in the core. The resin helps produce a lighter core, which allows weight to be moved to the perimeter for reduced spin off the driver. Expect the ball to be available in February under the name Nike 20XI.
Roland Thatcher came to Disney 179th in earnings, about $450,000 short of what he needed to earn a PGA Tour card for 2011. So in his biggest tournament of the year, he changed the two most important clubs in his bag, adding a Cleveland Launcher TL 310 driver and an Odyssey White Hot 2-Ball putter. Although Thatcher had putted with the 2-Ball before in competition, the driver was a new lightweight model (not quite 300 grams total weight) that he put in play for the first time. Thatcher was 37th in driving distance and fourth in putts per green in regulation while finishing second to keep his card with a clutch five-footer on the final hole...Spencer Levin was another who made a timely switch. Levin opted for a TaylorMade Rossa Corza Ghost putter and finished T-3 at Disney, ranking fifth in putts per GIR...Tiger Woods was part of the putter-changing crew, too, switching to Nike's blade-style Method 003 for the final round at the Australian Masters. Woods shot 65.