News
My Town: Johnny Miller's Napa Valley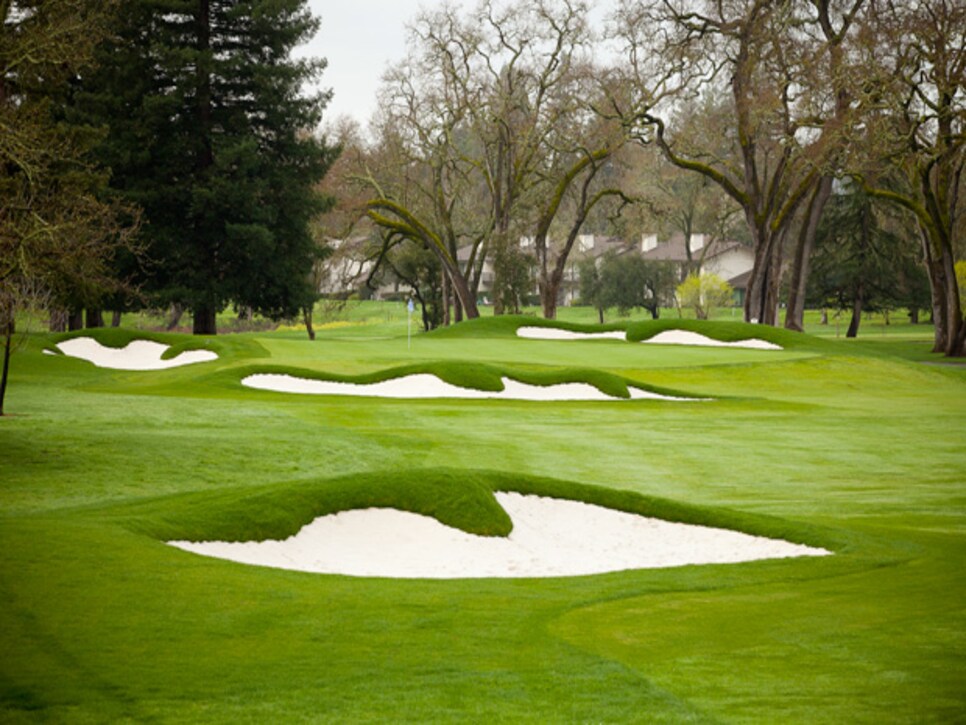 Silverado Resort has a special place in Miller's heart.
When Johnny Miller first spent significant time in the Napa Valley, it wasn't so much what he saw that wowed him, but what he smelled. "With all the oak trees in the area, I'd never smelled anything like it," Miller recalls. "It was this amazing aroma."
In 1970 the Hall of Fame golfer and his wife bought a condo there and have had a home in the area ever since. It's the summers, in particular, that Miller is partial to, the sun-drenched weather making it tough to hit the road and broadcast tournaments for NBC.
"It feels like you're on vacation when you go home," Miller said. "There aren't that many people who move to Napa and leave."
along with two other investors. With the food, wine -- and golf -- that the area affords, Miller believes that Napa continues to be a versatile destination spot, good for a romantic getaway with your spouse or golf trip with the guys.
Silverado Resort will always be special to me. I played in the old Kaiser International event there as an amateur and won it twice as a pro on the PGA Tour. My affinity for it is why I was happy to help in the redesign of the North course
. Sure, I'm biased, but the work that's been done makes it one of the best anywhere. We stretched it out to 7,200 yards and redid the bunkering. It was more than just a few cosmetic changes. It reopened earlier this year, and I hope we'll hold another pro event here soon. Meanwhile, the South course
gets a little overshadowed, but it's also fun to play.
are two other nice courses. Both play right into vineyards, which makes for a scenic, peaceful round. If you're coming from the Bay Area to get away, it's easy to forget the rat race out there.
On the south edge of the valley is Napa GC
at Kennedy Park. It's a municipal course that's held qualifiers for some bigger tournaments. It's a very good layout.
One of the reasons a lot of pros liked to play tournaments at Silverado is because of the resort itself. You have everything you could want on the property: good food, shopping, a nice spa, tennis courts. It's not a Mickey Mouse resort.
The Villagio Inn & Spa and the Hotel Yountville are fantastic places as well. They each have plenty to offer to make your stay special. And if you want to go ultra high end, there's the Auberge du Soleil.
I have a few places I go with family and friends. There are two Italian restaurants, Bistro Don Giovanni and Bottega, that are excellent. The chefs at each, Donna Scala and Michael Chiarello, are whizzes. Given the vineyards, you have to have French fare, and you can find that at Bouchon and The French Laundry.
Another fun place to try is Thomas Keller's Ad Hoc. The menu changes daily; you have to check in and see what they've got going each night. If there's fried chicken, be sure to go. It's killer.
You can't come to Napa and not visit the vineyards. I'm partial to Altamura Winery. I took my NBC partner Dan Hicks and his wife Hannah Storm there earlier this month. A lot of the places in the valley are owned by big conglomerates, but that's not the case here. Frank and Karen Altamura are hands-on owners, working daily on this former cattle ranch. Wine Spectator rated their 2007 Cabernet No. 5 on its top 100 in 2010.
Given the great weather, you can do lots of other outdoor activities as well. There is kayaking along the Napa River and some good biking opportunities. The Silverado Trail goes to Calistoga, and it has a big bike lane so it's safe to ride. Cycling has become a big thing.