News
Wooden Believed In Character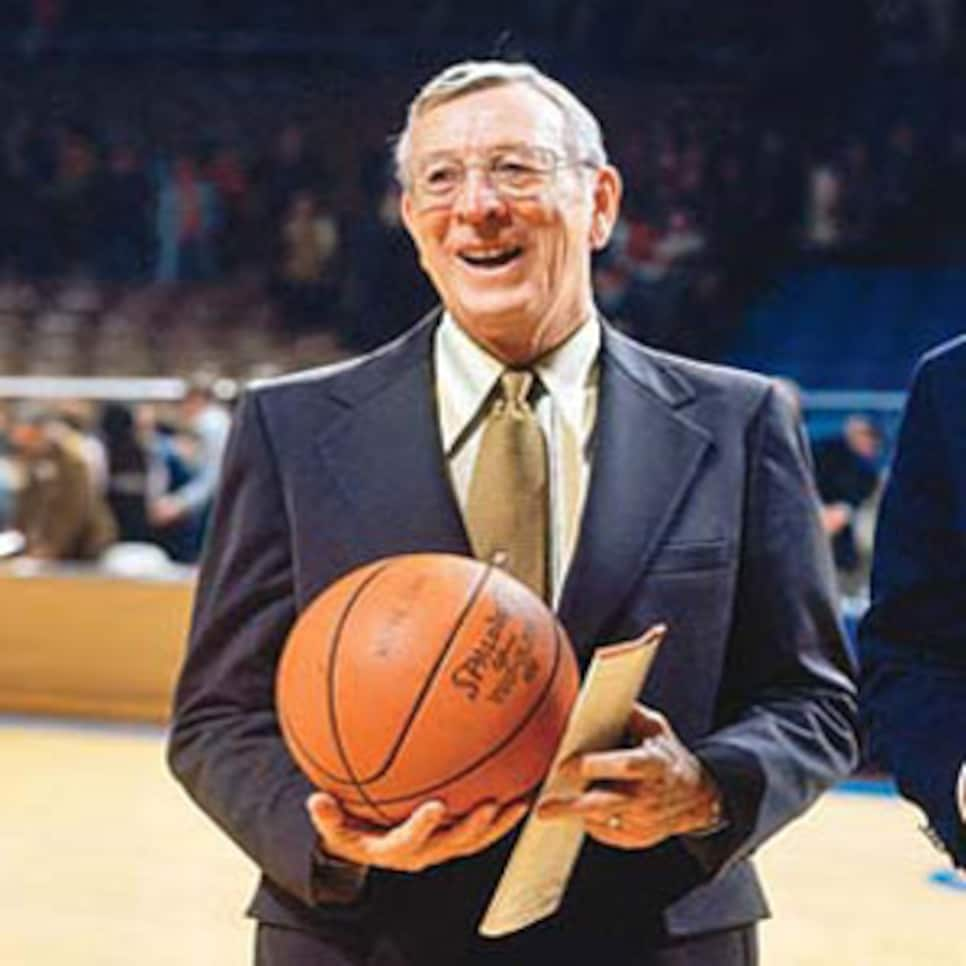 The "Wizard Of Westwood" once made an ace and a double eagle in the same round.
The way John Wooden kept score was not what one might expect from a coach in a sport decided on points. In his world, character counted more than a basket, or even the bushels of them produced by his UCLA basketball teams.
Character was why he came generally to respect golfers more than athletes from other sports, including his own. "He felt golfers had the greatest sense of character of any athletes he had been exposed to," said his friend Eddie Merrins, the former golf coach at UCLA and the pro emeritus at Bel-Air Country Club in Los Angeles.
Merrins' relationship with Wooden, who died Friday night at 99, evolved 440 yards at a time, on the track at UCLA's Drake Stadium. Wooden took to speed walking as a means of countering a heart ailment, five-mile jaunts on which Merrins joined him, the two of them talking mostly about golf.
"He loved to talk golf," Merrins said. "Probably his favorite thing about golf was Byron Nelson. He had either seen him play or played with him in an exhibition way back in Indiana. He liked him, liked everything about him.
"Nelson had Christian morals and later become an elder of his church. He was a true gentleman professional. I think that's what Wooden liked in him. He liked Snead as a player and Hogan as a champion. He came to know of Nicklaus later and certainly saw Woods come on the scene. But Nelson stood out as his favorite."
Wooden was an accomplished golfer in his own right, playing to about a six handicap at one point. He once made a hole-in-one and a double-eagle in the same round, at Erskine Park Golf Club in South Bend, Ind., "a feat I've never heard the likes of before," Merrins said.
In 2006, U.S. Ryder Cup captain Tom Lehman was in town to play the Northern Trust Open and asked Merrins if he could set up a meeting for him with Wooden. "He wanted to ask him things that might be beneficial to him as captain of the Ryder Cup team," Merrins said. Lehman and Wooden spent a couple of hours together.
Coaches always sought Wooden's counsel, Merrins among them. He once asked Wooden to speak to the UCLA golf teams, men and women. "He prepared that lecture like a college professor," Merrins said. "I asked him to address the topic of winning. He spoke for an hour and 20 minutes and he never mentioned the word 'winning.' Winning to him was preparation. If you were prepared, the winning came. It was the reward, rather than the goal."
One of Merrins' fondest memories came in the minutes following Corey Pavin's victory in the U.S. Open in 1995. Merrins, who coached Pavin at UCLA, watched the final nine holes in the privacy of his Bel-Air office, alone with his emotions. When it was over, Merrins shed a few tears, then repaired to the men's grill, at which point he was summarily asked to return to his office. John Wooden was on the phone and wished to talk to him.
"He congratulated ME on Pavin winning the Open," Merrins said, explaining that Wooden was acknowledging the fulfillment of the player-coach relationship. "He knows what goes into preparing a youngster to go on and do great things."
Wooden, incidentally, used his renowned Pyramid of Success as his calling card, literally. He had it printed on cards that he dispensed to those he met. "He believes in every one of those blocks that goes into that pyramid, very, very meaningfully," Merrins said.
The blocks contain words such as loyalty, industriousness, friendship, cooperation, poise, initiative, self-control. Assembled, they define success as he saw it.
"That's his legacy to us, his example," Merrins said. "Character counts."