News
If I Had A Hall Of Fame Choice, I'd Vote For Butch Harmon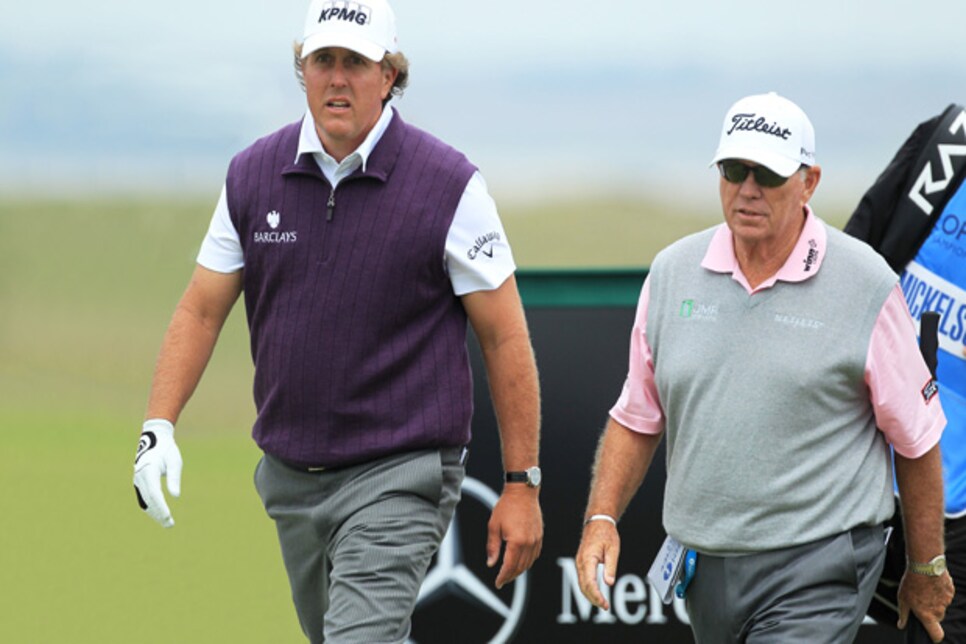 Harmon's ability to improve the games of a diverse group of marquee golfers, including Mickelson, warrants Hall of Fame consideration.
Let me start by saying that I have the utmost respect for the World Golf Hall of Fame, everybody associated with it and, obviously, those who have earned induction. But there is one glaring omission: Butch Harmon. His contributions to the game have been amazing, yet for reasons I can't fathom, he's been overlooked.
I've had a front-row seat on Butch's coaching genius since he started working with Phil Mickelson, for whom I've caddied a long time. To me, Harmon is not only the best teacher in the history of golf, he is the best by leaps and bounds.
To my knowledge, there is only one teacher/instructor in the Hall of Fame, Harvey Penick. Why he is the only one, I have no idea. But if you look at the list of golfers Butch has worked with, it's astounding: Greg Norman, Seve Ballesteros, Fred Couples, Tiger Woods, Davis Love III, Darren Clarke. Stewart Cink won a British Open under Butch's tutelage. Dustin Johnson is seeing him now. So is Nick Watney.
But let's go back to Tiger. I think you can say a few years ago when he was winning everything, he was playing the best golf in the history of the sport. We all looked at his swing around 2000 and thought, "Wow, that is perfection. How do you get any better than that?" Well, Butch was his teacher. I don't know the particulars of their split, and it's none of my business. But Butch has been the Tiger Woods of his profession, and it's such a slam-dunk that he belongs in the Hall of Fame, I don't think it's even up for debate.
Why is Butch so good? For one, he's the only teacher I've ever seen who can be standing beside a player on the range and never have to see where the ball goes. He can just watch a swing and say "perfect" without following the shot. It speaks to another strength of his: Butch does not tell the people he teaches what they want to hear to make them feel good. He doesn't coddle. He's not out there to make friends.
Also, Butch does not have a set theory. He works with what you have and will give you three or four things to think about, in effect simplifying the difficult. He can diagnose a swing unlike anybody I've ever seen and fix it because he can communicate.
Phil is very analytical and very smart about the swing. One reason he has developed this incredible relationship with Butch is that Butch can answer a question in about five seconds. Phil can make a swing and ask, "OK, why did that ball go to the left?' In less than 10 words, Butch will have a complete and thorough explanation as to why and how to remedy it. And Butch will be right because he is always right. It's scary how good he is.
If I had a child with some golf acumen, and could afford Butch if he even had the time, that's who I'd call. Tiger went to Butch in his teens for a reason. I mean, Justin Timberlake loves golf, he's got all the money in the world, and he could take lessons from anybody. Where does he go? Butch.
If Butch gets into the Hall of Fame -- I would like to say "when" instead of "if" -- I think we'll be treated to one of the great speeches of all time. Butch has had an incredible life, from his youth to being down and out for a while, to his service for our country in Vietnam, and what he does for the troops now. He's a tremendous ambassador for the sport, a great broadcaster and a man who relates to people because he's a real personality. I think if you see him on the range of a PGA Tour event, Butch will be doing his thing and guys around him will be laughing. They'll be learning, of course. But Butch makes it fun too. That is important.
There are many good teachers, but in the latest ranking of the "America's 50 Best Teachers" by Golf Digest, Butch is No. 1 by a large margin. I expect he'll remain No. 1 for years to come.