News
My Town: Jim Furyk's Ponte Vedra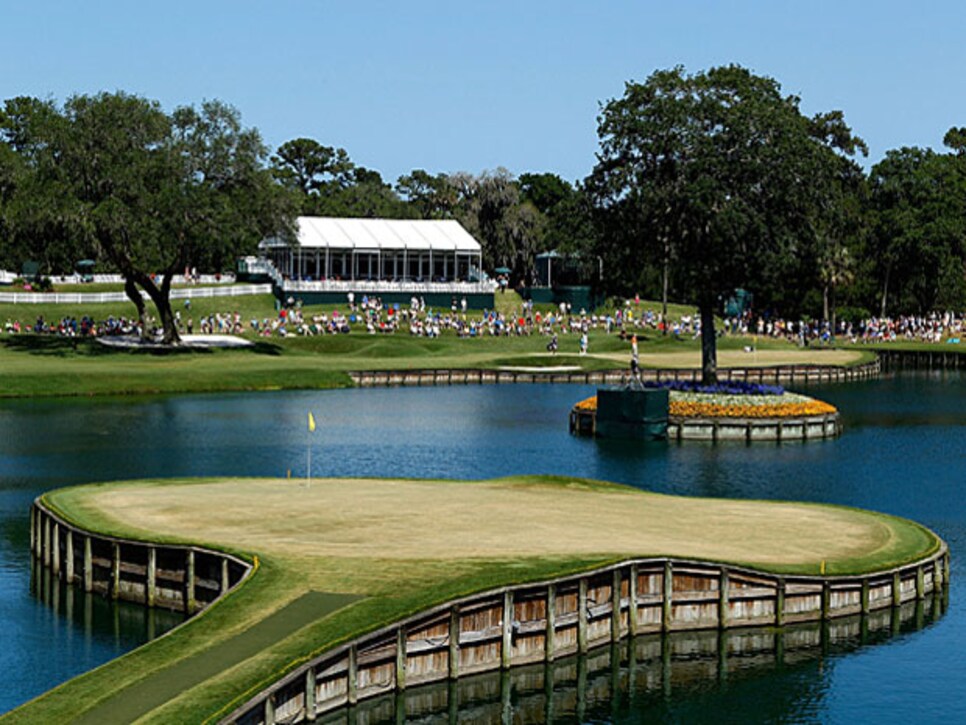 The famous island green at TPC Sawgrass Stadium Course.
A proud native of the Pittsburgh area, Jim Furyk annually listed Pennsylvania as his residence after turning professional 19 years ago out of the University of Arizona, even though, "I was a nomad early on," he says. "I lived out of my car." That life ended 15 years ago when Furyk and his wife, Tabitha, settled in Ponte Vedra Beach, Fla., where he's lived ever since.
Furyk has his own way of doing things, from the unconventional path his clubhead takes to reach the ball to his dry sense of humor. Since joining the PGA Tour he has been among the grittiest competitors of his era. He's represented his country on seven Ryder Cup sides and, with this fall's competition in Australia, seven President Cup teams. Furyk was the first guy to partner successfully with Tiger Woods largely because he isn't intimidated by any player or any situation.
About the only living thing that has more local knowledge of Ponte Vedra and the Jacksonville beaches -- and might be as tough -- has four legs, sharp teeth, scales and a big, green snout.
just because it's the Stadium Course. It's got the island green. Hey, it's famous. The sleeper for public courses, though, is the GC at North Hampton
. It's not far from the airport. It's a $50-$60 green fee and one of the best-kept secrets in town. It's a good course but difficult.
. It's just a pretty piece of property near an estuary off the Intracoastal Waterway with the reeds and creek winding through. It's a golfer's golf club. I enjoy being a member. There are a lot of good clubs near Jacksonville with thriving, active memberships. Another I like playing is Timuquana CC
. I always see a lot of juniors there. It's on the river, staring at the city, a fun, fun course.
For breakfast I'd go to Players Cafe, a good little, friendly diner. Same people have owned it forever. Good food, good prices. For lunch there's Zoës Kitchen. It's trending toward the healthy side, just a little bit different than your sandwich shop. It's got its own unique flavor and something for everyone.
For dinner I work my way up to Jax Beach. Eleven South is distinctly named for being on 11th Ave. South. It's right off A1A. It has a seafood orientation, but it's got a little of every- thing, a little seafood, a little red meat.
Probably the best- kept secret is a little place called Dwight's Bistro. Scott Tway, Bob's younger brother, actually turned me on to it years ago. I only get there maybe once a year, but it's a great little place. Service is impeccable. There are different specials daily. You can expect some red meat, some fish, some lamb. I love the food there, and it has a good wine list. Only hitch is you can drive right by it; I would GPS that one. As for sports bars, the best one is my house, and it has a very limited guest list.
There are two spots in Ponte Vedra to look for. The Ponte Vedra Inn & Club is great. You name it, it's got it. A racquet club, two golf courses. It's a pretty big resort, but it's right on the ocean. For full service you can't beat it. Not far down the road is The Lodge & Club. It's on the beach as well. A little bit smaller, a little bit quaint, but it's phenomenal.
Florida and Ponte Vedra are all about sunny days. You've got the beach, the Intracoastal and St. John's River. If you like boating and fishing, it's a great spot. It's not the white sand of the Caribbean but our beaches are under- rated. You look out daily and there are people surfing, paddle- boarding, windsurfing. Personally, I like to fish more inland in the Intracoastal and the St. John's River. And, if you need beach break, there's a Hands On Children's Museum in Jacksonville.