Equipment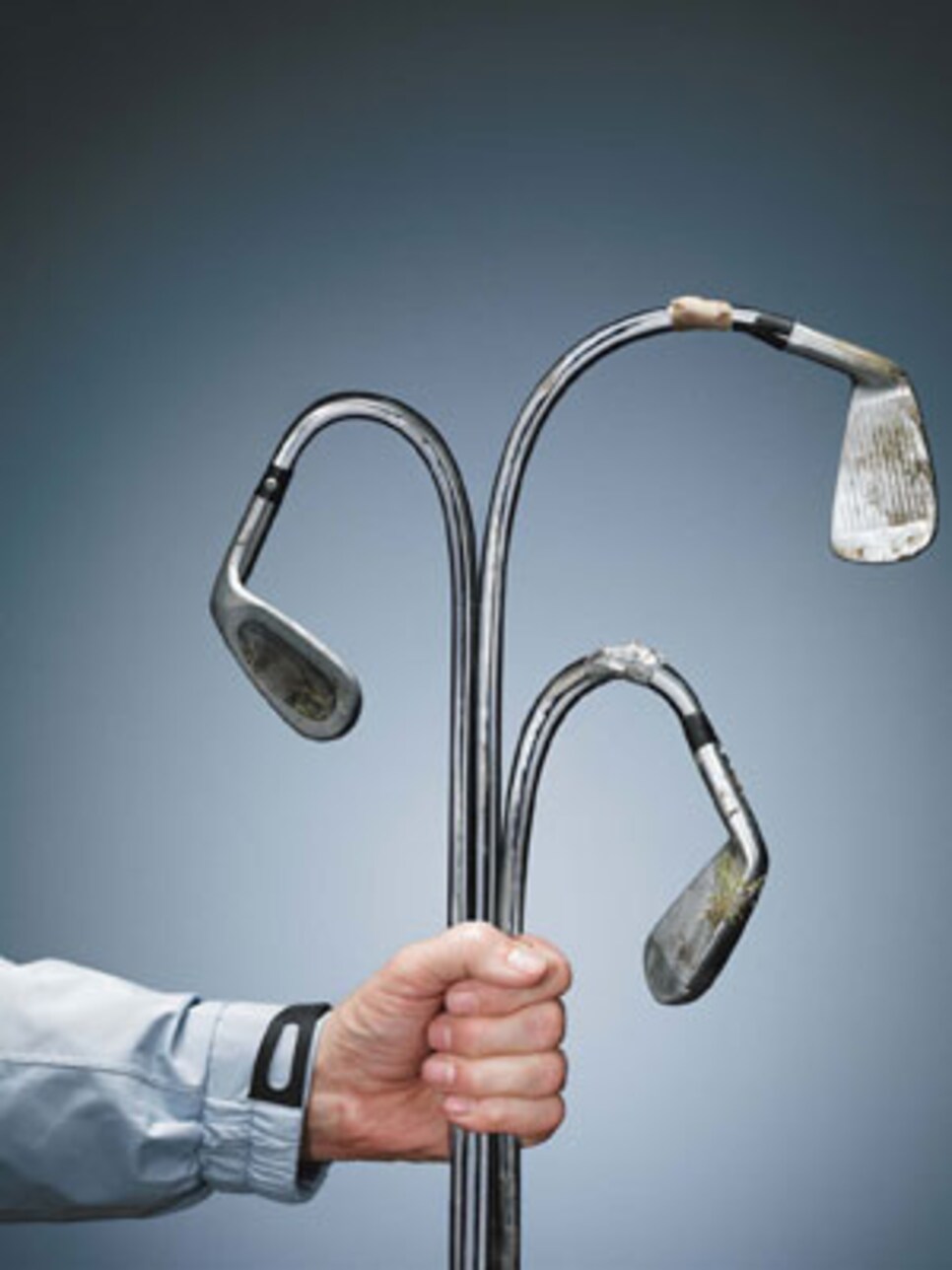 A new set of irons can be a hard purchase to justify. Irons are the most expensive thing in your bag. They aren't as seductive as a new driver, and the benefits aren't always as immediately apparent. Maybe you're thinking, So what if my irons are five, six, even seven years old; the technology hasn't changed that much. That's why we presented your collective reluctance to several of the industry's leading iron designers in the form of a question: "If my irons are only five years old or so, why should I spend my money on a new set when I could be spending it on green fees?"
The most popular response we heard was that manufacturing processes have improved. It's now possible to make irons of multiple materials instead of just steel. "Titanium has a 42-percent lighter density than steel, and tungsten is more than twice as heavy as steel," says Brad Schweigert, manager of club design at Ping. "Using these materials helps our engineers optimize the center of gravity." The lower and deeper the CG, the idea goes, the higher the ball launches. Therefore, companies can offer stronger lofts without sacrificing trajectory. "Imagine a ball coming off at a 7-iron launch angle but with 6-iron ball speed," says Tom Stites, Nike's director of product creation.
The ability to cast faces of less than two millimeters thick is another recent technological leap. The thinness promotes faster ball speeds across a larger area of the face, says Bret Wahl, senior director of iron development at TaylorMade. It also frees weight that can be moved to the perimeter to increase forgiveness by as much as 20 percent, he says. Perhaps more important, the ability to cast this type of design improves mass production, which lowers the cost so the technology becomes more affordable to more golfers.
Manufacturers have also improved the way they study club-turf interaction. Using advanced computer simulations, designers can more accurately measure the drag forces of a design as it rotates on an arc through turf at a given speed, says Sharon Park, a club engineer at Cleveland. As a result, an iron's recessed areas can be shaped to make it "play like a wide-sole iron but not feel like one," she says.
Feel is another area that designers have been able to improve. Dan Stone, vice president of research and development at Titleist, cites the ability to "focus on specific frequency spectrums," meaning companies now have the equipment to study the different sound waves emitted by an iron as it impacts a ball at various points on the face. Engineers can then design dampening inserts and stiffening ribs to make it sound better.
Another improvement is in set makeup, says David Glod, president and founder of Tour Edge. "Set design has progressed with hybrids replacing long irons and even full-hybrid sets."
Of course, to quantify all these advancements in yards or scores would be impossible. But the sum of the technologies should equate to less frustration when you purchase tee times. And the cost of your happiness should never be hard to justify.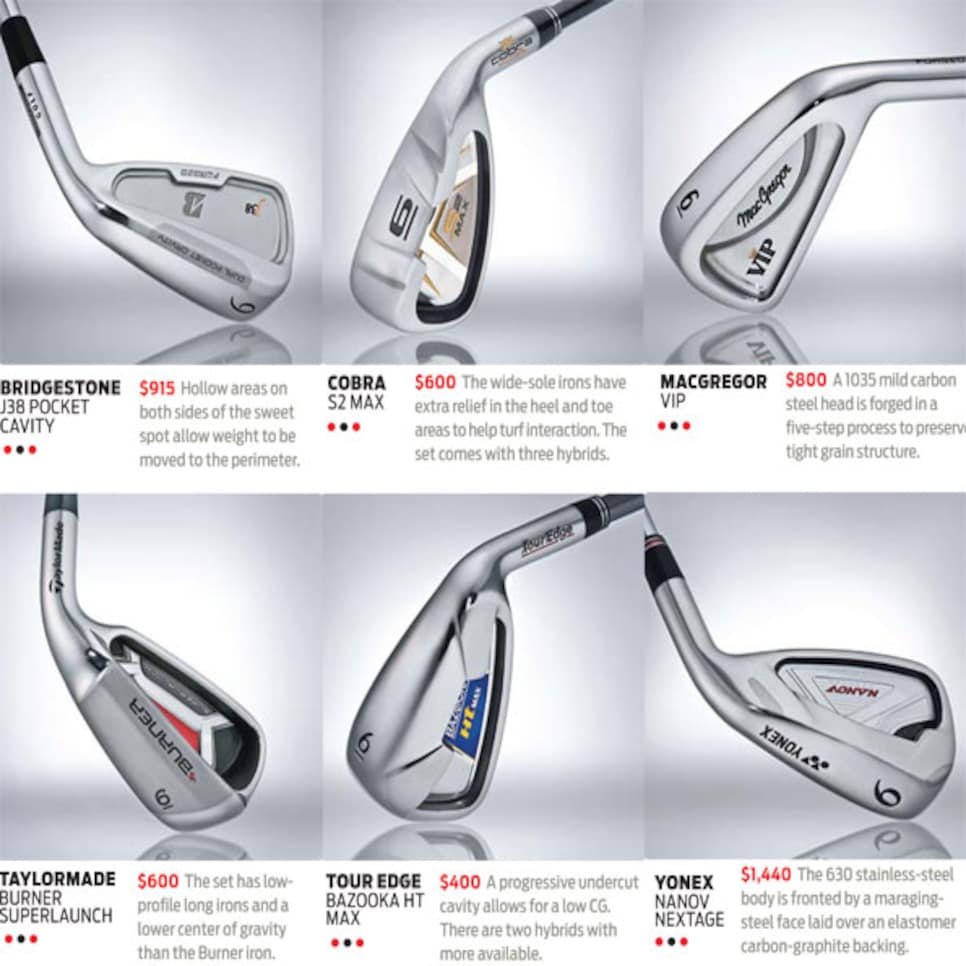 ARE NEW IRONS GOING TO BE WORSE THAN OLD IRONS?
Unless you've been playing golf under a rock, you're aware that 2010 marks the beginning of a new era. Tour professionals must play clubs that conform to weaker groove specifications. The intent of the rule change is to place greater importance on driving accuracy by making it more difficult to hold greens from the rough. Everyday players won't have to play the new grooves until at least 2024, but to facilitate the migration, all irons submitted to the USGA in 2010 must adhere to the new guidelines. So will new irons not perform as well? Bret Wahl, senior director of iron development at TaylorMade, doesn't think you'll notice the difference. "The 2010 grooves, which are only slightly rounder and shallower, aren't that different from the cast U-grooves used in most iron sets the last few years," he says. "Milled aggressive grooves were reserved mostly for tour-grade wedges." Wahl says because spin generation degrades as loft decreases, most players won't be able to detect any difference from clubs longer than a 7- or 8-iron.