The Loop
Golf instructor Jim Flick a newsmaker in his own right
On a warm day in late September, I ventured over to the Kingdom, as TaylorMade's testing facility in Carlsbad, Calif., is called, where the renowned instructor Jim Flick kept an office near the lesson tee on which he plied his trade in the last years of his life.
A plate of food was on his desk, but he never touched it. "I'm kind of struggling with my health a little bit," he said. "But when you get to be almost 83, you're going to have some days. They've got me on some iron and I really get a reaction to food."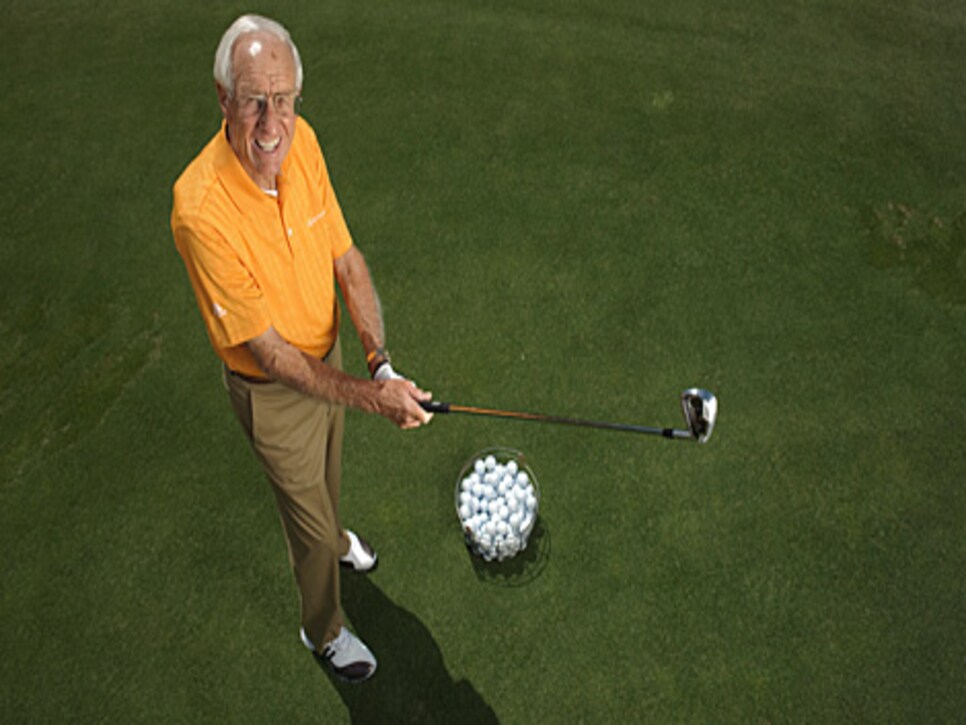 It might have been the last extensive interview he gave, lasting two hours and frequently and fascinatingly meandering off topic, as it did when he noted of his Wake Forest roommate, Arnold Palmer, that "he was the first player I played with who I thought willed the ball around the golf course."
The conservation eventually turned to Tiger Woods, as it is wont to do in golf circles, and the swing changes he has undergone.
"I wonder if he gets bored," Flick said. "I think he feels like there might be a better way. I've spent a little bit of time with him. Never really coached him. The only time I spent much time with him was 1996, I walked a practice round with he, Tom Watson and Jack [Nicklaus] at the Open at Oakland Hills. Tiger, Jack and I went into the lunch room and someone else wanted to talk to Jack, so I talked to Tiger for maybe an hour-and-a-half.
"I think Tiger feels like he needs to be motivated and I think he uses changes to do that. The truth is, in the year 2000, he [Tiger Woods] was probably the best player in the history of the game. I don't think we've ever had anybody whose concentration level is superior to Tiger's. I think he finds a way to get the maximum efficiency out of himself as a competitor. His short game is beyond belief. He had an incredible mind to find a solution for the challenge he was facing. He doesn't seem quite able to do that at the moment.
"I don't like his swing as well as I did in the year 2000. To me the major difference is that he's not changing directions from the ground up as he did when he worked with Butch [Harmon]. He's changing his directions a lot more with his shoulders and his upper body. To me, he's in a lot of different positions at impact, with his chest a little more open or a little more closed. That used to never be a problem.
"I've never quite understood why he changed his putting style. Jack said to me one time, 'I used to think if a putt had to me made I'd like to have the putter in my hands, but when I see some of the putts that Tiger has made...'"
Flick had the distinction of working with Nicklaus after Nicklaus' long-time instructor Jack Grout died in 1989.
"For me to tell you I taught Jack Nicklaus a lot of things would be an inaccurate statement," Flick said. "I think that why Jack trusted me after Mr. Grout passed was that he was seeing some fellows and they were all trying to take him down a slightly different path than what Mr. Grout had taught him. My thinking was, gosh, here's a guy that was the best player in the history of the game. Why would I not want to keep him doing the same things Mr. Grout had him doing? I would watch Mr. Grout teach Jack at Frenchmen's Creek [Country Club in Palm Beach Gardens, Fla., where Grout taught during the winter months]. What I told Jack was, 'why don't you let me be a set of eyes for you for what Mr. Grout did with you, as best I can, and keep you on the same path?'
"I've been very fortunate. I've worked with 25 tour players who've won major championships. Not that I'm claiming I've helped all of them. I'm just saying I know what they thought about how they played the game and how they used their minds. I've learned a lot more from them perhaps than they've learned from me.
"Tom Lehman came to me in 1990. He'd lost his tour card three times and six years later he was the best player in the world. I learned a lot working with Tom. I always say that what really helped my teaching is I'd go to the Open with Tom and Jack and I'd watch Tom hit balls and every shot he hit his eyes saw right to left. I'd go over to Jack and he'd see left to right. Here was the best player in the world and the best player in history and they used the club radically differently. You'd better damn well know what you're feeding each one of them to fit how they're using the golf club."
Flick said that he considered Bob Toski "the best teacher in the history of golf by a considerable margin. The reason I say that is that Bob was the best player in the world in 1954. The guy won five times in 13 months and was the leading money winner. Most people don't know that, of course. But Bob understands what it takes to teach people and put the principals together that let you play better, not just the swing and looking good swinging, but understanding what works under pressure."
He did not have the same reverence for some of the contemporary instructors, however. "Beau's dad told me he had a few golf professionals say at the Open they could do a lot better job with Beau's swing than I've done," Flick said. "You're always going to have people second-guessing what you teach and how you teach it and so on and so forth. It's the world we live in."
We would speak once more, about five weeks later. I left a message for him on his cell phone, regarding setting up a photo shoot with him and Hossler. He returned my call later that day and said that there would be no photo shoot.
"I'm on my death bed," he said. "Cancer of the pancreas."