The Loop
Golf in the shoulder season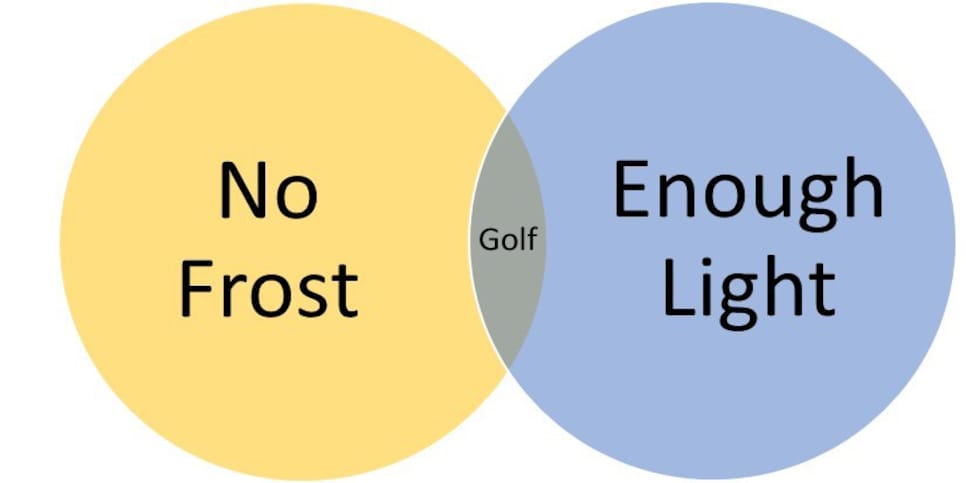 Quite a few members of my golf club think our course is closed for the season. That's good, because it keeps most of the complainers at home, but even without them golf is becoming problematic. By the time the frost has melted, there's not a lot of daylight left. On Sunday, we moved our starting time from 7:30 to 9:00, but when we arrived the frost still looked almost like snow, and we couldn't tee off until 10:00. Here's the ninth green at 9:30:

Tim D. took that photo, with his phone. Luckily, the other Tim, Tim C., had brought Bloody Marys and cinnamon rolls: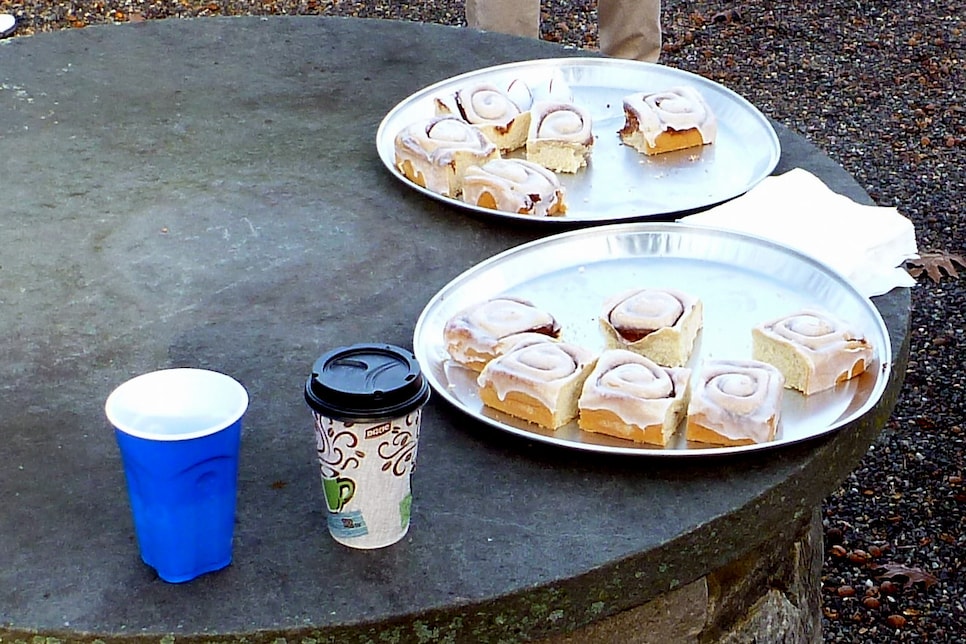 There was a plastic knife on one of the plates -- not for cutting the rolls into smaller pieces, but for scraping up icing that had fallen or dripped off. The Bloody Marys were on the porch, where someone had stacked all the furniture from our patio, to protect it either from the elements or from us: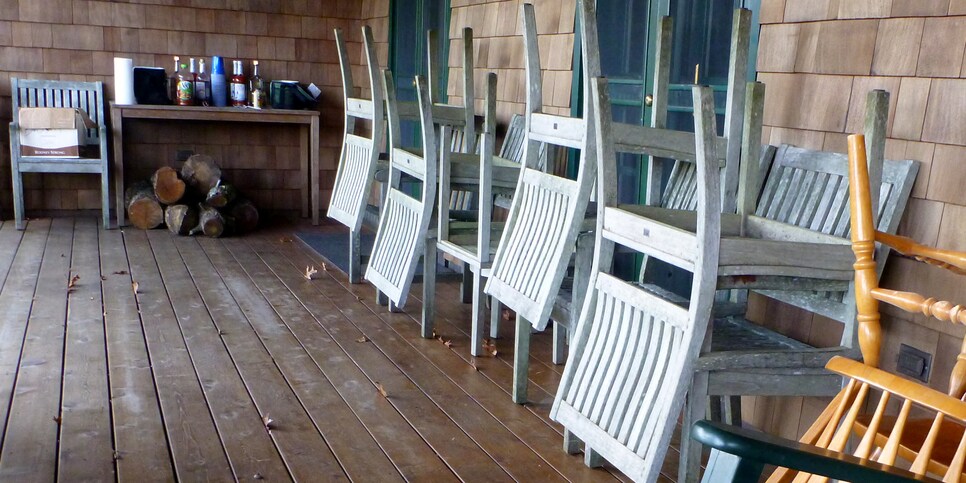 Our clubhouse isn't heated, so every November the plumber has to drain the pipes and fill the toilets with antifreeze. One winter, someone (not a member of the Sunday Morning Group) used one of the toilets anyway, so now we try to make it clear that they're out of commission: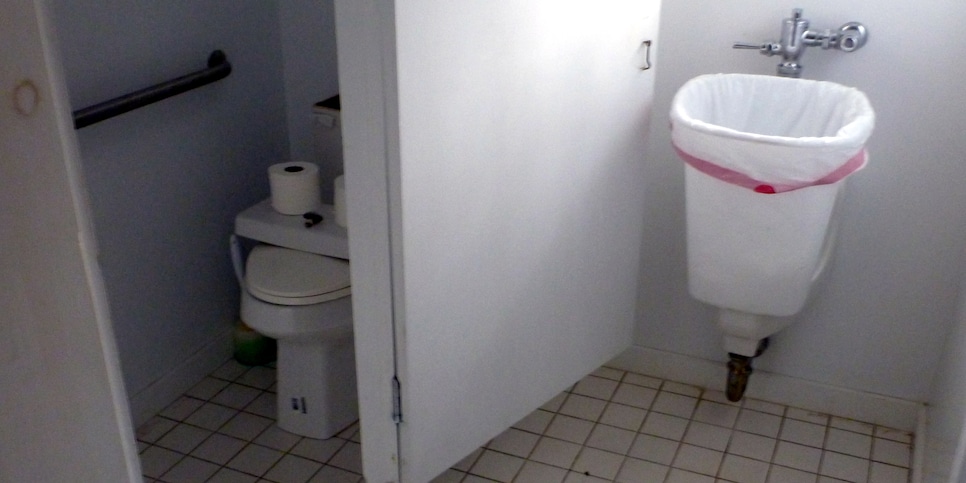 This is the VIP Suite, also known as the women's restroom. It's nicer than the restroom in our locker room, but it's usually available only in bad weather and during the men's member-guest: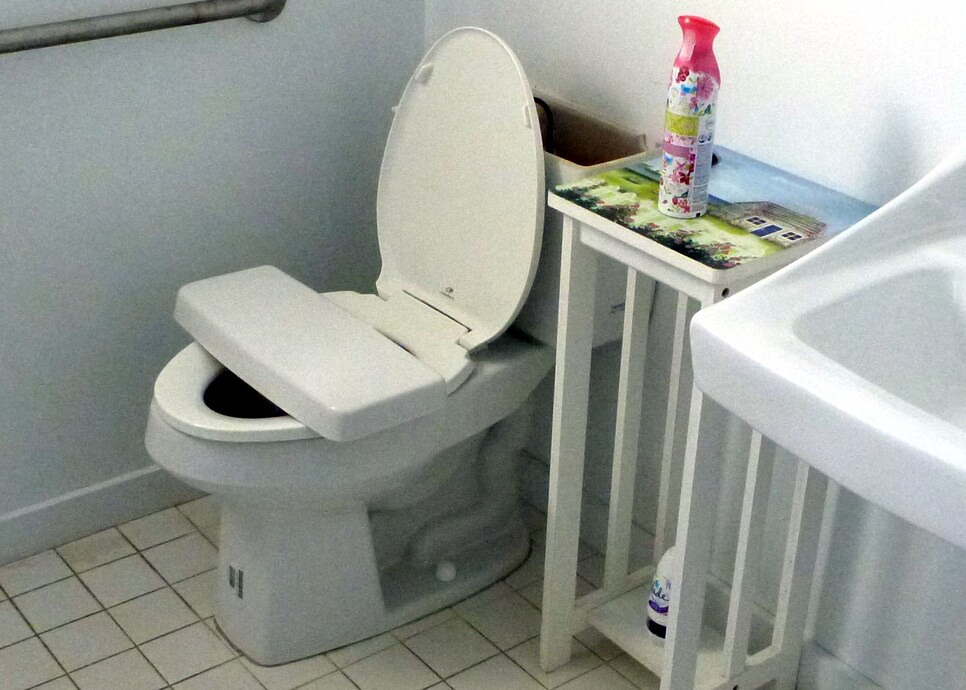 At last, someone decided that the remaining frost was probably just dew, and we teed off. In the trees beyond the fourth green I saw the largest flock of turkeys I've ever seen on the golf course, or anywhere. Here's about half of it:

Tim C. brought lunch. A recent report by the World Health Organization says that hot dogs and bacon cheeseburgers aren't as good for you as people have always thought. No mention of beer, fortunately. And the hamburger buns that Tim brought were "multi-grain," so if this really turns out to be a problem we could cut back on those.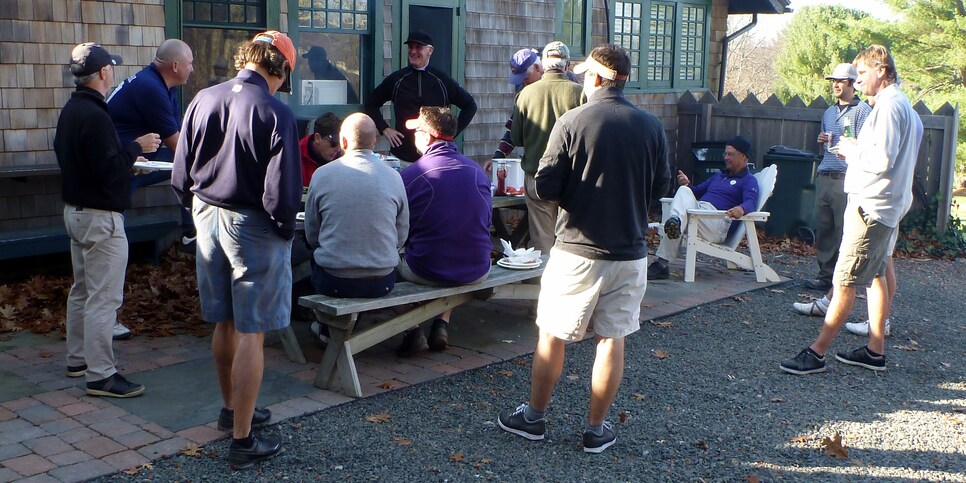 I couldn't hang around for too long on Sunday, because I had to get home to meet the appliance-repair guy, who now does his appliance-repairing only on weekends. He had to take a regular job during the week (at an auto-parts store) because, he said, when appliances break nowadays people usually just dump them and buy something new rather than having them repaired. That is to say, they treat them like year-old golf clubs. His most recent example: a guy who bought a new dryer because he didn't want to wait for a 25-dollar belt to arrive and be installed. An additional factor: the most vulnerable component of almost every modern appliance is the (basically unnecessary) computer board, which can't be repaired and is so expensive to replace that buying a new appliance often actually makes sense. The Internet of Things!
Anyway, he said he always remembers where I live because he once came to our house to repair a broken dishwasher, and the source of the brokenness turned out to be some coyote teeth, which had gotten stuck in the thing that sprays the water. The teeth had fallen out of a coyote skull that I bought on eBay. I bought it because I wanted one, and although we have a lot of coyotes in our area I was tired of waiting for one to die in our yard. Anyway, putting the skull in the dishwasher turned out to be a big mistake, and not only because of the teeth. It made the whole house smell like a very wet, very dirty dog. So never again.