The Loop
Golf in the Olympics: The game can take a bow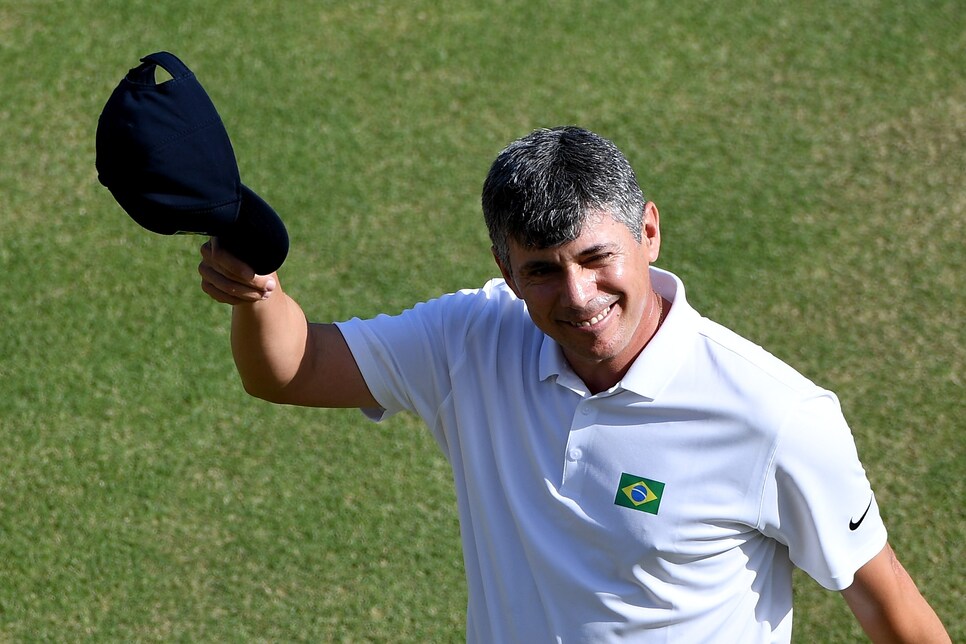 RIO DE JANEIRO -- Nobody knew what golf in the Olympics was going to feel like.
There were plenty of predictions in the negative with adjectives like arcane, faceless to go along with slow, boring and ultimately, misfit.
Positive projections were based on the company line among golf¹s leaders ­that being included in the world's biggest sports spectacle is good for the game. Anything more ambitious than that would have been tempting fate.
Low expectations are partly why - so far at least - golf in the Olympics has been a success. It has looked authentic —­ its international mix of world-class players ­even with the current top four in the world taking a pass ­wearing team uniforms amid landscape festooned with the five rings.
It has sounded good, as the testimonials of golfers extolling the Olympic experience probably more important than their actual play. Exhibit A has been Rickie Fowler, whose four-over total of 145 puts him ahead of only 10 players after 36 holes, but whose total embrace of the Olympics, from marching in the opening ceremonies to being, at least according to Ty Votaw — PGA Tour Chief Marketing officer whose main assignment has been golf's success in Rio - "the mayor of the Olympic Village."
But on the ground, at least to this reporter, golf in the Olympics has felt good as well.
The spectators, while less than a throng but far more than a scattering, have been an enthusiastic and happy group, even as many are getting their first exposure to tournament golf.
The Olympic Course's wide open spaces carved harmoniously out of the natural habitat in a trendy part of Rio has offered an attractive contrast to other venues. Walking in closer proximity to the competitors than other sports allow can make the experience to a newcomer part research project and part picnic. Meanwhile, the elegant trappings of professional golf, which can be taken for granted for those who work in it's milieu, can give the sport an exclusive boutique feel.
For the sophisticated golf fan, the Gil Hanse layout — ­ evocative in style to classic courses in Australia¹s sand belt region - is above all fun. "You know why I like this course?" asked former tour professional and Golf Channel commentator Charlie Rymer. "Because it makes me want to play golf."
"This course is a miracle," Votaw said as he walked during the competition on Friday, still gratefully in awe at the Herculean effort needed not just to make it good, but just to get it finished.
Like many others, he followed the group of Fowler, Justin Rose and Jhonattan Vegas. Though he hasn't been playing well, Fowler betrayed no discouragement and interacted with fans who, like so many new fans in the U.S., were immediately attracted to the likable Californian. While allowing his face to be framed inside the zero in a large ceramic facsimile of the "Rio 2016" logo, much to the delight of several cell phone snappers, Fowler referred to his score and said, "well, at least there's something I can do well."
U.S. team diver Sam Dorman was in the gallery, much like members of Sweden's handball team followed Hendrik Stenson. But lending the most star power was Matthew McConaughey, dressed in jeans and clearly at ease on the last day of a long run of watching various competitions.
"One, I'm obviously over here rooting on the red, white and blue," said the 46-year-old Oscar winning actor. "Two, I'm over here, my wife's Brazilian, so I came over here to root for this country to pull it off, which I think they're doing a pretty good job of that.
"And golf, this would be the closest thing to the Ryder Cup. Sports is such a business now and this is one event that they get to come where there is no advertising, you play for the flag. A lot of athletes are not getting paid anything. It is pure sport."
All right, all right, all right. Golf in the Olympics is decreed a good hang by one of the cooler people on the planet. No wonder, going into a historic weekend, it feels right.