Across the Sea of Cortez from Cabo San Lucas, on the Mexico mainland's Pacific coast, it's Nicklaus country. But it's also tequila country, disparate entities united by their 19th-hole contributions, and each providing reasons to visit.
The Pacifico Golf Course at Punta Mita is one of four Jack Nicklaus designs in the Puerto Vallarta region and has 19 holes; the renowned Tail of the Whale is an optional par-3 third (pictured). It features an actual island green set in the ocean and requires a carry of at least 170 yards. The green is accessible only via an amphibious vehicle, surf permitting. Too choppy, you play the landlocked third.
As for tequila, by Mexican law the country's most famous adult beverage can be produced only in the state of Jalisco (below), of which Puerto Vallarta is a part. Every 19th hole in town has an ample selection with which to wind down. But back to the golf.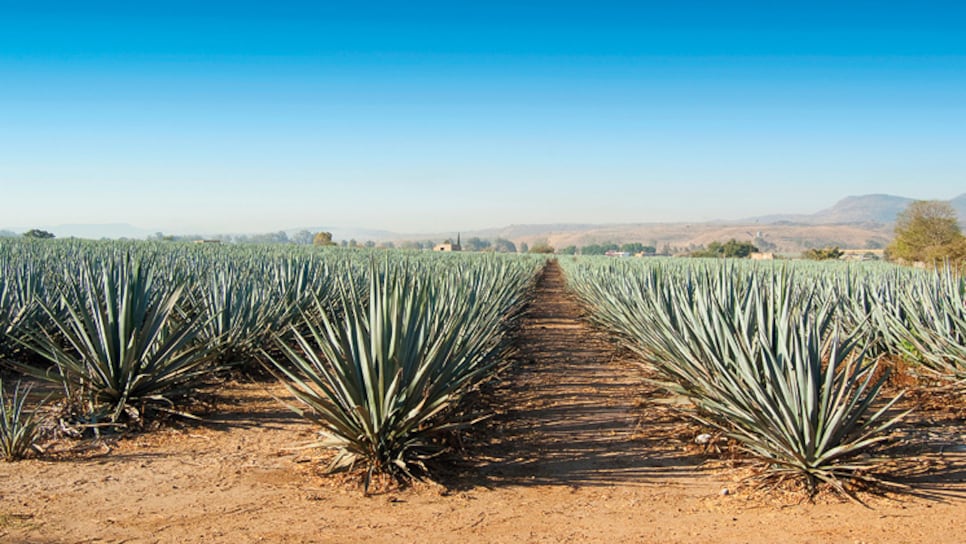 The Puerto Vallarta area, extending 29 miles northwest to Punta Mita, features 10 courses that range from oceanfront to jungle, and even to an urban area, the Marina Vallarta Golf Club, a block from the CasaMagna Marriott Puerto Vallarta Resort & Spa.
The two Nicklaus courses at Punta Mita are what we have come to expect of his Mexico designs— on the water with spectacular views. His course at Vista Vallarta, meanwhile, is cut through dense jungle in the hills above Puerto Vallarta, as is the other course there, a Tom Weiskopf design that includes a great match-settling hole, the drivable par-4 18th.
All the courses in the region are accessible by cab, though it is advisable to agree on the fare before departing. It's a safe and inexpensive way to travel around town, though the round-trip fare to Punta Mita, about an hour ride, can get pricey.
As for feeling safe, the U.S. State Department does have a travel warning in place for the entire state of Jalisco because of organized-crime violence, and it cautions visitors to avoid rural areas. But that shouldn't be a problem. Seven of the 10 courses are in or around town, and the Punta Mita courses, as well as Litibu Golf Club nearby, are accessed via a populated highway. Cabs are a smart way to ensure you don't venture too far afield.
Jack Nicklaus' courses offer spectacular views, from the ocean to the jungle.
Golf is not as expensive as Los Cabos, but it's far from cheap. Green fees range from $139 at the Marina Vallarta near downtown to $240 at the Punta Mita courses.
The well-heeled, who are more likely to lean toward Punta Mita, might want to stay at one of the two hotels there—the Four Seasons or the St. Regis—where rooms can drift toward $1,000 a night or more. Those into surfing also will appreciate the locale. El Faro, a popular surf break, is just off the 17th and 18th holes of the Bahia Course at Punta Mita.
If Punta Mita is too expensive, you'll have no problem finding reasonably priced rooms in Puerto Vallarta, even on the water. Rooms less than $200 a night are routinely available at the oceanfront CasaMagna Marriott and the Westin Resort & Spa minutes from the airport or downtown.
Those inclined to stay closer to the area's vibrant night scene might opt for one of many boutique hotels in "the Romantic Zone," with its restaurants, bars and shops. It's a short walk from Puerto Vallarta's renowned boardwalk, El Malecon.
For your first meal, consider Tacon de Marlin, a busy, informal restaurant directly across the street from the airport, which is why it's a favorite for locals as well as pilots and flight attendants. Its specialty: smoked-marlin tacos.
For a special occasion, it's tough to top Le Kliff. It's about a 25-minute cab ride south of town. It's a palapa-style, open-air restaurant that sits on the edge of a cliff overlooking the ocean.
Finally, don't forget the tequila. There are formal tasting events around town (for educational purposes, of course). One of them, the Vallarta, has three offerings: for beginners, connoisseurs and Mezcalero (for those interested in tequila's half brother, mezcal). There also are informal tastings, notably at one of Chile Tequila's sites where the cruise ships dock. (Ask for Angel Montiel Carvajal, the most gracious of hosts.)
If you're game, just remember to do as the locals do: sip, don't shoot.
BEST SEASIDE COURSE
The Pacifico Golf Course in Punta Mita is outstanding mainly because it has eight holes that are adjacent to or facing the ocean. But its inland holes, which feature views of the Sierra Madre Mountains, will resonate with fans of Jack Nicklaus' challenging designs.
BEST JUNGLE COURSE
The Weiskopf Course at Vista Vallarta looks like it was hacked from the jungle by machete—a whole lot of them. It's similar to the Nicklaus Course on the same property, but Weiskopf's design gets the nod because its manageable green complexes make it more fun to play.
BEST VALUE
Litibu Golf Club, a Greg Norman creation that transitions from a links course to a jungle layout, can be played for a comparatively low green fee of $100.
BEST WILDLIFE
A crocodile sanctuary is just upriver from the Marina Vallarta Golf Club, and no one told the crocs they couldn't visit the golf course. How bad do you want that golf ball you just dunked?
BEST HOLES
The Tail of the Whale at Pacifico is one of the most memorable holes in the world, but if you like something a little more traditional, not to be overlooked is the 571-yard 18th at Punta Mita's Bahia course. It plays down to a spot near the El Faro surf break. Take some guilty pleasure in watching surfers eat it.
BEST THRILL
The new Greg Norman course at Vidanta Nuevo Vallarta is accessed via a one-lane golf-cart suspension bridge high over the Ameca River. Note: Only nine holes are open because of damage from Hurricane Patricia in the fall.
BEST CHALLENGE
The 621-yard 18th at El Tigre Golf & Country Club leaves almost no margin for error down the left side, thanks to a massive water hazard.
BEST PERK
Flamingos Golf Club offers complimentary transportation back to main Puerto Vallarta hotels.
MORE ON THE BEST GOLF IN MEXICO
Riviera Maya: Golf options are plentiful-if you'll just leave your resort
Los Cabos: Golf South of the Border has come a long way