Courses
Golf in Mexico: The Best of the Best in Los Cabos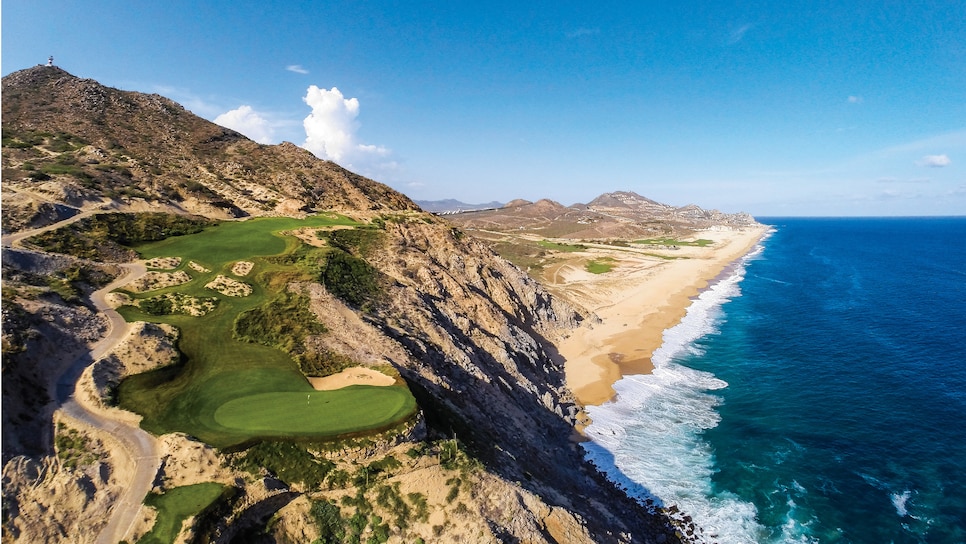 American golfers owe an apology to our amigos down south. For years, they have mainly looked east to the links courses of Ireland and Scotland when it came time to book a trip to an exotic and faraway land.
If they wanted golf with a more tropical flair, it was the western Caribbean or Hawaii. If only they had known what they were missing. Three stalwart seaside destinations with numerous picturesque and playable courses—Los Cabos, Puerto Vallarta and the Riviera Maya—can be found in Mexico. All you need are your clubs, a few pairs of shorts and shirts, and a pocketful of pesos (16.5 equals one U.S. dollar), and you're ready for an awesome vacation. Want a little more guidance? Here is our "need-to-know" guide to golf south of the border. Read on.
LOS CABOS: IF YOU'RE A GOLFER, YA GOTTA GO
A golf trip to Los Cabos is going to set you back. You'll probably still have room on your credit card for the duty-free shop on the way home, but even the best bargain hunters are going to struggle avoiding green fees north of $150 at the area's nine public courses, and there clearly is a get-what-you-pay-for vibe to the hotel hierarchy around the southern tip of the Baja Peninsula.
Cabo is the type of golf destination that will make you wonder if it's the best you've ever visited. You'll play on surreal mountains-meet-desert-meets-tropics courses that look like green oases against the craggy terrain. You'll hit majestic tee shots over expansive cactus forests and along rugged seaside cliffs. You'll eat fish tacos and sip tequila at snack bars while waiting to tee off, and you might see whales breaching offshore before it's your turn to putt. And if you're still on a course—any course—at sunset, warm up your Instagram app.
Are you in? Muy bien. Here's what you need to know: All the public courses can be found within a 28-mile stretch of coastline from Quivira Golf Club, a few miles west of downtown Cabo San Lucas, to Puerto Los Cabos golf course, a few miles east of San José del Cabo. The peak rate to play Quivira or Cabo del Sol's Ocean Course, the two best public courses in Mexico, are $345 and $365, respectively, this winter, and the lowest published rates in the area are $190 at Club Campestre San José and $130 for 18 holes at the nine-hole Vidanta Los Cabos ($75 for nine). But most offer price breaks in conjunction with hotel stays or if you play in the afternoon.
You'll likely fly into Los Cabos International Airport. It's modern and user-friendly for Americans—just ignore the pushy vendors—and driving in the region is fairly easy.
A new toll road (approximately $4 one way) makes getting from the airport to Cabo San Lucas a lot faster than the coastal route along Highway 1. And if you're worried about crime, don't be. It's wise to leave valuables secured at the hotel, but the region as a whole feels safe and people are mostly friendly.
Lodging options can be overwhelming. Everything from basic motels to uber-posh resorts are available. Expect to pay $150 a night for a no-frills hotel, $400-plus for an ocean-view room, and more than $800 for the top lodging options from January through March. For example, the new and stylish JW Marriott Los Cabos Beach Resort & Spa has rooms starting at $405 per night for a four-night stay in mid-January, and the opulent One & Only Palmilla resort will cost you $1,000 (and way up) a night.
Just remember to look for lodging away from the unattractive and congested city centers of Cabo San Lucas and San José del Cabo, and stay near as many golf options as possible. The Marriott is within 15 minutes of three area courses, including one you could walk to—the hilly and super fun Puerto Los Cabos. It also gets kudos for having one of the best breakfast buffets on the planet. (When you order tomato juice, they start squeezing.)
Of the area's many all-inclusive resorts (meals and alcohol are part of the package), the highly regarded Grand Fiesta Americana is within walking distance of the 36-hole Cabo del Sol golf club, and its rates in January start around $475 a night. More all-inclusives worth checking out are Quivira's Pueblo Bonito resorts. Its Sunset Beach property is offering oceanside lodging and unlimited golf at Quivira for $840 a night in the middle of January. Remember, you get what you pay for.
Though quality lodging is expensive, the food isn't. If you don't have a seafood allergy, you can thank us now. The ceviche and shellfish options in many places are delicioso, and the huachinango a la Veracruzana (red snapper in tomato sauce) is addictive. If you're in Cabo San Lucas, try Los Tres Gallos and its outdoor courtyard for dinner. In San José, grab breakfast at the Tropicana Inn (order the machaca con huevos). If you're in between, one of the best sea-bass sandwiches in Mexico is served for lunch at Cabo del Sol.
There are a few highly regarded private courses in the area, such as the No. 1-ranked course in Mexico, Diamante Dunes, and Diamante's new Tiger Woods-designed El Cardonal. You might talk your way onto one of them as a prospective real-estate shopper, or if you have some membership connection. But don't worry if you can't play them. The public courses offer the same types of golf experiences.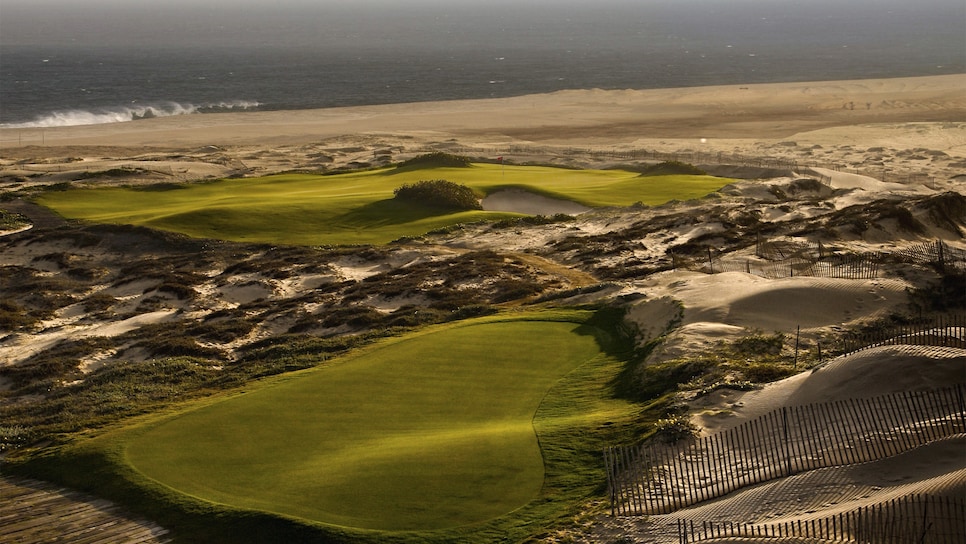 Photo by Angus Murray /Sports Illustrated/Getty Images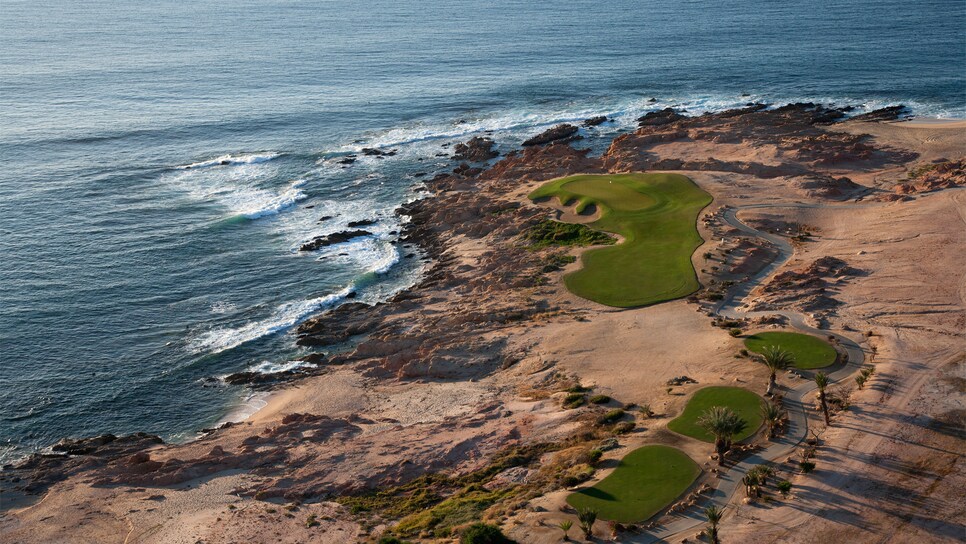 BEST COURSE (EXPERIENCED PLAYERS)
Jack Nicklaus has his design stamp on many area courses, but Cabo del Sol's Ocean Course (above) is the best combination of shot values and sea views.
BEST COURSE (HIGHER HANDICAPPERS)
You can lose a lot of balls at Quivira, but you won't care because of the spectacular setting. The quirky, fun design is like playing golf inside a Salvador Dali painting.
BEST SEASIDE HOLE
The fifth and sixth at Quivira are more than 100 feet above the beach, but the 12th is more exciting. The severe downhiller is 635 yards from the tips and snakes its way to a beach where scenes from the movie "Troy" were filmed. Don't make a wrong turn or you'll need a tow truck (below).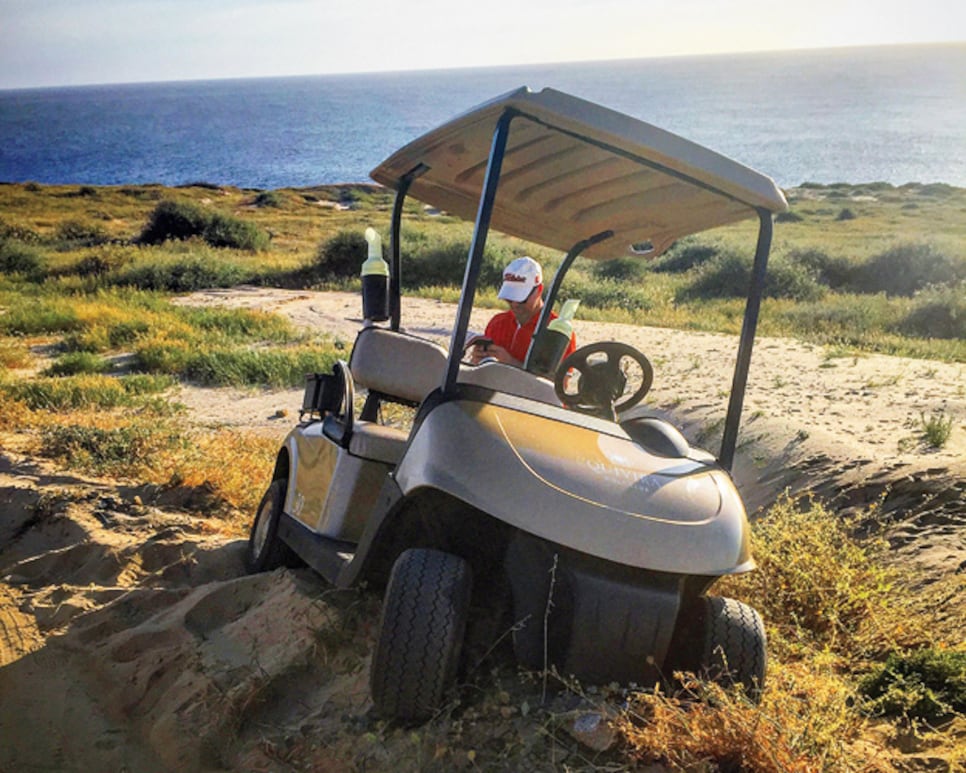 BEST BARGAIN
The after-1:30 p.m. rate of $185 at Puerto Los Cabos—which includes on-course food and beverages (alcohol, too)—is a decent value considering how much fun it is to play. Its up-and-down design is like golf in an amusement park.
BEST 19TH HOLE
Trek up a winding, oceanfront cliff between the fourth and fifth holes at Quivira and stop at the patio snack bar (complimentary food and drinks). The setting above the aquamarine water of the Pacific is surreal.
BEST TURN
Between the ninth and 10th at Cabo del Sol's Ocean Course is taco heaven (go with the shrimp). It's included in the fee.
BEST RANGE
The elevated tee at Club Campestre San José faces the Sea of Cortez. You'll have no problem staying there to work on your slice, but practice your putting before trying its crazy, undulating greens.
BEST INLAND HOLES
The 550-yard seventh hole on Palmilla's Mountain nine requires a big tee ball over a cactus forest and features distant views of the Sea of Cortez. Cabo Real's 454-yard, par-4 14th hole runs toward the mountains and along a cliff and might be the toughest birdie op in the region.
MORE ON THE BEST GOLF IN MEXICO
Riviera Maya: Golf options are plentiful—if you'll just leave your resort