News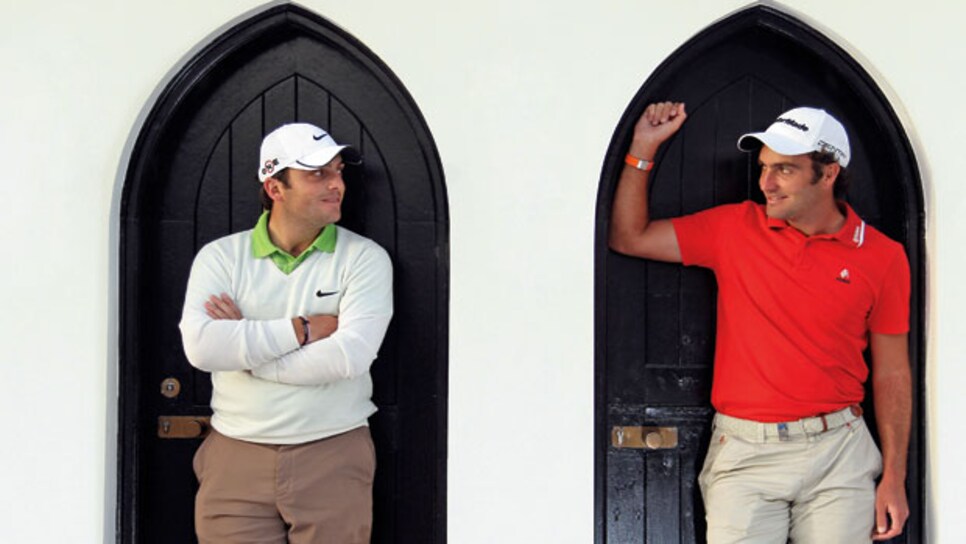 Odd Couple: Italian brothers Francesco (left) and Edoardo Molinari will be the first siblings to play in the same Masters since the Ozaki brothers in 2000.
The putt to pip Ireland and Sweden by a shot and win the 2009 Omega Mission Hills World Cup was maybe four feet long, give or take a couple of inches. Right-to-left, the line was just inside the top lip. And in it went, dead center, immediately setting off wildly contrasting celebrations.
The older Molinari brother took off like a striker who had just scored the decisive goal in the soccer equivalent of the tournament he had moments earlier clinched for Italy. Arms outstretched, he excitedly ran, bounced and leapt around the green toward his younger sibling. In contrast, the man who had exploded from a greenside bunker to leave that fateful putt stood all but completely still, a shy smile combining with a look of mild embarrassment on his dark, Mediterranean features. His expression said it all: "OK, we've won. But there are people watching. Calm down, will you?"
The varied roles played in the spontaneously amusing yet touching scene were no surprise. Edoardo, who just turned 29, is taller, thinner and more outwardly emotional. Francesco, 27, is shorter, stockier and more subdued. They have always been very different: physically, temperamentally and in the path they took to become two of the planet's top 50 players. While their golf beginnings are necessarily identical and their latest progress reports remarkably similar -- both lost narrowly in the first round of the WGC-Accenture Match Play Championship; Edoardo is 47th and Francesco 48th on the World Ranking -- for the brothers Molinari the roads traveled to Miami for the WGC-CA Championship at Doral and Augusta National GC for the Masters have regularly diverged.
"They have amazingly different personalities," confirms swing coach Denis Pugh, who has worked with both since 2004. "Edoardo is a Seve-like character; Francesco is more like Bernhard Langer in that he has far fewer mood swings, less deviation from his set path. Edoardo is more likely to improvise and make stuff up as he goes along. He's a 'try this, try that' sort of guy. When he gets hot, he's really hot. And when he gets down on himself, he can be tough to lift. His game is more volatile. But he has such confidence in his short game that going for a tight flag holds no fears for him."
Francesco is more orthodox and has a more cultured swing than his brother. "When I first saw them," says Pugh, "Edoardo's method needed changing and developing, but Francesco already had a tour-standard move, one that he just needed to believe in, then understand how to keep it functioning at a high level. He is a bit like a Ferrari in that he routinely performs at a high level but still needs regular tuning."
The brothers go their own way off the course, too. Each supports a different soccer team: Edoardo cheers for hometown Juventus; Francesco, alarmingly for a Turin native, is an Inter Milan guy ("Don't ask," says Edoardo rolling his eyes). Edoardo is a self-confessed morning person; Francesco hates to wake up early. And, while Francesco ("Chicco" to his friends) and his wife, Valentina, make their home in the swanky London suburb of South Kensington, Edoardo ("Dodo") and long-time girlfriend Anna Roscio -- winner of the Italian Women's Championships at match play in 2007 and stroke play in '09 -- have chosen to remain in Italy.
Indeed, it was there, in the northern city of Turin, that the Molinaris received their introduction to golf. Tagging along every weekend with parents Paolo, a dentist, and Micaela, a former schoolteacher, both 10-handicappers, the brothers were exposed to the game early and often. And both were soon enough showing real promise.
"Until we were maybe 17 and 18, Edoardo was always better," admits Francesco. "He was bigger and stronger. But we were both good players. It has always been great for me to have him there. He has always been a target for me.
"And yes," adds Francesco, "we are so different in character and behavior. But we are both happy. We just have different ways of saying it. I must admit I have changed a lot over the years, though. I used to get really angry when I was younger."
Both brothers have changed since those far-off beginnings. Paolo describes a young Edoardo as "quiet and reflective" and points proudly to the fact that, as a student, his older son devised a statistical method for analyzing all aspects of play, one the Italian Golf Federation still uses.
Dad continues to laugh at Francesco getting more and more irritated on the course. "Being younger than Edoardo, he would play worse, but rather than admit that, he would get very annoyed," Paolo says. "Every few holes he would shout at the top of his voice, 'I enjoy only birdies!' Luckily, he has changed his mind now, otherwise I think he would not be playing golf."
Since those early, carefree days, the fortunes of the brothers as professionals have, predictably, been very different. The winner of the 2006 Italian Open, Francesco has finished 38th, 60th, 24th and 14th on the European Tour money list the last four years. Edoardo, meanwhile, lost his tour card after 2008 but rebounded by winning three times and leading the Challenge Tour in earnings in 2009. Then one week before making that World Cup-winning putt, Edoardo completed his rise in fortune by lifting the Dunlop Phoenix title in Japan, where he defeated Robert Karlsson in a playoff.
"Edoardo is a real character," Karlsson says. "He talks non-stop. He hits it a bit wide off the tee now and then. But when he gets into contention, he seems to win. It was funny to watch them when they won the World Cup. Edoardo went crazy, and Francesco just smiled. It is going to be interesting to see how far each of them goes in the game. But it is great for Italian golf that they are doing so well."
One thing the pair has in common is distinguished amateur careers. Edoardo famously won the 2005 U.S. Amateur at ­Merion, a victory that took him to the Masters -- with his brother on the bag -- and a pairing with Tiger Woods. Francesco, who turned pro in 2004, almost beat him to the year's first major though. In 2003 he lost to eventual champion Gary Wolstenholme in the semifinal of the British Amateur at Royal Troon and a year later reached the quarterfinals at St. Andrews, losing to future winner Stuart Wilson of Scotland.
"We have done things very differently," acknowledges Edoardo. "Initially, I stayed amateur longer because I was studying engineering, which is a five-year course. Francesco's degree is in economics, which takes only three years. Of course, I am much cleverer than he is!"
Merion impacted Edoardo's pro career. "That postponed my turning pro for another six months," he explains. "I wanted to play in the Masters, the U.S. Open and the British Open."
That first Masters experience was a memorable week for the brothers, who become noticeably emotional when talking about how much fun it was to share the experience. "That was maybe the greatest week we have ever had as brothers," says Edoardo, who shot 80-77 to miss the cut. "There I was playing with Tiger, and my brother was on my bag. Nothing could be better. It was just like a movie. It was hard for us to believe what we were doing. And, of course, our parents had a wonderful time. They will be back this year."
Francesco's most vivid memories are of the ever-hazardous 12th and 15th holes. "I remember him being unsure of the club sometimes, so he would ask me," he says with a smile. "Every time we got to the 12th, it was a really hard call. And I remember being really scared when he was hitting a 3-wood to the 15th green. It was strange. I was happy I didn't have to play the shots. But it is harder to watch than to play."
This April, when they become the first brothers to compete in the same Masters since Naomichi and Masashi (Jumbo) Ozaki in 2000, Francesco will find out if playing is easier. After a highly consistent '09 ("the only thing missing was a win") during which he finished T-27 at the U.S. Open, T-13 at the British Open and T-10 at the PGA Championship, he will be one of three Italian representatives at Augusta (16-year-old British Amateur champion Matteo Manassero is the third).
"It is unbelievable that we have three players in the field," beams Edoardo. "Matteo has been playing great. He is such a nice kid, very down-to-earth. He has the talent to become our best player ever. His only weakness is he lacks some distance off the tee. But he will get stronger. Give him three years, and he will be one of the best on tour."
Beyond the Masters both Molinaris are eyeing a Ryder Cup debut come October. European skipper Colin Montgomerie has said he would be delighted if one or both made his side.
"The Ryder Cup is every player's ambition," says Francesco, who scored three points at last year's Vivendi Trophy between the continental Europe and Great Britain & Ireland, including a 5-and-4 thumping of England's Oliver Wilson. "But it is far away. For now, I am focused only on playing well. If the results are good, the team will take care of itself. But it would be a great experience, especially if we both make it to Celtic Manor. That would be an easy pairing for Monty."
Should they both end up part of the European team, one thing the Molinaris won't be short of is head-to-head practice. On a weekly basis their practice rounds are filled with challenges and good-natured ribbing, particularly when it comes to distance off the tee.
"I have always encouraged a bit of sibling rivalry," says Pugh, who counts Montgomerie among his former pupils. "I like to see and hear them teasing each other on the course. They have a very strong relationship. They are very competitive but in just the way they should be. They are very much at ease in each other's company. But they don't live in each other's pockets."
Edoardo, who at 5-foot-11, 180 pounds, is three inches taller and about 10 pounds heavier than his brother, admits he likes to get under Francesco's skin. "When we are out together, there is a bit of rivalry and back-chat," he says. "We like to have fun with each other. He knows I am a little longer off the tee -- he is so straight and boring -- so any time he hits it half a yard past me, I hear about it. There is always plenty of that going on."
Things can get serious too. Neither brother will forget their third-round clash a few years ago in the 2002 Spanish Amateur. It was the first time they had gone up against each other outside Italy.
"He was 5 up after nine holes," recalls Francesco, through still-gritted teeth. "But I was 1 up on the 18th tee. Then I three-putted the final green to lose the hole. He eventually won at the 21st. It was a great match."
They are too. Opposites attracting and all that.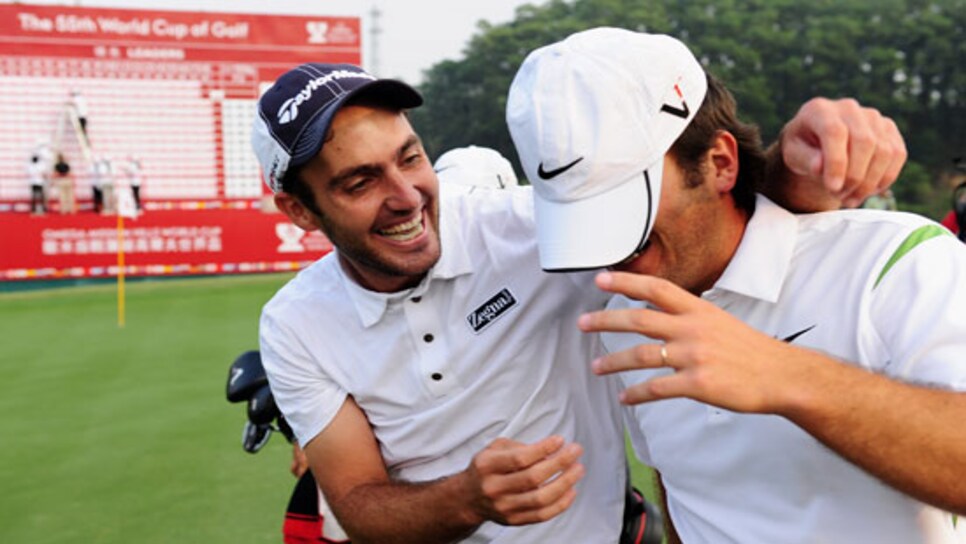 __Golf, Italian Style: Edoardo (smiling, top) exploded in joy after he and younger brother Francesco won the World Cup last season in China. __