News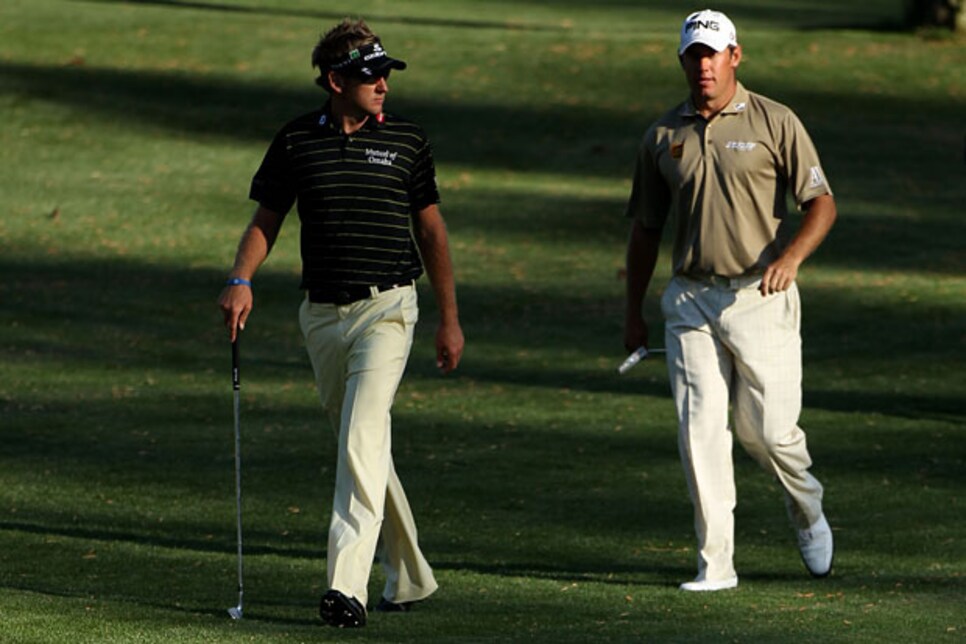 Ian Poulter and Lee Westwood both flirted with their first major win, but came up short.
By definition, they are different, set apart from the rest. All four of them. And that is perhaps the greatest strength of golf's major championships. In contrast to the mind-numbing sameness that week to week to week pervades America's PGA Tour and, to a lesser extent, the European circuit, the questions asked of competitors in a Masters, US Open, British Open or PGA Championship encourage a diversity of approach, temperament, technique and talent. Winning a tour event is the sporting equivalent of graduating kindergarten; lifting a Grand Slam title represents the heights of a first-class university degree.
So it is that only the elite is destined to consistently succeed at golf's highest level. For the rest, any of the four examinations will inevitably and invariably become too tough to handle. And that, sad to say, has so far been the all-but fruitless fate for the current generation of European golfers. Since the turn of the century, only Ireland's Padraig Harrington has won a major championship, three to be exact. For most of the others, a "follow the pack" mentality has led to a catalog of failure in all four majors.
It is a fact that no golfer has ever made himself the best player on the planet by copying someone else's swing, or by assuming another's identity or mannerisms. Golf is an individual game best played by individuals. Which is why the perennially-underrated Ian Poulter is edging closer to major success; why the hard-working Lee Westwood is doing the same; and why, for even the best of the rest, it is hard to imagine much more than a relatively unfulfilling (if still lucrative) future.
Poulter, of course, has always done things his own way, from the eccentric and colorful excesses of his wardrobe to the admittedly sometimes-limited virtues of his golf swing. Despite the fact that he has never been the greatest of ball-strikers, the 31-year old Englishman has progressed steadily to the point where today he is the Match Play champion. And, more importantly, he has the self-belief -- perhaps his biggest asset -- to take on and occasionally beat the very best. Remember how we laughed when, a couple of years ago, he announced a seemingly outrageous ambition to be No. 2 in the world behind Tiger Woods? Well, no one is giggling and pointing now.
As for Westwood, the man from Worksop in the English midlands -- third, third and second in the last three majors -- long ago made his mistakes and, more importantly, learned from them. In the wake of reaching world No. 4 back at the turn of the century, he went down the route of trying to "improve" his distinctive yet highly effective method. Only when he had sunk as low as 250th in rankings did he fully realize that he is a far better golfer sticking with what nature has given him. Today, no one in the game is more solid than Westwood tee-to-green.
In defense of the current band of better-than-average European players, coming up well short (so far at least) isn't all their own faults. Tiger and Phil Mickelson apart, standing out from the pack isn't easy these days. Look at both the PGA and European Tours. So far this year, only South Africans Charl Schwartzel and Ernie Els have won more than once on either. Parity is king. Of course, much of that all-too prevalent stalemate has been caused by the high level of quality control involved in the manufacture of today's clubs and balls. For one thing, bigheaded metal drivers have made mastering what should be the hardest club in the bag almost routine for virtually every professional. So separating oneself from the rest is more difficult. The deserved edge previously enjoyed by the likes of Greg Norman and Nick Price -- the best drivers of their generation -- has been diminished greatly.
Then there is the ball, the root of all golfing evil these days. The modern version is so good it actively resists lateral movement in the air. So the shaping of shots from right-to-left and left-to-right has all but disappeared from the sharp end of the game. It's all about taking dead -- and straight -- aim at the target. No one, sadly, plays golf like Seve Ballesteros or Lee Trevino used to. No one approaches the genius of Ireland's Christy O'Connor, who could hit a ball onto a green from 150 yards out with every club in his bag. What was once an art form that actively encouraged creative genius has largely become a science played by the sporting equivalent of men in white coats. In other words, it is a lot less interesting, both to watch and to play.
Add in the fact that, on both sides of the Atlantic, tour courses are increasingly being presented in basically the same way week after week -- in terms of fairway width, speed of greens and length of rough -- further exacerbating the lack of diversity amongst the participants. Way too often the middle of the fairway is the only place to be between acres of penal rough grown by un-thinking officials. Way too rarely are professional players presented with wide landing areas that provoke any kind of independent thought. Hardly ever, with the ideal spot covered in long grass, can they create an inventive and distinctive angle for the second shot. So they all end up hitting the same drive to the same place and, in turn, the same second shot. (Wake me up when it's over).
When those relatively unimaginative players -- their senses dulled by all of the above -- pitch up at a major championship venue like Augusta National (where short grass still prevails and many holes can be played in a variety of ways) they are suddenly faced with a test paper that is, to paraphrase the great Bobby Jones, "unfamiliar." It was no accident that last weekend's Masters leader board was almost exclusively filled by players either exceptionally thoughtful or prodigiously talented or both.
Some bravery is called for. In order to see off the likes of Woods and Mickelson -- both of whom are never anything but themselves when it comes to "seeing" and hitting shots -- the leading Europeans need to play their own games rather than someone else's. They need to get away from the common mentality and route of least resistance that sees way too many of them out on the range trying to make pretty much the same swing as the next guy and the guy after that. Instead, they need -- like Poulter and Westwood -- to be true to their own instincts and characters and go from there.
One coach who never, as he says, "weakens a strength in order to strengthen a weakness," is Bob Torrance. Coincidentally, the wise old Scot works with three-time major champion Harrington. Funny that.