News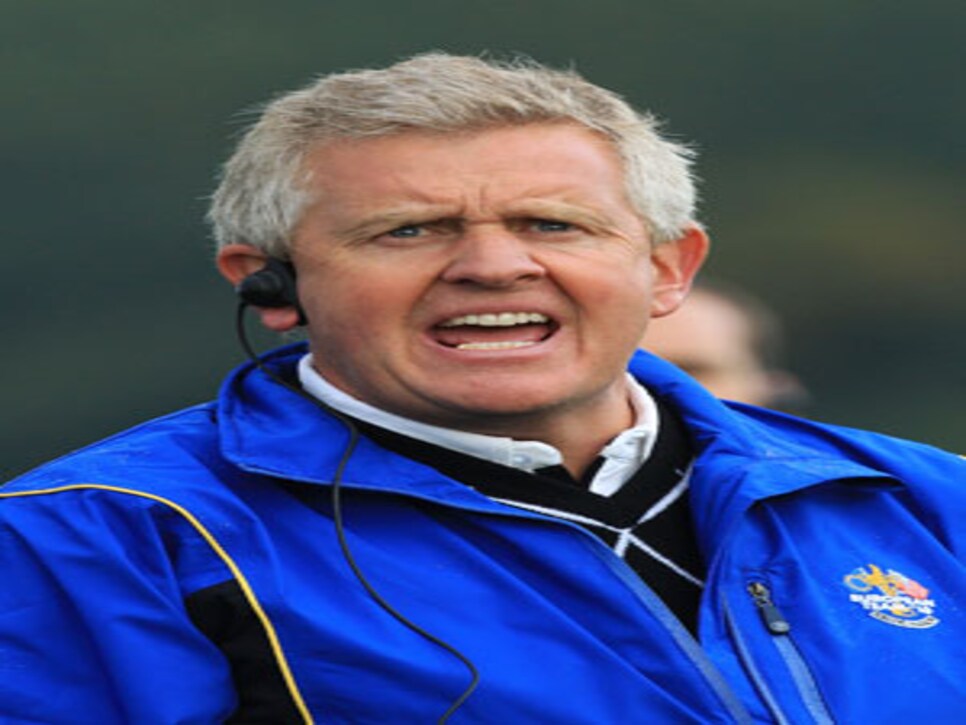 Montgomerie's squad needs five points to win the cup.
NEWPORT, Wales -- This was Frazier flooring Ali in the fourteenth; Lamar Odom setting the pick for Kobe to take a last-second shot; or Xavi of Barcelona putting ace striker Lionel Messi clean through with only the goalkeeper to beat -- the killer blow that all but ensures ultimate victory.
Two points behind overnight -- but, significantly, up in the six incomplete games left on the Celtic Manor course -- the European Ryder Cup side took themselves to the threshold of regaining the trophy by trouncing the United States by a score of 5 ½ to ½ in the penultimate series of matches, an unprecedented mix of two foursomes and four fourballs. With the 12 singles to come on Monday, non-playing skipper Colin Montgomerie's side needs only five points to bring home the cup.
It will surely take a lot to stop them from doing so now. Especially if they handle the pressure as they did on what was eventually a gloriously sunny Welsh afternoon. Going out -- after yet another rain delay -- the obvious fear for the Europeans was that the enforced overnight break and long wait would irretrievably break the energy and impetus they rode so well Saturday evening. Down by two points, but conversely up in six matches, the home side was, in UK parlance, "gutted" at the need to halt proceedings. For them, it seemed, things could only get worse; for the Americans the stoppage could not have come at a better time.
"This afternoon is so, so important for Europe to maintain our momentum, to get the crowd behind us again," confirmed Montgomerie. "They were magnificent last night."
Still, Monty was keeping things in perspective. With five of the six games not yet at the turn, a lot had yet to happen.
"Anything beyond eight-all is a bonus," he continued. "If we can take a lead in the singles, great. To win a session 4-2 with the closeness of competition nowadays is fantastic. We have an opportunity, yes, to go ahead, but it is only an opportunity. We haven't taken it yet."
And, as it turned out, they did. Right from the start, Monty's men seemed intent on building on the previous day's foundation. And it took Lee Westwood -- who had posted a message above the door of the team room: "The U.S will come out fast, let's make sure we come out faster" -- and Luke Donald only four holes to polish off the unbeaten pair of Tiger Woods and Steve Stricker, 6 and 5. Talk about following your own advice.
"Monty wanted a fast start and that's what we gave him," said the 37-year old Englishman, who will rise to a career-high two in the world Monday morning, just in time to take on Stricker in the first singles match. "I think we were five under par, which takes some beating in foursomes."
Indeed, not that Westwood was doing so -- far from it -- but there was much to gloat about. This was the Woods/Stricker combo's first loss in seven matches together in Ryder and Presidents Cup play, the heaviest match play beating of Woods' life and the sixth time in seven Ryder meetings Westwood has inflicted defeat on the world No. 1. All in all, this wasn't one of Tiger's better days on the links.
Thereafter, the scoreboard was a virtual procession of European blue, with the exception of the Matt Kuchar/Stewart Cink battle with the Molinari brothers. Courtesy of a last-hole birdie from younger sibling Francesco, that one finished all square, which means all 12 European players have now scored at least one point here this week.
That strength in depth was obvious in the other matches, where a succession of Europeans performed stoutly down the stretch. Even the increasingly beleaguered Padraig Harrington did his bit, combining with Ross Fisher to see off Jim Furyk and Dustin Johnson, 2 and 1.
As one might expect, Monty, never quick to disguise his pleasure at beating Americans, was more than a little chuffed by his men's efforts.
"I'd have taken 8-8," he reiterated. "But all credit to my men. I've always said it takes 12 to win a Ryder Cup and all 12 today, performed brilliantly. That was one of the best days I've ever seen in a Ryder Cup. To stop America winning a match is great.
"I must mention the Molinaris. They knew they needed a birdie at the last and got one. It was a fantastic performance. A three-point lead is so much better than two. We have to continue this tomorrow. There must be no resting for our team. There will be no complacency. We all remember what happened at Brookline (where the Europeans lost after being ahead 10-6 going into the singles). Our goal now is to win the singles. And if we do that, we'll win the cup."
Nearly there, Monty. Nearly there.