News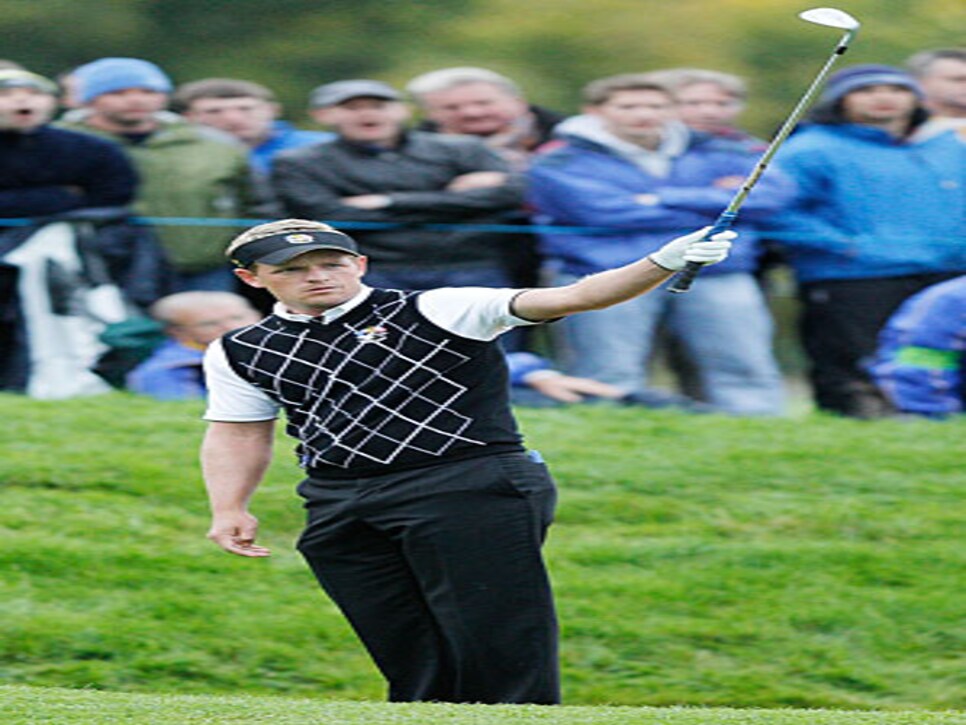 Luke Donald helped lead Europe's Saturday afternoon charge.
NEWPORT, Wales -- It could be heard all over the golf course. Well, inside the heads of two men at least. When Padraig Harrington and Ross Fisher closed out their foursomes encounter with Dustin Johnson and Phil Mickelson on the 16th green, the simultaneous sigh of relief that surely emanated from the previously beleaguered Irishman and his under-pressure captain, Colin Montgomerie, was representative of just how stressful these matches can be for those involved.
Harrington's first Ryder Cup point since 2004 means that the potential for ritual slaughter by an unforgiving British media has been at least partly alleviated. Gone is Monty's worst nightmare: failure to regain the coveted trophy combined with the most controversial of his three captain's picks going 0-for-4 here at Celtic Manor.
Not surprisingly, Harrington had some grateful words for his skipper after Fisher holed from maybe 15 feet to seal victory.
"Monty made a great decision," claimed the 38-year old Dubliner. "He gave me some responsibility out there looking after Ross. He made me feel like I had to do a bit more. And it worked well for me."
For all that, the real star of this second day was foursomes golf itself. So much more tactically interesting than its crash-bang-wallop four-ball counterpart, the unforgiving and subtle "alternate shot" format brings out the best -- and worst -- in even the most proficient practitioners. It doesn't take as long, either. If only the players could be persuaded to walk forward as their partners drive, the pace of play would be even quicker -- and even more entertaining.
The feeling here is also that the American side dodged a big bullet by taking the last completed match of the day, thereby restoring a two-point lead that could just as easily have disappeared entirely.
With five and four holes to play respectively, the Americans held leads in each of the last two games. A 7-3 lead for the visitors was looming until the strong combo of Luke Donald and Ian Poulter turned things round. Graeme McDowell and Rory McIlroy looked like doing likewise until Stewart Cink made a 30-foot bomb on the penultimate green -- a "poisoned dart" he called it --to turn what looked like being a one-hole deficit into a one-hole lead. McIlroy's weak wedge, photographer's click or no photographer's click, into sand at the long 18th didn't help the Euro cause either (By the way, can we move the last tee up please? It would be nice to see someone going for the green in two). All in all, it was a huge 45 minutes and a period with potentially huge implications for the eventual destination of the trophy.
McIlroy, surprisingly, has been something of a disappointment so far. Everything looks to be a bit of a struggle for the boy wonder in what he once called "an exhibition," coincidentally just as it did when he led Great Britain & Ireland's Walker Cup side to narrow defeat three years ago at Newcastle, County Down (a match where the winning U.S. putt was holed by one Dustin Johnson).
Perhaps the biggest downer for the Euros, however, was the last green loss of the Molinari brothers. Armed with the endearing storyline designed to get an already partisan crowd rocking, the Italian siblings performed poorly on the front nine, found themselves two down and, despite a noble recovery, eventually succumbed to a brace of closing birdies from Zach Johnson and Hunter Mahan. It was, from a European point of view, an opportunity missed. Still, as sportsmen trying to put impending defeat from their minds like to say: there's a long way to go -- and 18 points to be played for.
"We need, minimum, 4-2 out of this next session," was Monty's Saturday evening verdict. "There are two foursomes out there and four four-balls. We must get into the singles eight all, minimum."
Then again, given the sterling start made by his men in the penultimate and unprecedented series of mixed matches, mere parity may turn out to be a conservative ambition for the Europeans. Up in all six games overnight, a potentially trophy-deciding thrust is suddenly there for the taking.
"We're in a very strong position," acknowledged a slightly less stressed Monty. "Momentum is key and we have it. It's been a superb session so far. But the job is only half done."