News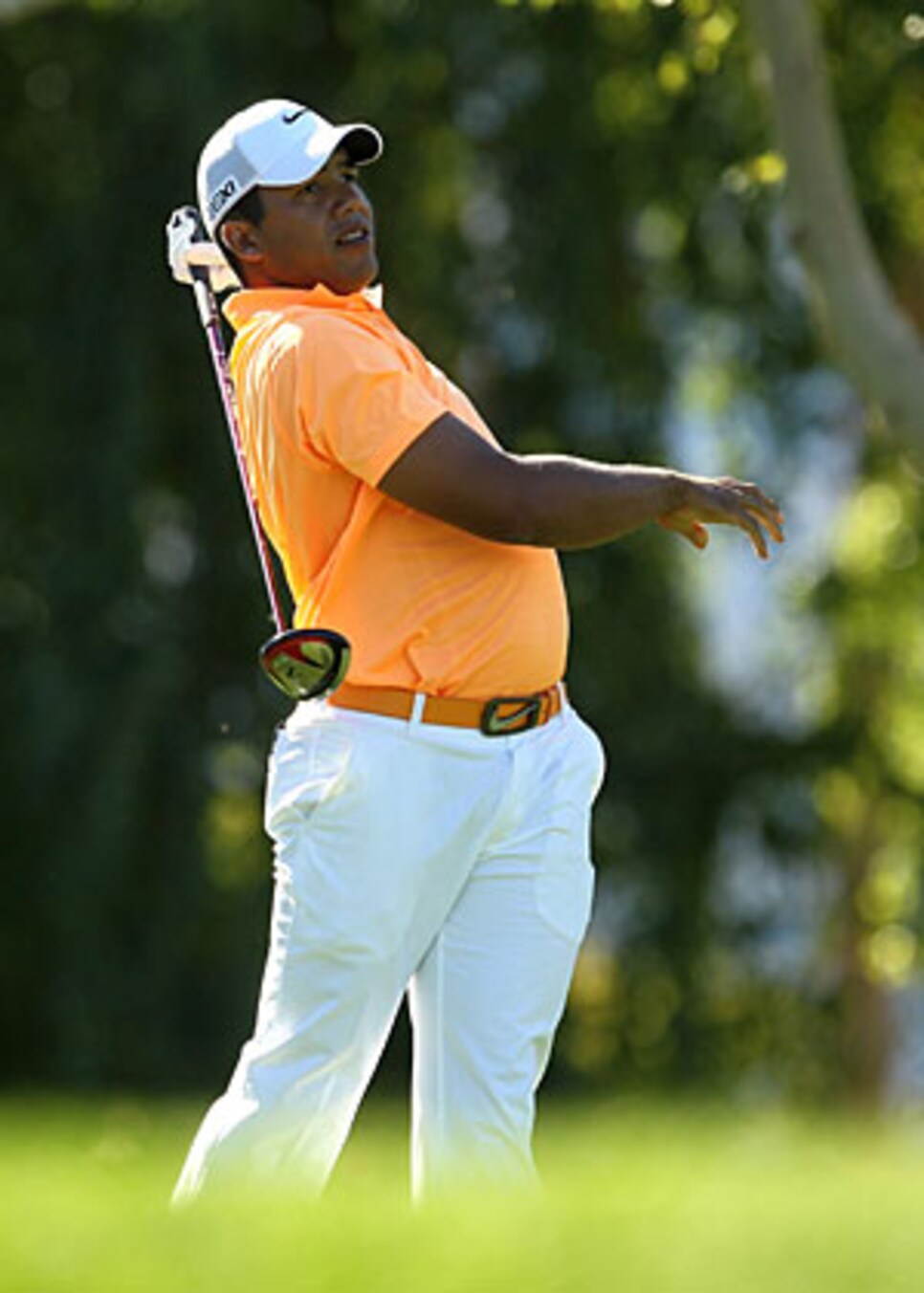 Vegas' ball-striking wasn't sharp on Sunday, but his putting bailed him out.
LA QUINTA, Calif. (AP) -- He has a unique golf pedigree, ferocious power off the tee, and a first name that could confound any spell-checker.
Venezuelan rookie Jhonattan Vegas also has his first PGA Tour victory after showing the playoff poise of a veteran in the Bob Hope Classic.
Vegas made a 13-foot par putt on the second playoff hole Sunday after putting his tee shot in the water, holding off Gary Woodland to win in just his fifth tour start.
Vegas is the first Venezuelan to win a PGA Tour event, but his remarkably steady performance over 92 holes in the five-day event suggests he's capable of winning again -- and maybe even energizing an unpopular sport in his homeland.
"Just to think about winning on the PGA Tour, that's something," Vegas said. "But to make it happen is something else, and it's a crazy feeling. It was tough today to stay neutral and play golf, and that's why."
Vegas improbably became the first rookie to win the 52-year-old tournament with a spectacular up-and-down par after knocking his 92nd tee shot into the water 160 yards from the hole.
With the light fading rapidly behind the San Jacinto Mountains, Vegas got help from two poor shots by Woodland, who also was seeking his first tour win. Woodland's approach shot landed in a bunker, and his sand shot trickled to the opposite side of the green.
After his drop, Vegas confidently put a 9-iron right behind the pin. Woodland missed a par putt, and Vegas holed his $900,000 putt.
"Seemed like we were out there forever," said Woodland, a former college basketball player from Kansas. "We were grinding all day. Jhonattan got off to a pretty good start, and I was just trying to catch him all day, so the playoff was no different. It was just sudden death, but who made the first mistake? And it looked like I did."
Vegas and Woodland eliminated defending champion Bill Haas with birdies on the first playoff hole after all three finished the final round at 27-under 333. Vegas is the third straight player to get his first PGA Tour victory at the Hope, joining Pat Perez and Haas.
Vegas and Woodland closed with 3-under 69s and Haas shot a 66.
Vegas' path to the PGA Tour started in the remote reaches of Venezuela, where the toddler imitated his father's golf swing with sticks and stones while growing up in an oil-drilling camp. Maybe that's why Vegas never gave up hope when he missed a 9-foot putt that could have won it on the final regulation hole -- or even when his second playoff hole started in the drink.
The 26-year-old needed a wealth of patience and perseverance just to make it to Palm Springs from that camp in the Orinoco River valley -- and when Woodland made a few mistakes of his own, the man they're already calling Jhonny Vegas hit the biggest jackpot of his pioneering career.
"To my country, I hope this means a lot," Vegas said. "I really hope it means people changing (their minds) about the sport."
Playing one group apart, Haas and Vegas both missed short putts on the final regulation hole. A few minutes after Haas botched a 6-footer for birdie, Vegas couldn't connect, making his only bogey of the final day. Woodland, who shared the lead with Vegas after each of the final three rounds, got into the playoff with a birdie on the final regulation hole.
Vegas cut a confident figure on the Palmer Private course, wearing a neon-peach shirt with stark white pants and Nike hat. He was followed by his mother and his father, Carlos, who got his son into the game while selling food and tending a nine-hole course in that oil camp.
Vegas left home at 17, moving to Houston to study golf and English before playing at the University of Texas.
"Life for me hasn't been always the best," Vegas said. "I had to fight to get where I am. I'm a fighter, and if I set a goal in front of me, I'm just going to die just to get there, and fight hard to accomplish what I set out in my mind."
Vegas' victory should give a boost to his desire to revive the sport in his native country, where golf has been under criticism from President Hugo Chavez, who has closed six courses in the past seven years. Vegas has expressed a desire to speak with Chavez, hoping to change the president's mind about the sport that Chavez has decried as a pastime of the rich.
"I hope they know about the story, and that it is possible to get to the PGA Tour and win," Vegas said of his fellow Venezuelans. "I hope people realize that all over the world."
The Masters will have a bit of Vegas flair this year -- and not just from Jhonattan. His father wouldn't miss it for the world.
"I know it's a dream that my dad and my American friends have to go to the Masters, just to walk around," Vegas said with a broad smile. "That's what they told me. It's like, 'Before I die, just please get me to the Masters.'"
Ryan Palmer shot an 8-under 64 in the final round to finish fourth at 26 under, while Brian Gay's 10-under 62 shot him up from 37th place to a tie for fifth with Kevin Na (67) at 24 under.