News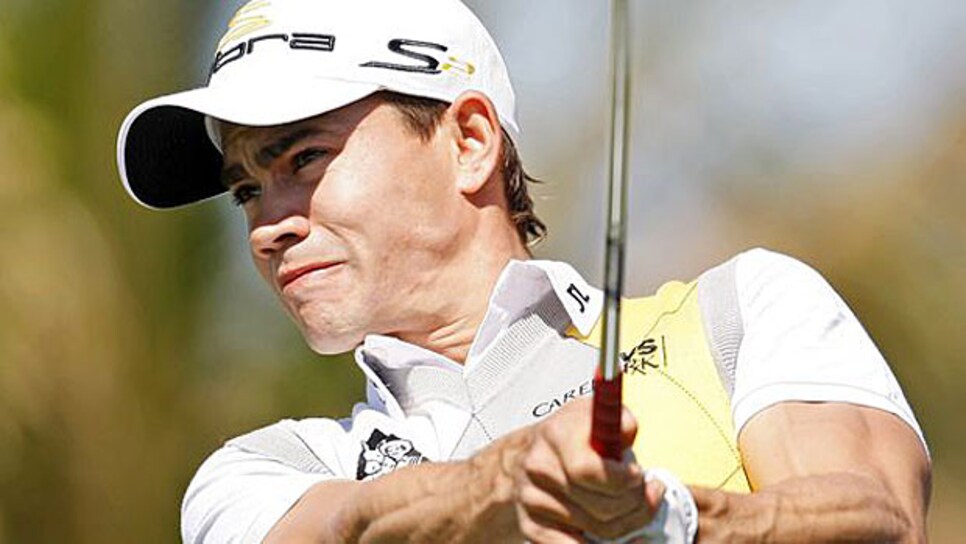 Camilo Villegas' 72-hole score was the lowest at Honda since it moved to PGA National in 2007.
PALM BEACH GARDENS, Fla. (AP) -- Camilo Villegas was checking his phone constantly on the driving range, barely bothering to hit any balls and instead seeking updates on how his brother was doing at a Nationwide Tour event in their native Colombia.
As Villegas showed all week, practice can be overrated.
Villegas shot a final-round 68 to win the Honda Classic by five shots Sunday over Anthony Kim, his third PGA Tour victory and a perfect way to cap a week that began with one celebration and ended with another.
He finished at 13-under 267, the lowest 72-hole score since the Honda moved to PGA National in 2007, four shots better than Y.E. Yang's winning total a year ago. And Villegas made it look easy most of the way, too, capping his day with a 20-footer for birdie, then raising both hands skyward.
"I've just had good vibes in me all week," Villegas said.
Never better than Sunday.
He led by only two after Vijay Singh made a 45-foot birdie putt at the par-3 fifth, but three straight birdies -- starting with a 25-footer on No. 8 -- sent Villegas to 15 under and six shots clear of the field.
Good thing he had that cushion, because the putter stopped working after that.
Fortunately for Villegas, no one made much of a run.
"It's very special," Villegas said. "I'm just very privileged to do what I do. But trust me, it's tough. These guys are good. That is so true. Those guys are good."
He missed short par putts on 11 and 12, three-putted from 50 feet on the par-3 15th for another bogey, but never lost control of the lead and ended up pocketing the $1.008 million winner's share.
Steely eyed for most of the day, Villegas finally acknowledged the crowd as he walked up 18, waving and secure in the knowledge that he was getting his first victory since the Tour Championship in 2008.
"Fair play to him," Justin Rose said. "It was nice to even be in a position to kind of think that way, no doubt."
Kim shot 67 and Rose had by far the best round of the day, a 64 that was three shots better than anyone else. Paul Casey (67) and Vijay Singh (72) tied for fourth, seven shots back.
"I hung in there," said Kim, who got his best finish since tying for second at the season-opening Mercedes-Benz Championship in 2009. "I still haven't put four good ones together but I'm trying as hard as I can to get there. I'm working on the right things and I'm sure it will come."
Villegas didn't even play a practice round at PGA National this week, after a travel schedule that he somehow found exhilarating.
After finishing tied for eighth at the Phoenix Open, Villegas headed back to his native Colombia on Monday for a slew of events -- sponsor dinner, youth clinic, pre-tournament party, all within about a 36-hour window -- to help open the Nationwide Tour's Pacific Rubiales Bogota Open, the first PGA Tour-sanctioned event in South America.
He showed up in South Florida on Wednesday, rolled out of his own bed to start the tournament on Thursday, and just kept rolling. An opening-round 66 had him tied for second, another 66 on Friday earned him a share of the lead, and he left the course Saturday night up by three after shooting 67.
Villegas is now the fourth player who's still under 30 with at least three PGA Tour wins, joining Adam Scott (three) and Dustin Johnson and Sean O'Hair (three each).
"Tournaments are four rounds and I played three pretty good ones," Villegas said. "I was lucky in one. It's never as easy as you think. I played great the front nine, then I made a couple hiccups and missed some putts, but I stayed patient."
Rose is still looking for win No. 1 in the U.S., though he feels like he's getting closer.
Down by 10 at the start of the day, Rose needed a win to get into the CA Championship at Doral and enhance his chance of qualifying for the Masters, where he tied for fifth in 2007.
Rose opened with four straight birdies on his way to going out in 5-under 30 -- the best front nine of the tournament -- and ended up becoming the fifth player of the week to shoot 64, matching the low round on the Champion course since the Honda moved there in 2007.
He won't play Doral. Augusta remains possible, and he admits that getting back into the world's top 50 is preying on his mind.
"I think I'm where I am because I've been thinking about it too much," said Rose, who started the week 76th in the world. "I've actually been listening a little bit to Camilo. He's said 'I'm out here, I'm enjoying my golf, I'm trying to take my mindset back to when I first came out on tour' ... and that really is the nuts and bolts of what we need to do."
Sure enough, Villegas says he's more relaxed than ever.
Funny how winning helps in that regard. And when it was over, he gave one last tribute to those watching in Colombia.
"I'm sure there's a lot of people there glued to the TV, rooting me on," Villegas said.