News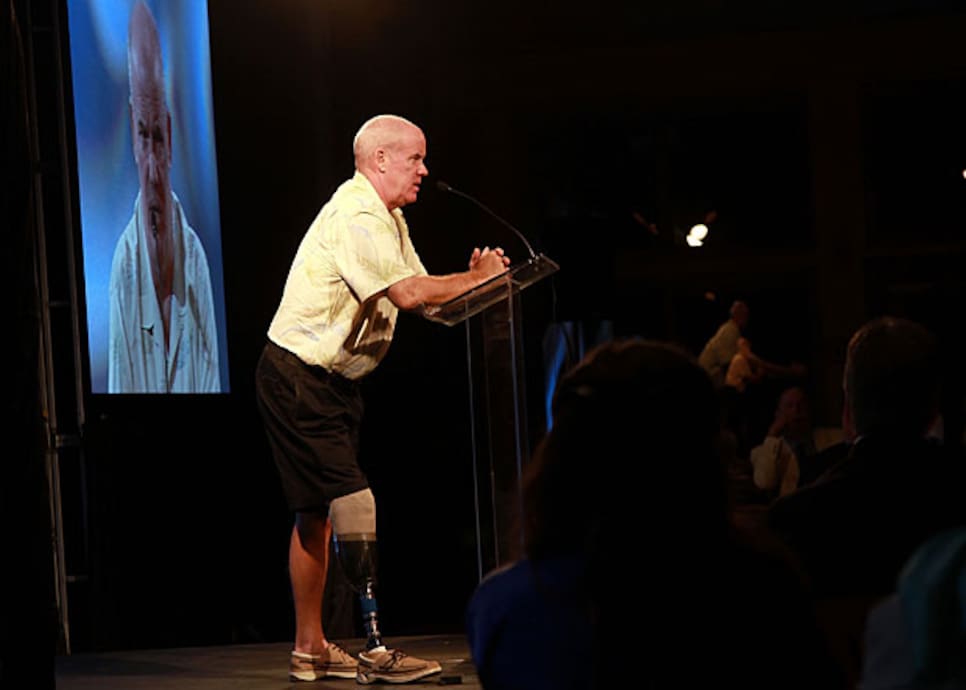 An RV accident in June caused the lower part of Ken Green's right leg to be amputated.
HOOVER, Ala. (AP) - Ken Green is a realist, and a survivor.
So he isn't aiming for a quick victory in his comeback to the Champions Tour. Playing respectably would be a win, in itself. Green returns for his first individual stroke-play event since a series of tragedies with the Regions Charity Classic starting Friday in suburban Birmingham.
Green has endured the deaths of his brother, longtime girlfriend and son, and the amputation of the lower part of his right leg over the last year.
"It will be beyond difficult for me," Green, who partnered with Mike Reid in the Legends of Golf last month, said Thursday in the players clubhouse. "I would be ecstatic if I can break 80 all three days. There's no delusions here. Once I get stuck on a certain lie - you know, one bad shot leads to another bad shot - I'm going to make some doubles and triples (bogeys) and scores add up.
"But you've got to do it. I've got to learn. I've got to figure it out, and the only way to do it is to keep playing. I've got to keep playing if I'm going to get better."
He says he's got to keep playing, period, to help cope with the terrible blows of the last year.
Last June, Green was in a crash that killed his brother and girlfriend, along with his dog when the RV his brother was driving blew a tire and went off Interstate 20 near Hickory, Miss., hitting a tree.
Faced with either having his lower right leg amputated or giving up golf, he chose the former..
In January, his 21-year-old son Hunter was found dead in his SMU dorm room.
Fellow golfer Scott Simpson marvels at Green's return from all that.
"He's inspiring a lot of people," Simpson said. "He lost two, now three, people and a dog that you love, that are your whole world.
"I think he adds a lot to this tournament and the Champions Tour. We're all rooting hard for him."
Green's shirt Thursday had "Nipper" on the back in honor of his beloved German Shepherd. He had another one made honoring his late girlfriend, Jeannie Hodgin.
Green isn't sure of his own judgment in making his individual, 54-hole return on a 7,525-yard course that includes par-5 holes with yardages of 620 (No. 6), 614 (13), 592 (3) and 571 yards (16).
It's the Champions Tour's longest course. Welcome back, Ken.
"This is a tough one," Green said. "I figure I might as well start at the hardest and work my way down."
Green, who has a prosthetic right leg, will be allowed to ride a cart close to the tees and greens to minimize the agonizing up-and-down climbs. He didn't make use of that privilege in a round Wednesday, and paid dearly for it the next morning.
"I'm not even sure I can play all three days in a row," Green said. "Today would have been an absolute disaster. I don't know how three days are going to be. They just told me I can bring the cart pretty much anywhere which will help a lot.
"Ups and downs are bad because my good leg is actually the bad leg. I've got ligaments and tendons that are torn from the accident. Either way I walk, it's difficult."
He said he constantly has what he describes as "an electrical short" running through his right leg.
"And it really goes up to levels that you just cry," Green said. "I just didn't know that this kind of pain existed. It's pretty nasty.
"They say it takes time. I got a bad case of it, and it's just the luck of the draw when you get your leg chopped off."
Green said it took a week to recover from the Legends of Golf, where he and Reid finished tied for 26th.
There's no best-ball play this time. Every bad shot counts. And Green readily admits that's a scary prospect and that his nerves were a jangled mess a day before the tournament - a seeming rarity for a veteran of 507 PGA Tour starts, including five victories.
His goals under normal circumstances would be modest. Green said he wants to shoot 80 or below for all three rounds and he'd love to crack 75 once.
Also, he doesn't want to finish last. For all he's been through, Green still has to try to push away fears that he'll embarrass himself or his sport, something that Simpson said would be impossible at this point.
"The one thing I don't want to do is hurt golf in any way," Green said. "And I know that's just me thinking like an idiot, but I can't get it out of my mind. Every player has been wonderful and said, 'Don't worry about it. Just enjoy it. It's great that you're playing, that you're here.'
"It's just something I have to get out of my head and say, OK I'm just going to go out there and play and see what happens."