News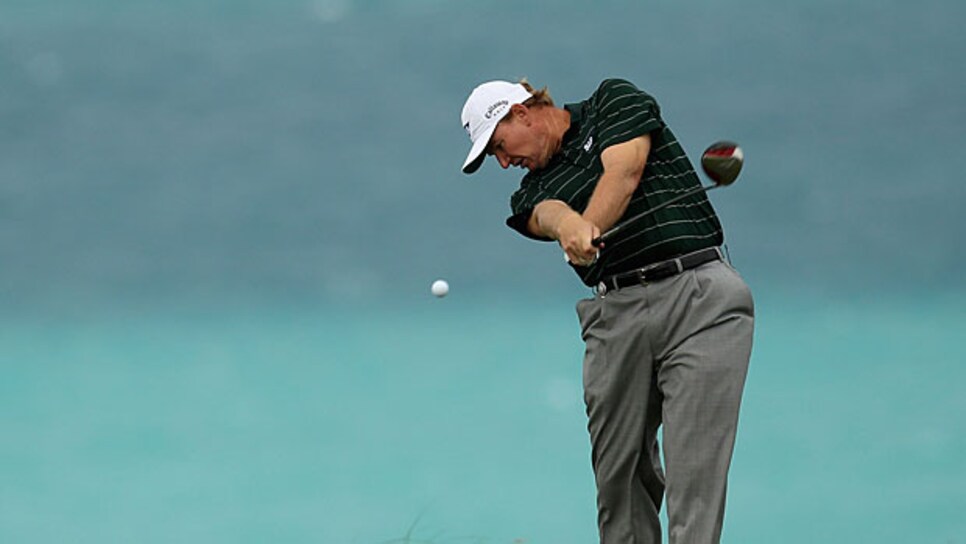 Els used three straight birdies on Wednesday's back nine to grab the lead for good.
ran off three straight birdies on the back nine Wednesday and turned a three-shot deficit into a one-shot victory over David Toms
in the PGA Grand Slam of Golf.
Els, an alternate who was filling in for Masters champion Phil Mickelson, closed with a 2-under 69 and earned $600,000. It was his second victory in the 36-hole event for the year's four major champions. Els also won in 1997 when it was at Poipu Bay.
This time, he figured he was playing for second place.
Toms, another alternate who replaced British Open champion Louis Oosthuizen, chipped in for birdie on No. 12 and stretched his lead to three shots when Els bogeyed the 13th. Els made the first of his successive birdies on the 14th at Port Royal Golf Course, but his hopes for a two-shot swing ended when Toms again chipped in, this time for par.
"When a guy does it once, you're thinking, 'Good shot.' When he does it twice in three holes, you're thinking maybe he's destined to win this thing," Els said. "It took a bit of the pressure off me in a way, where I freewheeled it, tried to see how close I could get to him."
The turning point came on the 15th, when Els made birdie and Toms bogeyed for a share of the lead. Els pulled ahead with his third straight birdie on the 15th, and he holed a 10-foot par putt on the 17th to keep his one-shot advantage.
"Made a very big putt there," said Els, who finished at 5-under 137. "I was missing those putts. Maybe I was owed one, and that was it."
Toms shot 71 in his first appearance in the PGA Grand Slam since 2001, when he won the PGA Championship. He earned $300,000. U.S. Open champion Graeme McDowell
(71) tied for third, eight shots behind, and each earned $225,000.
"I felt like I didn't necessarily lose this thing," Toms said, pointing out Els' three straight birdies. "I'd say he won the tournament. For me to go through those holes, play them under par, would have been a pretty good feat in itself. He played them 3 under."
Kaymer birdied the 15th and 17th to catch McDowell, and they each made par on the last hole.
"There's an element of pride kicks in," McDowell said. "No one wants to finish last."
From the middle of the Atlantic Ocean, Els was headed to the Far East for tournaments next week in Malaysia and the week after in Shanghai for the HSBC Champions.
He said he might skip the Dubai World Championship, however, because Kaymer has such a large lead on the money list. Els is about $1.84 million behind Kaymer, although the HSBC features a $7 million purse.
"If it's worthwhile, I'll go," Els said. "If not, I'm going to play the Million Dollar (in South Africa), where I haven't been for three years. Quite a schedule."