News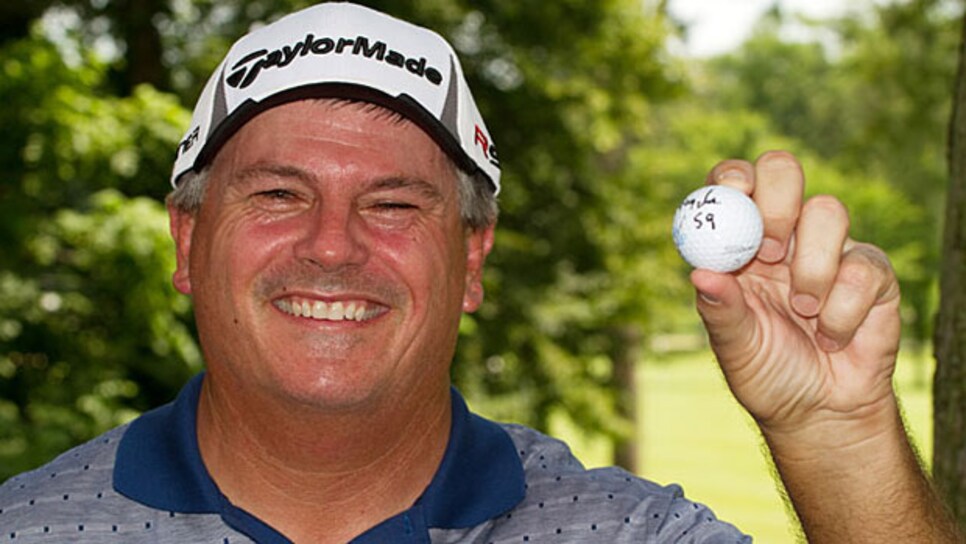 Goydos birdies eight of nine holes on the back nine, including the last three, for a 28.
SILVIS, Ill. (AP) -- After four months of pretty lousy play on the PGA Tour, Paul Goydos managed to turn things around just a bit -- he shot a 59.
"Today was a nuclear bomb," Goydos said. "I don't know where it came from. If I knew that, I wouldn't be able to touch it."
Perhaps just as amazing, Goydos held only one-stroke lead Thursday after an incredible opening round at the John Deere Classic.
Defending champion Steve Stricker shot a 60, making for the two lowest scores ever in a single round at a PGA event. And he just missed tying Goydos on the last hole.
With the par-71 TPC Deere Run course softened by three days of intermittent rain, a lot of golfers were expected to go low. But the fourth 59 in tour history and then a 60 on the same day?
No one could have expected that.
"You're 12 back before you even step on the first tee. That's tough to swallow," Stricker said. "That's why you've got to get into a little different thought process and get in your own little world and chip away."
"The course is ripe for scoring," he added."
Michael Letzig, Matt Jones, Aaron Baddeley and James Nitties all finished at 7-under 64. Jay Williamson, Daniel Chopra, Scott McCarron and Charley Hoffman had 65s.
All paled in comparison with Goydos' stunning 59.
He has missed almost has many cuts as he's made this year. He hasn't had a top 40 finish since early May. He led the Pebble Beach National Pro-Am in February by a stroke with five holes to play, only to tumble out of contention with an quadruple-bogey 9 on No. 14.
"I've been very good at playing poorly now for the last 10 tournaments or so," Goydos said.
His tee shots found the middle of the fairway. His approaches stuck on the green. And, most importantly, his putts found the middle of the cup again and again.
Stricker's almost did, too.
His second shot on the par-4 18th bounced on the green and appeared to be heading for the cup. But it curled around at the last second, leaving him an easy 2-footer for the 11th birdie in his bogey-free round.
Stricker kept alive his hopes of catching Goydos by salvinging par on No. 14 after hitting into a bunker left of the green. After another par on 15, he closed with three straight birdies.
Goydos, who hasn't won on the tour since 2007 and has just two victories overall, needed just 22 putts to dominate the soggy course. The wet conditions allowed golfers to lift, clean and place their ball on the fairway.
It was the first 59 on the tour since David Duval's memorable final round helped him win the 1999 Bob Hope Classic.
Al Geiberger was the first to shoot 59, in the second round of the 1977 Memphis Classic at Colonial Country Club. Chip Beck shot his 59 in the third round of the 1991 Las Vegas Invitational at Sunrise Golf Course.
Goydos is the first to shoot 59 on a par 71. The others came on par 72s.
Duval finished with a 67 Thursday while Goydos and everyone else talked about his amazing round.
"The score is kind of the golden egg," Duval said. "You have to hit shots, you have to hit putts. Regardless of where it's done or who does it, it's amazing."
Goydos birdied every hole on the back nine except for No. 15, where he holed a 6-foot par putt to keep a sub-60 in sight. He finished off with three birdies, the last one from 7 feet to join the most exclusive club in golf.
Goydos raised his putter to a roar from the crowd when his 59th shot fell into the cup and he high-fived his way to the clubhouse.
"It's almost a mythical number in our game," Goydos said. "I've gone from clubbing a ball in the backyard all the way to the moon, and missed all the steps in between."
Goydos' 8-under 28 on the back nine matched the lowest nine-hole score in relation to par on the PGA Tour, last achieved by Corey Pavin, who had an 8-under 26 in the first round of the 2006 U.S. Bank Championship in Milwaukee.
Goydos is a most unlikely member of the 59 club. At No. 137 in the world ranking, he missed his last two cuts and had not broken par in his last six rounds.
After playing the front nine at 4-under, Goydos sank a 6-foot putt on No. 10 to go 5-under. Goydos looked to be in trouble on the par-4 11th when his approach didn't hit high enough on the green and the ball rolled back, leaving him with a 39-foot putt for birdie.
No problem. Goydos knocked it right into the hole.
"I made a bomb -- I mean dead center," he said.
With a 25-foot birdie putt on the par-4 13th, Goydos dropped to 8 under. He hit to within 6 feet on the par-4 14th and sank the putt to leave him 9 under.
Goydos finished with a flourish, putting from the fringe to sink a 14-footer for birdie on the par-3 16th, dropping in an 11-footer on the par-5 17th and knocking a 7-iron from 145 yards to within 7 feet on 18.
The crowd at 18 grew steadily as Goydos' score kept dropping and the news spread through the gallery. Even fellow players Notah Begay and J.J. Henry dropped by to watch his run at history.
The final putt was like most of the others Goydos rolled in with his cross-handed grip -- right in the middle of the cup.
"Standing over that last putt, I was probably as nervous as I've ever been over a putt in my life," he said. "The putt would have gone in a thimble. Don't know why. That's just the way it went today."
And what a day it was for Goydos.
"I think that is a goal in your career, to break 60," he said. "When I look back and I'm not playing anymore...I've got 10 holes-in-one. I've got three double-eagles. Fifty-nine is one of those things I'm going to look at and say, 'That's pretty cool.'"