News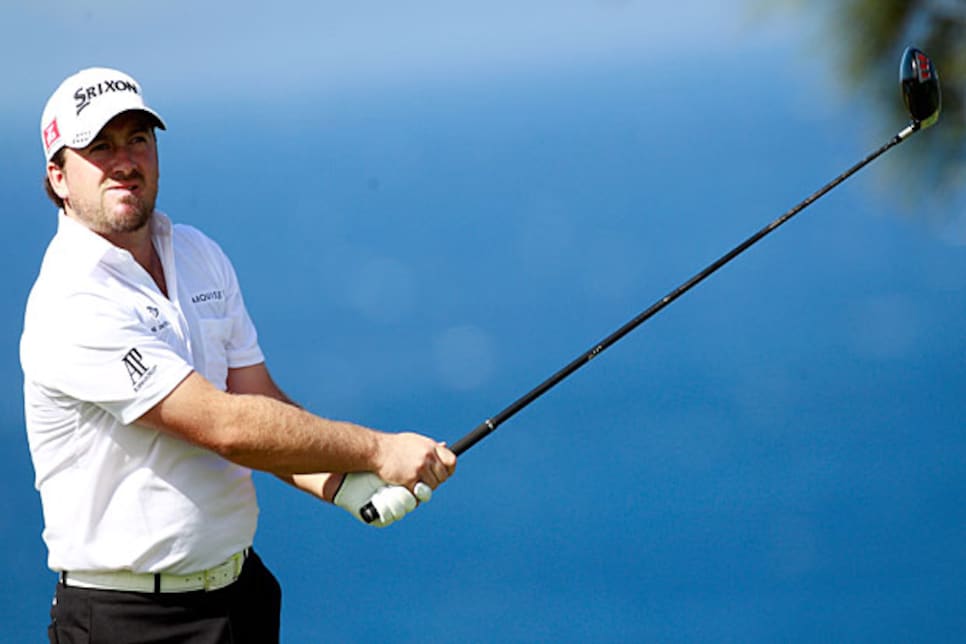 Graeme McDowell practices at Kapalua for the opening event of the PGA Tour season.
KAPALUA, Hawaii (AP) -- The Golf Channel came to the PGA Tour opener with hopes of putting a microphone on players for the Tournament of Champions. The trick now is to find a few volunteers.
Jack Graham, executive producer for the Golf Channel, said it has been approved to put mikes on players for the year. The player must agree to wear the mike, and with two days left, it appears it might not happen at Kapalua.
Some players don't want to do it. Others are interested, just not in the first tournament of the year. Graham said at some point he expects players will get comfortable with the idea.
But he believes it's an idea long overdue.
"If you look at where we are compared with other sports, we're pretty far behind," he said.
The Golf Channel miked players on the LPGA Tour last year.
Given the economy and growing entertainment choices -- and especially with a new television contract to be negotiated this year -- the PGA Tour is doing what it can to make broadcasts more interesting.
There already is some live chatter at tournaments from the "shotgun mike" held some 10 yards away from players in the fairway. That can't get anywhere near the green. When players are miked, it will not be live, rather repackaged during the telecast.
"I think it will work if we get some cooperation," Graham said. "But it's problematic. Some players will do it. Some won't."
Meanwhile, the tour is allowing some flexibility in the pairings to help with TV.
The groups for Thursday and Friday rounds are determined by tour winners and those who have won recently, players from the previous money list and those with lesser status, such as Q-school and Nationwide Tour grads or other nonmembers.
Now, there will be some 20 featured players from the "A list" that can be moved around to accommodate television. That means certain players from that group would be chosen to tee off from No. 1 in the afternoon on Friday so Golf Channel could feature them on the back nine -- where most of the TV towers are located -- in the peak hours of the telecast.
It's possible that one player could be pulled out of his group and placed in another group to create a story line. Slugger White, the vice president of rules and competition for the tour, said such movement would be rare.
Tiger Woods and Phil Mickelson in the same group? That hasn't happened on a Thursday and Friday in a regular PGA Tour event, although it could happen. Then again, there's some thinking it is best to split them up over two days to maximize TV time.
There was a push to allow those who have never won -- Rickie Fowler is more than just an example in this case -- to move into the winner's category. The Players Advisory Council shot that down, believing that spot should be earned.
However, tour officials could move Fowler to a group next to the winner's category to more easily feature him.
"We're just trying to take care of our TV partners," White said. "We're all in this together. We're trying to promote our sport."