News
Final Say: Royal Melbourne Is A Little Bit Of Augusta National 'Down Under'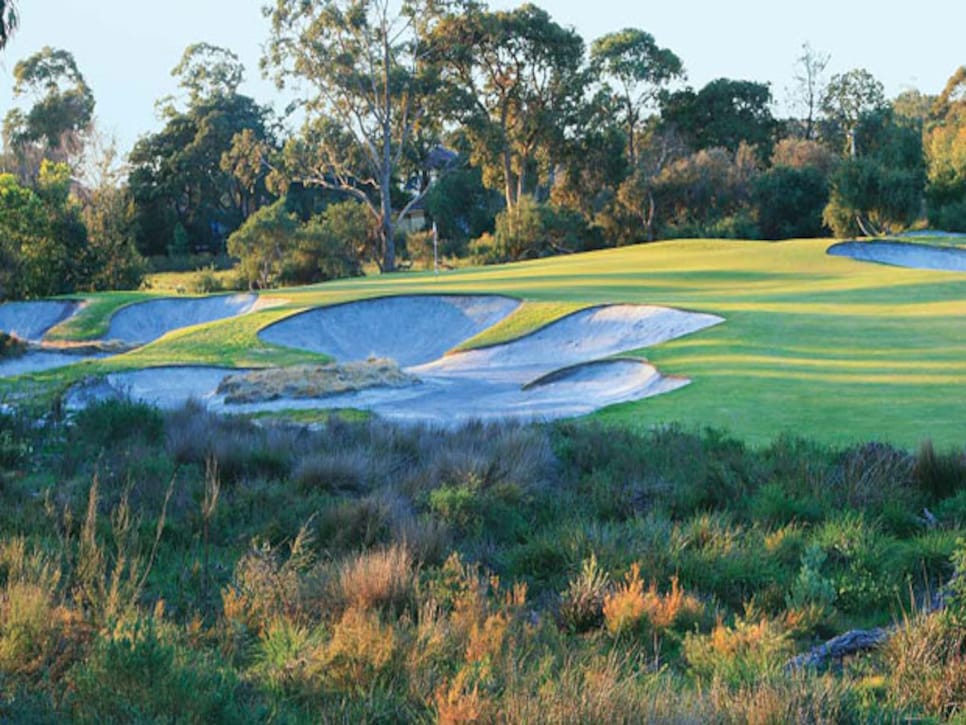 The 175-yard sixth hole at Royal Melbourne's East Course.
There are so many great things to tell you about Royal Melbourne, I hardly know where to start. Both courses -- the Presidents Cup will be played on a composite layout comprising 12 holes from the West and six from the East -- are built on magnificent land and wonderful sandy soil. It is the most famous club in Melbourne's world-renowned Sandbelt, which also contains brilliant courses such as Kingston Heath, Metropolitan, Woodlands, Victoria, Yarra Yarra, Commonwealth, Huntingdale and Peninsula. Perhaps no other city in the world has so many terrific tracks so close together.
Royal Melbourne is the best of them though. And, like the others, it is at its best when playing firm and fast. The beautifully undulating land drains so well that the putting surfaces and fairways form the perfect environment for golf, even if it may appear at first glance to be a little unkempt. You won't see any "stripy" fairways, dark green grass or bright white sand.
The design isn't shabby either. Royal Melbourne is the sort of place you look at for the first time and see some immediately obvious holes. There are so many spectacular and dramatic shots over big bunkers and doglegs and into natural amphitheaters. I really can't emphasize enough what an astonishing piece of land it is for golf.
The West course was actually designed by a famous Aussie golfer, Alex Russell (who later did the East course), and the head greenkeeper, Mick Morcom. But they did so with help from Alister Mackenzie, particularly in the bunkering and the green complexes. Mackenzie visited Australia in the late 1920s and had an enormous influence on how golf has been played in my homeland ever since.
By modern professional standards, the course we will play in the Presidents Cup is not that long. Of the two par 5s, only one is a "real" three-shotter, the other being easily reachable with two well-placed and thought-out shots. Yet don't be fooled. Royal Melbourne's par 5s are among the best holes the club has to offer. They are a bit like the par-5 13th at Augusta National in that eagles will be possible, but so will double bogeys. So there will be plenty of excitement. Besides, in any match-play contest, par is all but irrelevant; it's all about playing better than the guy or guys you are up against.
Speaking of Augusta, when you see Royal Melbourne on TV, you will immediately be aware of the strategic similarities between the two courses. Both have wide fairways and sloping green complexes where pins can be tucked hauntingly behind bunkers. But, although the landing areas at Royal Melbourne may seem outwardly generous, it is absolutely vital to be approaching the flag from the correct side and angle. There is challenge for the good golfer: Drive into the wrong spot and you're going to have an awkward -- and sometimes impossible -- second shot. In fact, missing the fairway on the correct side is invariably better than hitting the fairway on the wrong side... just like Augusta National.
You will be struck too by the greenside bunkering. At Royal Melbourne there is no fringe between green and lip. The edges of the bunkers are simply cut into the putting surfaces. So you'll see a lot of balls trickling agonizingly down slopes during the Presidents Cup. The greens are traditionally very fast. Well-struck approaches, pitches and chips will hit and stop just fine. But anything less than that -- or shots arriving from the wrong angle -- will not.
The best thing about the bunkers is that you will never see a player faced with a difficult lie, but he will nearly always have a difficult shot. To me, that's how golf should be played. Everyone loves hitting from good lies, but you need the challenge of a tough shot, too. If you have to give a player, say, a plugged ball in sand or a bad lie in long grass to make the game a challenge, then the course probably isn't good enough.
That isn't something you'll ever hear about Royal Melbourne. I must have played the courses thousands of times -- I grew up less than a mile from the club and caddied there as a youngster -- but I can't wait to get back. It really is a special place.