News
My Town: Frank Nobilo's Orlando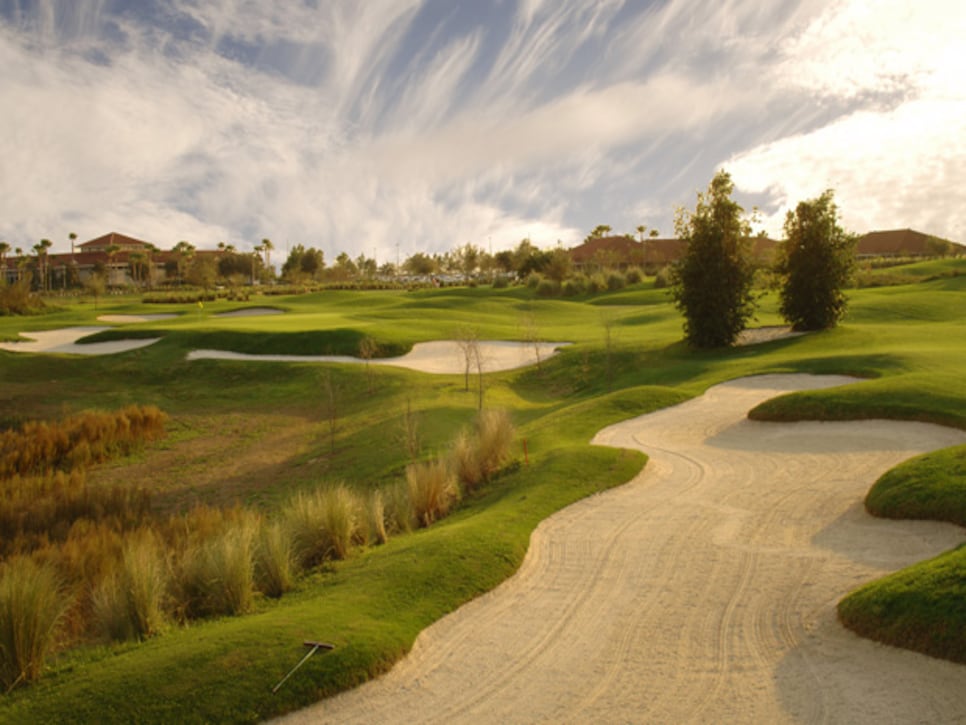 Nobilo recommends Orange County National.
for the 1993 World Cup. Orlando had hit a growth spurt, and the Nona community, one exit east of the Orlando Airport, along with its Tom Fazio course, was relatively secluded from the theme parks and tourist bustle. Veteran tour players Nick Faldo and Annika Sorenstam and current stars Yani Tseng, Ian Poulter and Graeme McDowell feel the same way. "I always thought that if and when I come to Orlando, this would be remote enough and have all those things I was looking for in a place to live," the New Zealander says.
Although the economy has slowed, Orlando continues to expand. There's more to do than visit Walt Disney World, and the Golf Channel analyst, along with wife Selena, are constantly entertaining out-of-towners. "When you first go to Orlando, you see it as a tourist. But when you live there, you view it differently," says Nobilo, who made the move in 1997. "Over the last decade, the DNA is changing. It's grown up now to become a proper city."
is one of the best members' courses I can think of. But when people are in town looking for a place to play, I always recommend Orange County National. There are two courses, Panther Lake
, and having hosted PGA Tour Q school adds that luster to it.
was really popular a couple years ago and now hosts the LPGA's Titleholders event. A lot of my friends go out to play Bay Hill
, and they're quite surprised to run into Arnold Palmer. In season, he still plays three or four times a week. You'd think the chances are one in a million of running into Arnold, but he's there quite frequently.
is also good. Greg Norman designed the course, and the overall facility with the J.W. Marriott is phenomenal.
One of the beauties of Bay Hill is that it's close to what I call "Restaurant Mall," on West Sand Lake Road. You're five minutes from the best collection of restaurants in one area. There's a Seasons 52 and the J. Alexander's where a lot of Golf Channel people go to have the best Cosmos in town.
Ambiance is always what I'm looking for because I'm on the road a lot. That's why I like Nona Sushi. It's just a small little hang; the staff is so good, they know everybody by name, and you always see some of the Nona boys when they go there.
For brunch, Selena and I like to go downtown to the Grand Bohemian Hotel. We also go to Hue in Thornton Park and Luma on Park in Winter Park. Luma is a wine bar where you can buy wine by the glass from vending machines with a credit card. It's a great system.
Hotel wise, I don't think you can beat the J.W. Marriott and Ritz Carlton complex. The spa is brilliant. It's a little oasis that's just coming into its own, but from a hotel amenity point of view, it's exceptional.
The Grand Floridian at Disney World is the next best in my mind. We have some friends from DeLand, Fla., who we meet when they stay there. I'm also hearing great things about the new Waldorf Astoria in the Disney area.
I tell people coming to Orlando to travel sideways, east or west. You can get on the Beeline Expressway and go to Cocoa Beach, or even Cape Canaveral, and have a great time. The inner city is growing, and the Amway Center, home of the Orlando Magic, is first class. I've seen quite a few concerts there.
Universal Studios is outstanding, no matter your age. And if you get afternoon showers, there are plenty of places to get cover and stay entertained.
We also have friends in Winter Park, and if I didn't travel, that's probably where I'd live. With its cobblestone streets it has a San Francisco feel. The beauty of Winter Park is you can walk to the restaurants and the shops. It's not "mall like."