News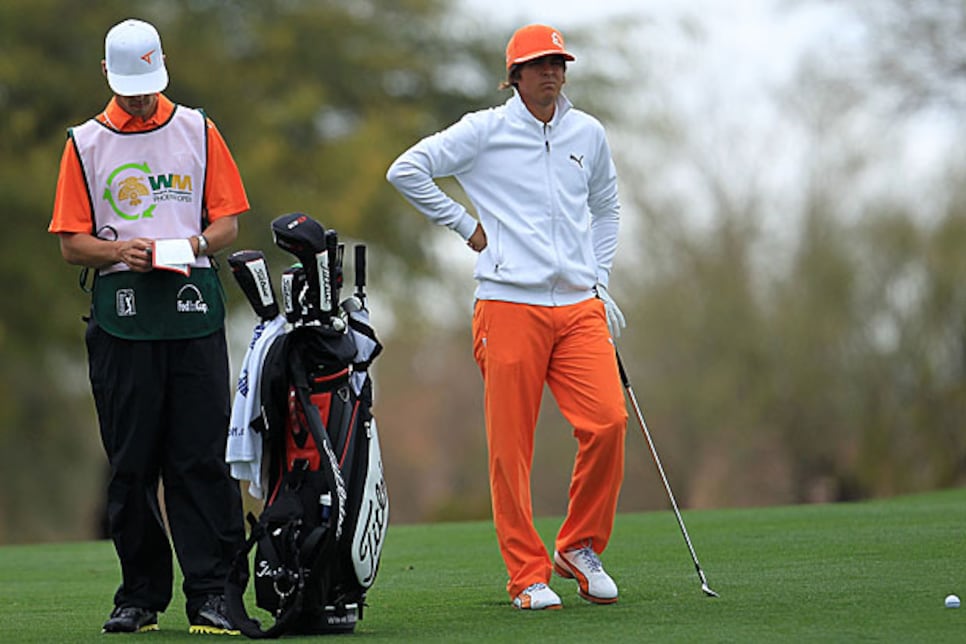 In laying up at a crucial moment in Phoenix, Rickie Fowler raised plenty of eyebrows.
PALM BEACH GARDENS, Fla. -- Just off the plane from Bogota, Camilo Villegas unsheathed his 3-wood and had a go at the 18th green late Thursday afternoon at PGA National. The air was cold, the wind was blowing, but Villegas was committed. From 279 yards out, the Colombian got all of the shot, stopping it 35 feet, 9 inches from the hole. Two putting for birdie, Villegas pulled within one stroke of the Honda Classic lead. "I had 264 to the front and I knew I had to rip my 3-wood," Villegas said. "And that's exactly what I did."
The play did not surprise Dr. Gio Valiante, the mind coach and professor of psychology at Rollins College in Orlando. Just as it did not shock him on Sunday when Rickie Fowler decided to lay up from 230 yards out on the 15th hole at the TPC-Scottsdale in the final round of the Waste Management-Phoenix Open. Every player is different, and so is every situation.
Fowler's point is that you can't win the tournament at 15, but how many times do you hear players say, "You can't win the tournament on Thursday?" Villegas wasn't thinking that, but Villegas is not Fowler, who stuck to his decision earlier this week and addressed it on his Twitter account with a three-item post best summarized by his one-line thought, "can never please everyone."
Valiante's point is that with all the debate over Fowler's lay-up this week, he'll never have to worry about business. He works with Villegas as well as Matt Kuchar, Bryce Molder and Chris DiMarco, who was second-guessed by Lanny Wadkins for laying up at 15 in the 2005 Masters, but not after he made a birdie that helped forge a playoff with Tiger Woods. "It' a sign of maturity," Valiante said of the 21-year-old Fowler, citing one of the gutsiest lay ups ever, David Toms' final-hole par to beat Phil Mickelson in the 2001 PGA Championship.
Tom Pernice Jr., Fowler's mentor and frequent playing partner at Bear Creek GC in Murrieta, Calif., said almost the same thing on Sunday. "It takes guts to lay up," Pernice said. Peter Kostis, the CBS analyst watching from his home in Scottsdale, brought up the strategy Zach Johnson used at Augusta National to win the 2007 Masters. Kostis tells his players to never hit a shot that raises your heartbeat.
"I go back to 1982, the year (Tom) Kite and I came up with the 60-degree wedge with (Dave) Pelz," Kostis said. "He led the tour in birdie percentage on par-5s. He might have gone for three or four par-5s all year. He laid up to his yardage. If you're going to criticize Rickie, criticize him for not hitting the proper wedge shot."
All this lay up talk made Brandel Chamblee's eyes roll when he rolled into Palm Beach County from the Valley of the Sun, where he was in the lead analyst role for Golf Channel. His reaction was symbolic of what was being said on the putting green, the driving range, the locker room and over meals by players, caddies, equipment reps, and golf media assembled at the Honda.
Like Valiante, sports psychologist Bob Rotella loved the play -- and he works with Padraig Harrington, who never thought of laying up at Birkdale two summers ago with the wind whipping and a 5-wood in his hands on the 71st hole.
Charlie Epps, who works with Masters champion Angel Cabrera and a disciple of the great Claude Harmon, was asked what the legendary pro would have made of Fowler's play.
"Must have been a bad lie," Epps said, channeling Harmon.
But what would Harmon have said if he knew Fowler had his hand on the ball in a lift-clean-and-place situation?
"Must have been a bad lie," Epps replied.
Being the talk of the tournament is nothing new for Fowler, who had a game plan involving 15 at the beginning of the week, and stuck to it no matter what the circumstance. The yardage called for no more than a 4-iron or soft hybrid. With only 210 yards to carry the water, it was what the pros and caddies call a stock shot. Fowler vowed that unless he had 5-iron or less into that island green, he wasn't going for it, relying on the mindset that he could birdie 16, drive the 17th and make something happen there, and birdie 18, which he did on Sunday in 2009 as an amateur.
What is new for Fowler is taking heat. Thus far he has done a good job of deflecting it, of course, arriving in Florida with a $648,000 second-place check makes life easier -- as does all the endorsement dollars in his bank account and a tour card locked up for the year. Visually it looks like Fowler was playing for the check instead of the crystal. But as Sean O'Hair can attest after his adventure at TPC-Sawgrass in 2008, playing for the crystal can scar for life. "The reality is, if you don't manage the downside, the memories can linger," Valiante said.
Everybody gets on Chip Beck, but if a pro has any doubt in his heart, he shouldn't play the shot. There are those arguing that Fowler would have gained more style points by hitting a shot into the water in that case than attempting the "smart play." Valiante even calls it a result of the post-Tiger generation of golfers "who are thinking their way around the golf course."
"It was the way Jack Nicklaus played the game," Valiante said.
Maybe, but it's not the way Arnold Palmer played the game. Palmer, like Woods, Phil Mickelson, Anthony Kim -- and Villegas -- all would have gone for that green. So would Greg Norman. "I was sick," Palmer said from his office at the Bay Hill Club in Orlando, nursing a cold. "And when I saw that I got sicker."
More known for being laid-back, the West Coast has become this year's ground to lay up. Besides Fowler, Michael Sim came to the 72nd hole at Torrey Pines in the Farmers Insurance Open and backed off a 246-yard 3-wood, figuring his chances of making a closing birdie in the Pacific Coast air was better with a wedge. Like Fowler, he spun his shot off the green and made par.
One week earlier, short-hitting Tim Clark laid up on the 72nd hole of the Bob Hope Classic. The South African who is known for his surgical hybrid shots, gave himself a birdie look but cruised the edge. Earlier in that final round, long-hitting Bubba Watson laid up from 246 yards on the 14th hole with a chance to take the lead and win his first tournament You could make the argument that nobody7 Bubba should ever lay up.
Overlooked in all this is that Hunter Mahan went for the green from 243 yards at the Phoenix Open and got up and down to win by a stroke in what was by far the best of the West Coast tour stops. If the public wasn't moved by the victories of Bill Haas or Dustin Johnson, they were by the shootout involving a band of twentysomethings who turned the TPC-Scottsdale into their own private party.
In his day, Palmer didn't have Twitter, or a lay up bone in his body. "If you're 21 and you've got a shot at making some history for yourself and you don't take it, that's bad," Palmer said, wincing.
Fowler seemed unaffected. He went to dinner Wednesday night at the Reef Grill with girlfriend Alex Browne and a couple who hosted him at the Western Amateur. Good kid, probably a bad decision, but he's living with it along with an opening round 72. Before going out to PF Changs he posted, "Made 2 good putts…other than that thy (sic) did everything but fall ... we'll get them tomorrow."
The kid has already moved on.