News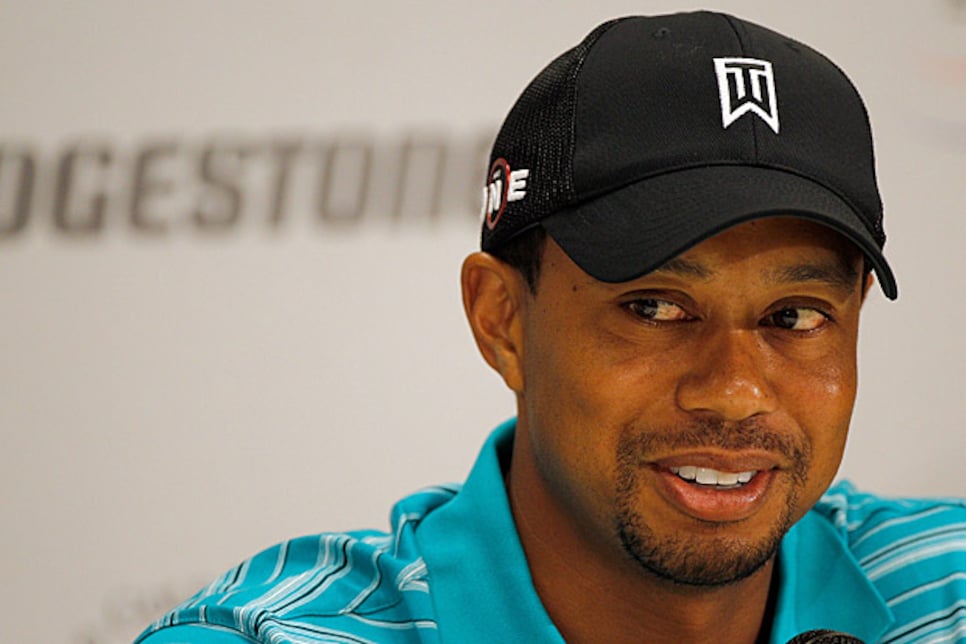 Woods is ninth on the qualifying list for the Ryder Cup, with two events remaining.
AKRON, Ohio -- Two weeks remain before the eight automatic berths on the U.S. Ryder Cup team are determined. Tiger Woods left no doubt that he intends to be on that team.
But he declined to guarantee it.
Woods fell to ninth this week on the U.S. Ryder Cup points list, and if he fails to improve after the Bridgestone Invitational or next week's PGA Championship he would need to be selected by U.S. captain Corey Pavin to represent America for the sixth time against Europe. Pavin has four wildcard picks at his disposal, which he will announce Sept. 7 in New York.
Fortunately, for Woods, he's likely to improve his lot at this week's World Golf Championship event. While winless this year after he delayed the start of his season until April at the Masters for personal reasons, Woods has won at Firestone Country Club's South Course seven times in 11 appearances, including last year when he beat Padraig Harrington and Robert Allenby by four strokes with a 12-under 268 total.
Woods also has four PGA titles among his 14 major championships, so it's no wonder he was unequivocal when asked about whether or not he would accept an invitation. He's not planning on needing an invitation.
"I'm planning on playing my way into the team," Woods, sporting a goatee, said Wednesday afternoon. He repeated the sentence twice more when pressed about the possibilities should he fall short.
"I think if I do well this week, I should sew up my spot," he added later when asked if he wanted to be on the U.S. team, which won two years ago at Valhalla Golf Club in Louisville while he recovered from arthroscopic knee surgery.
Woods, 34, should do well this week. He is a combined 99-under par at Firestone South and has never finished out of the top five. "It fits my eye. Golf courses like this where the shape is very simple, it's not target golf and I've always liked that," said Woods, who first played Firestone as a teenager alongside his father.
The only difference from years past is that Woods for the first time steps onto the South Course still seeking his first win of the season. Of course, this has been the most challenging season since he turned professional in 1996, given his personal travails dating back to a November auto accident, a neck injury that forced his withdrawal from The Players, and struggles with his game exacerbated by the departure of swing coach Hank Haney.
Retarding his progress is the fact that Woods spends less time on the practice grounds. He has more distractions at tournaments and less commitment to working on his game at home. "No, I haven't practiced as much as I used to. Nor should I. My kids are more important," he said. "Life has changed."
Obviously, his game is undergoing change, too. Woods is coming off finishing T-23 at the Open Championship at St. Andrews, and insists that his game is coming around as his life normalizes. He is not panicking, having gone through fallow periods in 1998 and 2004 when he made swing changes.
"I haven't done the big swing overhaul I did during those periods," he allowed. "I've been through stretches where I haven't won, and it's just a matter of putting the pieces together and just being patient with it. It's not something that happens overnight.
"If you look at my career, I've never been one of those guys that just plays awful and then all of a sudden just plays well. You'll start seeing trends. I'm starting to put the pieces together of late, and I'm very excited about that."
With less time for practice and without a swing coach, Woods admits that perhaps the best way to move forward is to dig deep into his past, to a simpler time in both his game and his life.
"I'm going back to the basics, back to what my dad taught me, his philosophies about the game," he said. "Obviously, those things have worked for me in the past, and I need to go back to that."
And with that, he's planning on playing his way into the Ryder Cup team.