News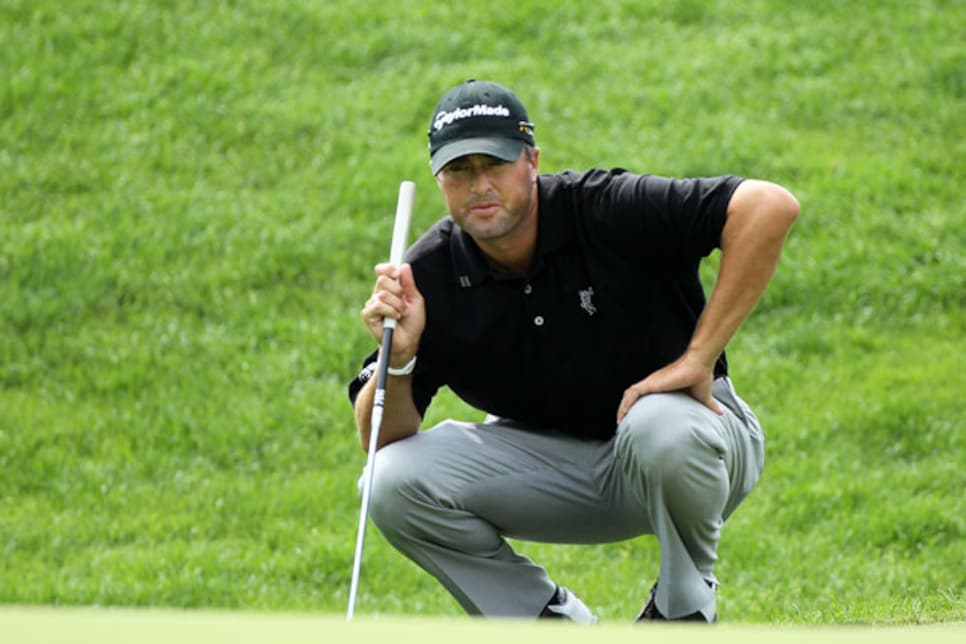 Palmer shares the lead at 9-under with O' Hair on a crowded leader board.
AKRON, Ohio (AP) -- Sean O'Hair and Ryan Palmer kept firing at flags and making birdies until they wound up tied for the lead Saturday in the Bridgestone Invitational. The way this tournament is going, that only means they get to tee off last in the final round.
Palmer birdied three of his last five holes for a 7-under 63. O'Hair made an eagle early in his round and found confidence late with a wedge to a dangerous pin for birdie that led to a 64 to join Palmer in the lead.
They were at 9-under 201, one shot ahead of Matt Kuchar (66).
"It doesn't matter if you're in the lead or one shot back, two shots back. It doesn't matter," O'Hair said. "There's 18 holes of golf left (Sunday), and in my opinion, there's no leaders. It's just a shootout."
That's what it looked like under perfect scoring conditions Saturday, with 35 players shooting in the 60s.
The group did not include seven-time Firestone champion Tiger Woods. He went through the motions on his way to a 75, finishing another poor round some two hours before the leaders even teed off. Woods was 20 shots behind, in 78th place out of 80 players in this World Golf Championship.
He declined to speak to the media for the second straight day, telling a PGA Tour official that he drove it terrible, hit his irons terrible and didn't putt well.
Phil Mickelson also failed to break par, but he's still in the tournament -- and still has a shot to replace Woods at No. 1 in the world.
It was easy to find Mickelson on the South Course, for the gallery was cheering his every move. He got within one shot of the lead with a birdie on the par-3 seventh hole, but stumbled coming in with two bogeys for a 71.
That dropped him into a tie for 10th, four shots out of the lead. Mickelson would have to finish alone in fourth place to reach No. 1 in the world ranking for the first time in his career.
His focus is on winning the tournament, and he's not alone. Mickelson was among 15 players separated by only four shots going into the final round on a Firestone course that has given up plenty of low scores with its soft, smooth greens and rough that is not nearly as dense as it has been in previous years.
Katsumasa Miyamoto set the pace early with a 62, the low round of the week and one shot off the course record set by Woods in 2000 and Jose Maria Olazabal in 1990.
"Of all the great players that have played here that really haven't posted that score, it's just an honor," Miyamoto said.
For so many others, it felt like a picnic.
Ernie Els, already a two-time PGA Tour winner this year who has been atop the tour's FedEx Cup standings the last four months, finished with back-to-back birdies for a 64 and was only two shots out of the lead. He was at 7-under 203 along with Peter Hanson of Sweden (68) and Justin Leonard (69).
Hunter Mahan, trying to make a late push for the Ryder Cup team, shot a 66 and was among those at 204.
"It's just unbelievable," Els said. "If you're on your game today, you can score because the greens are holding, the fairways are in unbelievable shape. If you're off target you're going to have a tough time. Keep it in the short stuff and if you get it on the greens you'll have a lot of opportunities."
Retief Goosen, who had a one-shot lead, made triple bogey on the opening hole and never recovered from a bizarre situation. After chipping just through the green, and chunking a chip on his fourth shot, the ball rolled back into the rough. The grass was thin enough that the ball kept turning in the grass, ever so slowly, over a span of about three minutes.
Goosen eventually called an official, who said he could only wait for it to stop. Once it did, he chipped on and took two putts. He shot a 73 and wound up in the group at 4-under 206.
O'Hair hit a 3-iron to about 12 feet for eagle on his second hole and didn't make any bogeys. His final birdie came on the 16th, and while it's not unusual to make birdie on a par 5 with a wedge in hand, this shot gave him some confidence.
The pin was toward the back of the soft green, so anything short would spin back to about 15 or 20 feet. Going beyond the flag brought the bunker into play. O'Hair hit a pitching wedge from 131 yards that landed near the flag, took a hop and spun back to pin-high for an easy birdie that put him in a share of the lead.
The trick now is to stay there, and O'Hair knows that won't be easy with so many players in range on a soft course.
"Whoever is going to win this golf tournament is going to be the guy that's ready to play tomorrow and be on top of his game," he said. "I think I'm definitely capable of doing that."