News
Hard Work May Not Be Enough To Restore Woods' Former Greatness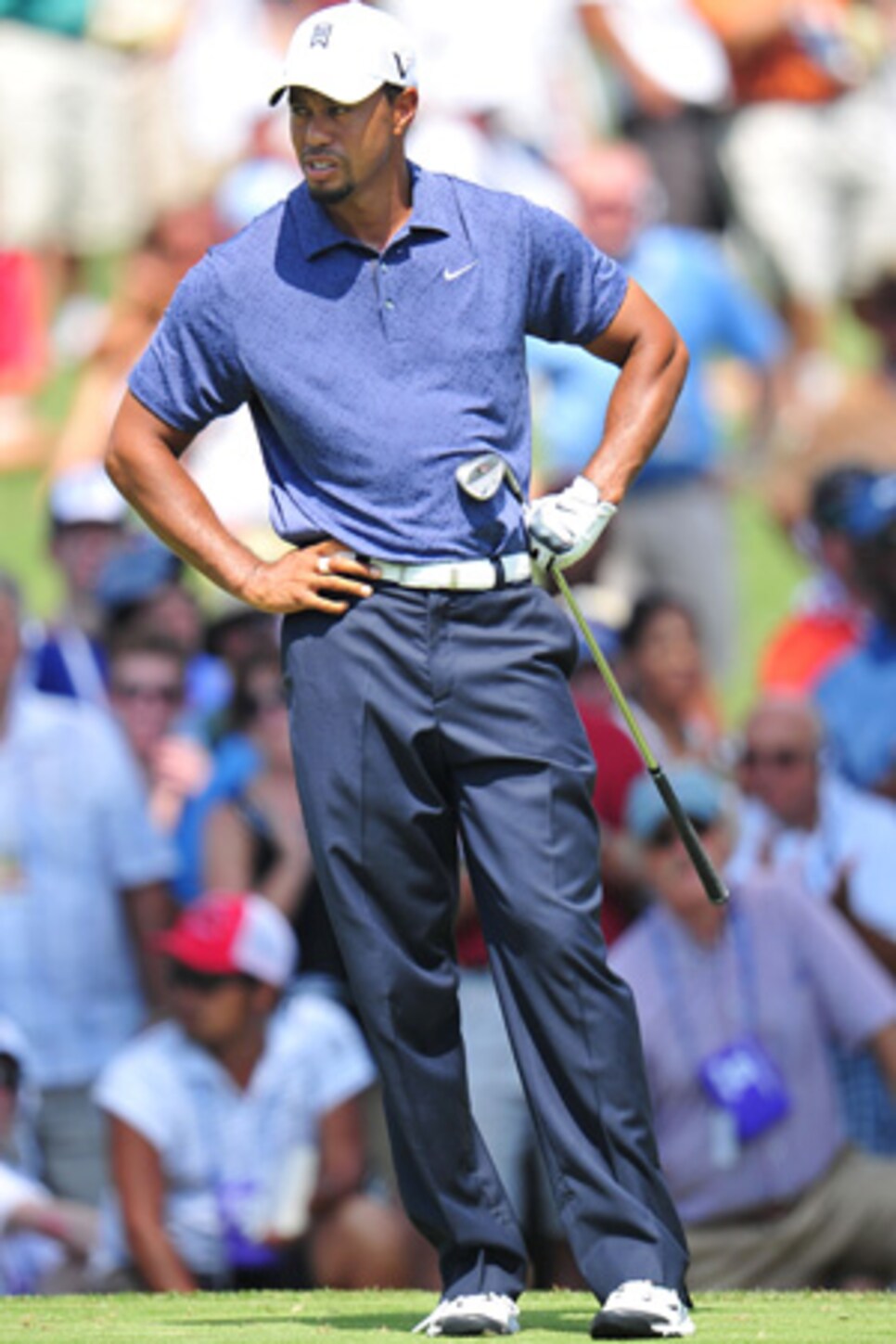 With an abbreviated stay at the 93rd PGA Championship causing yet another abbreviated season for Tiger Woods -- the fourth consecutive that has been disrupted for one reason or another -- should anybody really be surprised?
Psychologist Dr. Richard Lustberg observed in August 2010 that given the scope of what has disrupted Woods' life and his game, no one should be shocked about how the last couple of years have unfolded. "Woods is a man who has sustained a number of physical injuries, the loss of his coach and marriage, and he is trying to give up a way of life that he found exciting and compelled to partake in," Lustberg wrote on his blog, The Psychology of Sports. "If that is not enough to throw his golf game off, I do not know what is. He more than likely found solace on the golf course where his compulsivity catapulted him to stardom and allowed him to sublimate his behaviors in a more productive way. But with all that has happened, Woods' capacity to function under all the stress that he is under has more than likely been compromised. And the golf course is no longer a place of refuge."
A year later, after additional injuries have sidelined Woods for months and more time having gone by since he won on the PGA Tour (23 months) or a major championship (39 months), Lustberg's explanation appears to be even more plausible. And though it was spoken years ago, Harry Vardon's admonition -- "For this game you need, above all things, to be in a tranquil frame of mind," he said -- sums up what Woods needs most.
Golf champions have rekindled their success after overcoming different types of hurdles. Vardon, a century ago, won two of his record six British Opens following lengthy stints in a sanitarium with tuberculosis. Lloyd Mangrum claimed the 1946 U.S. Open in the immediate aftermath of World War II, during which he saw heavy combat and received multiple injuries. Six of Ben Hogan's nine major victories occurred following the 1949 car-bus crash that nearly killed him.
As serious as those three circumstances were, they were single traumas for which the individual was not at fault. There were no mea culpas necessary, no large-scale public embarrassment, no unprecedented free fall when it came to reputation.
In the context of Woods' effort to overcome a laundry list of things, it is worth remembering that sports genius can lift like a fog, there one minute and gone the next, out of a star's reach without the assistance of outside trauma. No one knows this better than Arnold Palmer, who shaped the golf landscape at will until one day when he didn't. He was healthy and adored, but the last of his seven professional major titles came at the 1964 Masters when he was 34.
During a recent appearance on the "Charlie Rose" show, Palmer was asked whether Woods, 35, given his talent, would be able to recapture his greatness. "Not sure about that," Palmer said. "Once you vary, and you lose that 'thing' -- what is it? Sometimes it's hard to put in place. What is it? I'm not sure I know. I'm not sure Jack [Nicklaus] knows...When you have a disturbance in your life that's major, can you get it back, can you get that thing you can't put your finger on and get hold of it and choke it and keep it? Boy, that's a tough deal...It could be a psychological thing. You say, 'Well, I've done it.' Then you say, 'I want to do it again.' But it isn't there. You can't find it. You can't grasp it. You can't hold on to it."
That is where Woods is now. He has teased us with a back-nine 31 Saturday at the 2010 U.S. Open and a front-nine 31 Sunday at the 2011 Masters, with shots and putts every bit as good as the ones that earned him 14 major victories. But, as his inability to successfully close out those tournaments after brilliant periods within them and as his ratty play at the PGA demonstrated again, he is an incomplete golfer at the moment, unable to grasp the intangible ingredient in a winner's kitchen that Palmer, after a certain juncture, was unable to grasp.
Woods thinks what happened at Atlanta AC -- 150 strokes, 22 bunkers and four water hazards in 36 holes, only his third missed cut in 56 majors as a pro -- is a detour not a dead end, that effort will be the cure. Maybe, maybe not. Arnold Palmer sure didn't stop trying after the spring of '64. n