News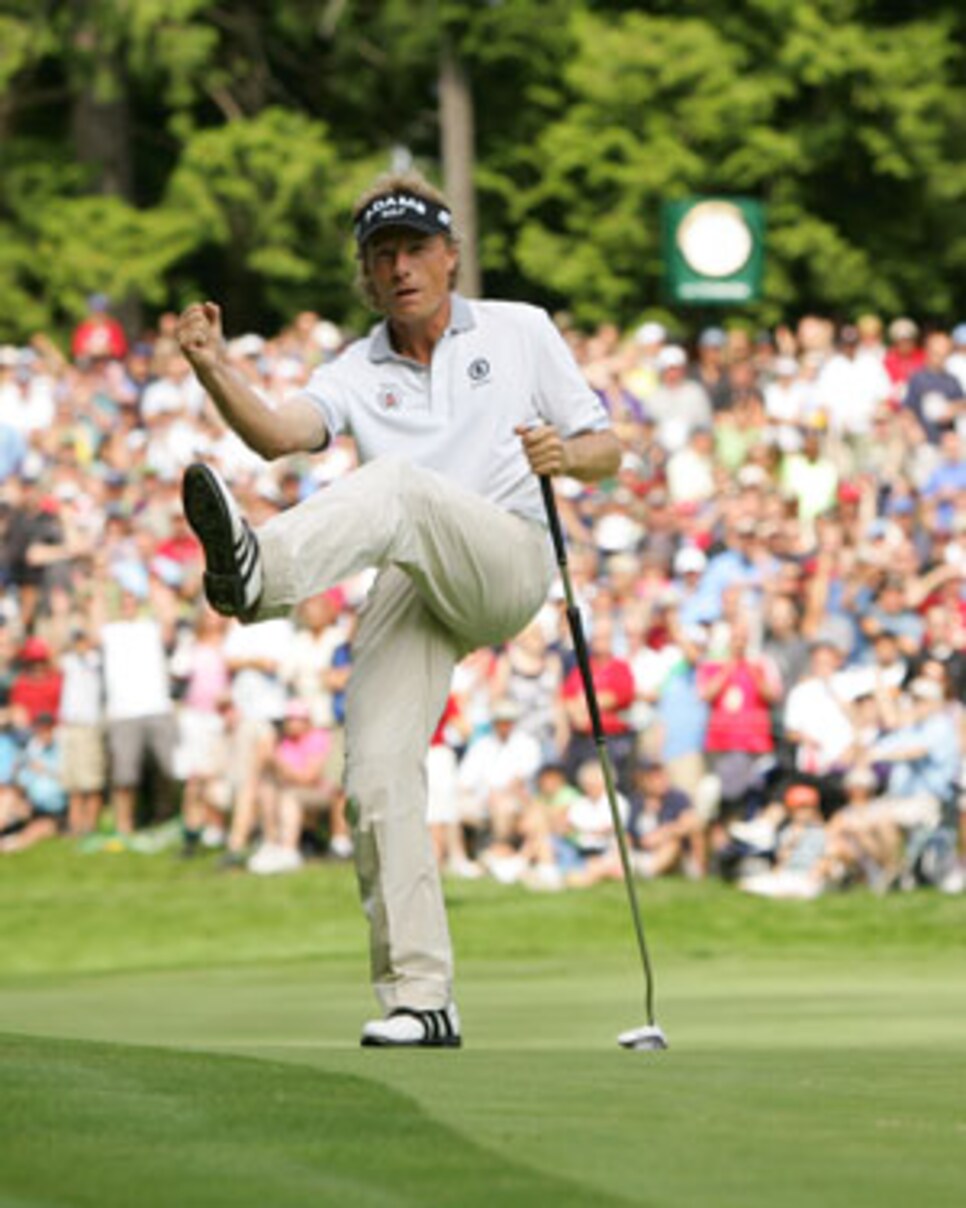 Kick Start: Langer got a leg up on his fourth victory in 2010 with great putting, including no three-putts all week.
When Sahalee CC was built outside Seattle, in what is now Sammamish, Wash., its founders selected the name because it meant "High Heavenly Ground" in the language of the Chinook. Last week it translated to "Home Game For Fred," as in Couples, laid-back local with the languid swing who took his game from the Emerald City's Jefferson Park muny to golf stardom and a green jacket, among other laurels.
Couples' presence energized the 31st U.S. Senior Open, for which he not only was honorary chairman but chief attraction, the big draw for 106,605 spectators who filtered among Sahalee's towering evergreens, including 31,444 for the final round. Fifteen- or 20-deep watching Couples, they cheered and they hollered, they clapped and they roared, doing all they could to will their man to victory. That Couples had moved away decades ago and rarely comes back -- he figured it had been two years since his last visit -- mattered not. He was one of them.
Then, just after noon on Sunday, on the par-5 second hole, with Couples playing alongside Bernhard Langer in the final pairing and holding a one-shot lead after a birdie at No. 1, all the noise that all those fans were making was silenced. There was instead the unsatisfying sound of a 60-degree wedge making contact with the earth before the ball, followed by a disheartening splash and unmistakable groans.
Couples, who has devoured par 5s in his rookie season on the Champions Tour, making birdie or better on nearly three-quarters of them going into the Open, was en route to a score as fat as his third shot from 73 yards, a triple-bogey 8. Langer, after a drive so pure that it surprised his long-hitting opponent and left only a 5-iron approach, two-putted for an easy birdie. The German, long settled in Florida, assumed a three-stroke lead, and it was all over but the lamenting.
"Going down the third hole, I was asking my caddie [Joe LaCava] if I've ever laid up on a par 5," said Couples, who decided against hitting his 19-degree hybrid from the light rough 227 yards from the flagstick. "If I could walk out there tomorrow, I would go for the green, no matter where I hit it. I think I would beat 8, that's for sure."
To Couples' credit he didn't go away after his blunder at No. 2. He stuck his approach to seven feet at No. 3, and with Langer facing a 30-footer with a crazy break, he looked to pick up a shot. But Langer sank the putt and refused to give any ground, even if it was Couples' home turf, shooting a three-under 67, his fourth sub-70 score. His eight-under 272 was three shots clear of Couples and six better than Olin Browne and John Cook. Tom Watson was another three strokes back in fifth place.
"It's never much fun, but I've had it before," Langer said of playing with someone who was the overwhelming gallery favorite. "When you play in the same group with Tiger Woods or Jack Nicklaus or Arnold Palmer or any of the big names in America...So I knew what was coming, which doesn't make it any easier."
Langer's victory (his fourth of 2010, one more than Couples) came a week after his triumph in the Senior British Open at Carnoustie, making him the first senior to win consecutive majors since Watson won the Senior British and Jeld-Wen Tradition in 2003. Langer's meticulously deliberate pace sometimes annoys golfers who are paired with him, but he is widely admired for his talent and doggedness. "He's a plodder," Watson said, "and he really makes sure that he's ready to play the shot, and that he's thoroughly thought it out. It's good to be a plodder. It's good not to rush your shots like I do sometimes. He's very good at not making critical errors. When he does make an error, he has the ability with his short game to make up for it."
Langer wasn't going to let wicked jet lag -- Couples, who skipped the Senior British to play in the RBC Canadian Open, was among the players who didn't contend with the wearying eight-hour time difference that had others awake in the middle of the night and drowsy in the middle of the afternoon -- or a decidedly partisan gallery thwart him.
After Couples was in the clubhouse Saturday with a third-round 65 at five-under 205, a performance that had loud roars echoing around Sahalee, Langer earned a rare birdie on the difficult 470-yard 18th, a converted par 5, with a superb 6-iron approach and 12-foot putt to polish off a 68 and pull into a tie.
"It's going to be a little hard for me tomorrow," said Langer, whose 20-year-old son, Stefan, was caddieing for him. "But I'll stick in there and play my own game."
Despite being contemporaries, Couples and Langer never had any final-round duels in their primes. "Maybe we played on a couple of Saturdays," Couples said, "but never on a Sunday." They competed in the same Ryder Cup five times, but only squared off once, in 1991 at Kiawah Island, when Couples and Raymond Floyd beat Langer and Mark James in a foursomes match. Langer likened Sunday's vibe to that of a team match, which made him all the more resolute.
"It felt like a Ryder Cup atmosphere," Langer said, who kidded that he had "12 Germans" pulling for him. "[They were definitely] against me and for Freddie. You could feel that, and that's not the case in a normal tournament." With a career record of 21-15-6 and 24 points won for Europe in 10 Ryder Cups, it is an environment in which Langer has thrived.
"Guy's a machine, an absolute machine," one spectator said in grudging admiration after Langer sank a 10-foot birdie on No. 6, which was followed by a six-foot par putt on No. 8 and a five-footer for par on No. 9. The pitch-and-putt save at the eighth was particularly big, because Couples had recovered from an awkward stance in a fairway bunker with a gorgeous uphill 6-iron to 18 feet. "I was looking for a spot to pick up a stroke, and I thought maybe there," Couples said. "I thought maybe he'd make a bogey, but he was just very solid." Couples didn't regain the honor until after he birdied No. 14, which cut his deficit to three. He whittled it again with another birdie at No. 16 but missed the fairway at the 18th and made bogey, while Langer was busy saving his fourth par of the day.
Langer's lag putting was outstanding, as evidenced by the fact that he didn't have a three-putt for the week. His most important putt of the final round probably was his 12-footer for par on the first hole after his approach took a bad bounce and went through the green. "That putt was huge," Langer admitted. "If I had made bogey there, that would have been a real downer mentally, so I was very pleased that my putt-ing stroke held up. When you pull through and win in difficult circumstances, it just means that much more."
Sahalee, where Vijay Singh won the 1998 PGA Championship and Craig Parry the 2002 WGC-NEC Invitational, was tough with or without a rooting section because of its narrow fairways, which are to tree-lined what Seattle is to coffee. "Sa-hall-way," players jokingly called the course, dominated as it is by tall firs and cedars pinching fairways and guarding greens. "Not in my lifetime," Cook said when he asked if he had experienced another course so defined by its slender playing corridors. "I've seen those funny [Bud Chapman] paintings, and it looks a little like that."
Players not only had to place their tee shots accurately, but the greens were bouncy (despite overcast mornings), and hole locations were stingy. No one was going to shoot 20 under, as Fred Funk did in winning the 2009 Senior Open at Crooked Stick. "I wish we played more stuff like this," said Tom Kite. "This is fun golf. It's hard golf -- it beats you up, but oh, boy, you have to think, and you pay attention." Kite was on track to beat Watson for low 60-year-old until making a quintuple-bogey 9 on the 70th hole. He shot 73 to finish T-8.
As for Couples, he had scurried out of Colorado GC after losing a playoff at the Senior PGA Championship in May, but he wasn't in such a rush to leave Sahalee. Despite losing, it had been a good week, a memorable week. "A lot of people might have been saying I won [just] by being here and playing in the tournament," said Couples, who Tuesday afternoon gave a junior clinic, during which officials hauled out the trophy for the Washington Junior GA state championship, on which Couples' name is inscribed as the inaugural winner in 1977. "I did have longer hair," he said of his formative years, "and a lot more brown hair."
Couples had spent time with his brother, Tom, and his sister, Cindy, and their families. He showed Amy O'Keefe, his girlfriend of four months, around his hometown. O'Keefe works out a lot, and Couples has been tagging along, walking on a treadmill. He is down 15 pounds, from 205, and has a $1,000 bet with buddy Tony Renaud to see who can lose 20 pounds first. "It's odd," Couples said. "Everyone said, 'You lose some weight, your back will get better.' But I feel more stiff."
Couples will return to the Seattle area in a few weeks for the Boeing Classic. It will be another chance for a victorious homecoming. He'll be the gallery favorite. Langer will be there, too, eager to be the spoiler, ready as ever to win.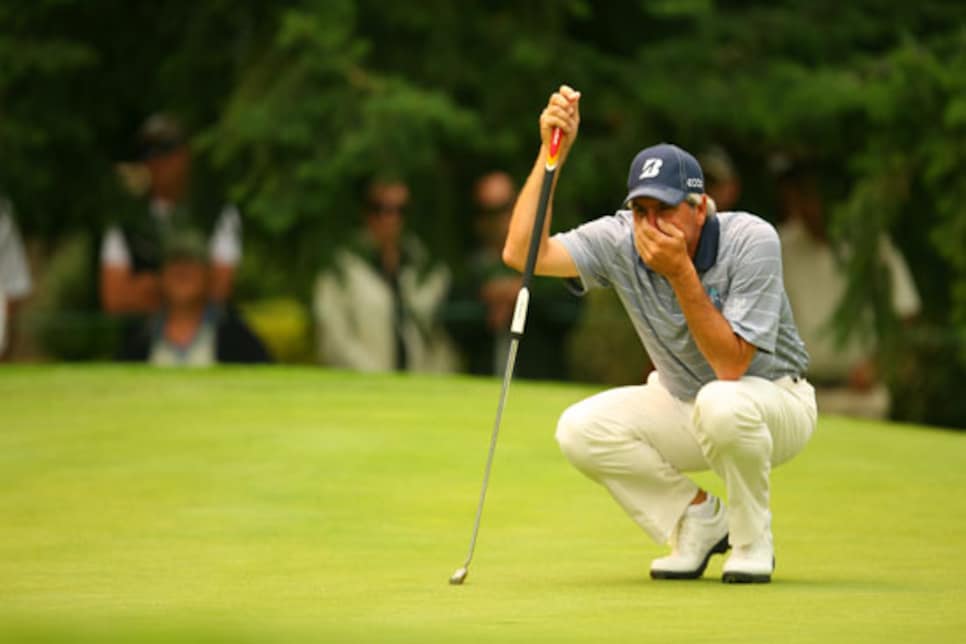 Two For The Money: Although contemporaries, Couples (above) and Langer had never faced off in a Sunday showdown before.