News
Battling Through Intense Pain, Green Boosts Wounded Vets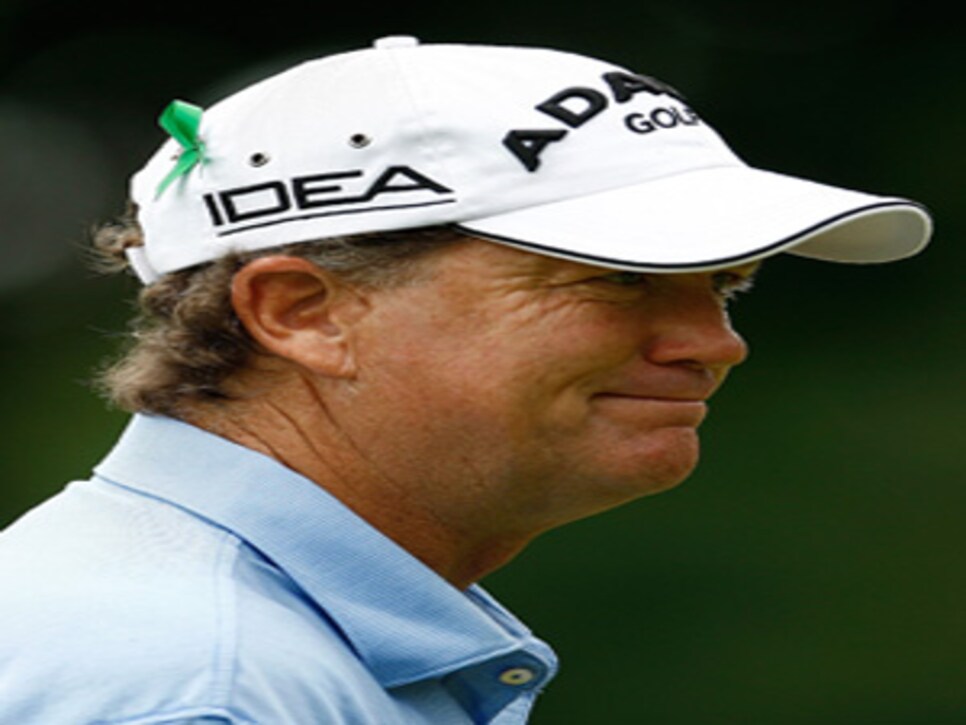 Peter Jacobsen wore a green ribbon for Green after his automobile accident almost two years ago.
Follow golf for years and you see its best players hit lots of shots, both routine and historic. A couple of shots in memory are beyond type. Two decades ago I saw Ken Green, yucking it up, hit full-bore 3-woods off the carpet in his Florida home through an 18-inch opening in the sliding glass doors 10 feet away out to a golf course beyond. He didn't miss. Ken Green could play.
Watching Green, now an amputee with a prosthetic lower right leg, compete last week in the Senior PGA Championship, I wondered if he remembers those days when golf came easy, to a time when trick shots out of his den were a carefree adjunct to a nice run on the PGA Tour.
"It's like you think, 'Wow, I used to be good. I could hit these shots,' " Green said. "Now the body just doesn't work. The brain still thinks you're that person -- maybe a little older -- but you still think you're that person. The body is not doing it. It's tough, you always think about it. There is no way around it."
There is no way around many things for Green these days, as he nears the second anniversary of the recreational vehicle crash in Mississippi that killed his brother, Bill, and girlfriend, Jeanne Hodgin, along with his German shepherd, Nip, and cost him part of his leg. He subsequently lost his son to an accidental overdose, and living with his disability has been complicated by constant nerve pain that afflicts a tiny minority of amputees.
"I call it almost like being tasered -- it's a constant lower level of taser, and then it gets to where I basically act like I am tasered," Green said. "It's been quite a journey. I really thought I would be a lot better."
The 52-year-old had played only four Champions Tour events since becoming an amputee. Green says that of the half-dozen tournaments he asked for a sponsor's exemption, only the Dick's Sporting Goods Open expressed an interest in letting him play. He got into the Senior PGA as a past U.S. Ryder Cup team member. Although Valhalla GC was too long and too wet for him, Green decided to go ahead.
He knew this wasn't going to be the week he had "one good tournament," a top-20 finish that would allow him to exit competition on his terms. It was, however, a chance for him to show other younger amputees, servicemen injured in war, many of whom are being exposed to golf as part of their recovery, what is possible. "I just think it's got to give them a boost," Green said. "They're kids, and they're getting blown to bits over there. I'm never going to win a golf tournament again. This is my success, giving a little something to somebody else."
Even though he used a cart, it is hard to imagine that anyone in the field expended more energy walking four rounds than Green did in 36 holes, 30 of which he played Friday after weather delays disrupted the schedule. "Every Champions Tour player should have the privilege of playing with Ken," said Morris Hatalsky, who was in Green's threesome. "It makes you appreciate every day."
Green's game worsened after a "stupid good" 36 on his first nine holes. He shot 80-82, beating only a couple of people but winning a battle within just to finish the second round even though the constant pain spiked to something worse by the sixth hole, intense discomfort for which he occasionally has to seek morphine injections for relief.
"I just wasn't going to quit," Green said, "which is kind of bizarre because I've done that numerous times when I've had other injuries. This one, it's personal. And I'm a little hard-headed. Once I got to a certain point, I'm like, 'You're not stopping now.' "
Putting his arduous week at Valhalla behind him, Green is going to seek new answers for his pain because he knows stubbornness by itself cannot continue to keep him on the course. He hurt so badly near the end of his second round, tears made it difficult for him to see his ball. He chunked two shots on the last hole but then sank a 50-footer for bogey.
"You can barely see the ball and you fat two wedges and then you make the 50-footer," Green said. "That's just golf, in a nutshell. It drags you back."
He will remember that unlikely putt, and so will anyone who was around the green. It wasn't historic, but it sure wasn't routine.