News
Time Will Tell How Well Johnson Handles The 'Weighting' Game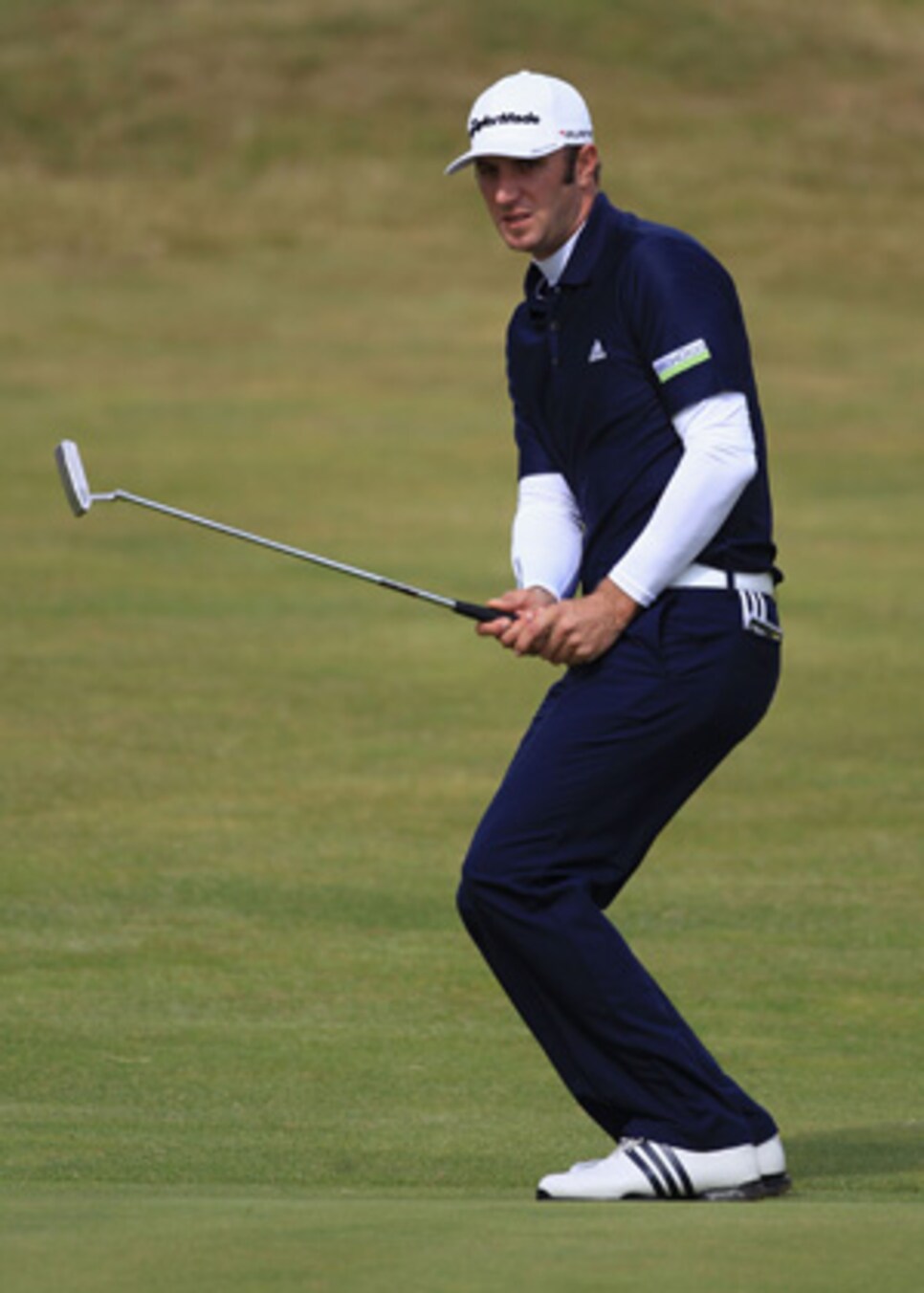 Dustin Johnson keeps knocking on the door in major championships but can't figure out how to open it. In the British Open at Royal St. George's, the 27-year-old was in the final pairing Sunday for the third time in the last six majors. However, as happened at the 2010 U.S. Open, where he imploded to an 82, and the 2010 PGA Championship, where he mindlessly grounded his club in a bunker to incur a two-stroke penalty on the 72nd hole, Johnson watched someone else -- Darren Clarke, the man who went off with him in the 2:10 p.m. starting time -- cradle a trophy that might have been his.
It is true that golfers collect far more defeats than victories, even the very best. Jack Nicklaus, who has won more majors than anyone, said of his success, "I think I fail a bit less than everyone else."
Almost all golfers are tripped up before winning their maiden Grand Slam title. Some take a long time. In Clarke's case, 54 tries. Phil Mickelson, one of the most gifted golfers of his era, who shared second place at Sandwich with Johnson, required 47 attempts. Nick Price needed 36, Nick Faldo 22, Ben Hogan 17. "No pressure, no diamonds," in the words of 19th century essayist Thomas Carlyle. Johnson is a relative newcomer, the British Open only his 12th major. It would be unfair to savage his performance particularly because he fought back from a rotten start at Royal St. George's -- four over through the first 13 holes Thursday -- but necessary to analyze it.
His final round ultimately was derailed on the same hole where his first round began to perk up, the par-5 14th, when, trailing Clarke by two shots, he had 250 yards to the front of the green, into a 15-20 miles-per-hour wind, for his second shot, "definitely a go situation," he later described it. "He said, 'Two-iron over the bunkers?' " said caddie Joe LaCava. "I said, 'No problem, chase it up there in front and make 3 or 4.' I was kind of licking my chops."
But instead of the low draw that Johnson envisioned, he pushed the shot badly and it went out-of-bounds. He made a 7, the nadir of a day that much earlier had hinted Johnson, as he noted, "didn't have my best stuff." While Clarke, who led Johnson by one after 54 holes, quickly showed his mettle, sinking a 13-footer for par at the first and a five-footer for birdie at the second, Johnson missed from 10 feet for birdie on No. 2 and from eight feet for birdie on No. 3. Although Johnson drove it just beyond the green on the par-4 fifth, he pitched poorly and failed to make a birdie.
Johnson had 32 putts Sunday, more than anyone in the top 10 except Davis Love III (T-9), who had 36. For a power player Johnson is widely regarded as being very capable on the greens, yet in the PGA Tour's Strokes Gained-Putting stat, he is ranked 159th in 2011 and has been no better than 129th in his four seasons on tour.
He has been a tall, sideburned, flat-toned study in equanimity following his three major disappointments. "The more I put myself in this situation, the more I learn, the more I understand my game and what happens in this situation," Johnson said evenly Sunday evening. "But you know, I think I did a pretty good job."
Johnson didn't seem like a person who would be having nightmares with white stakes flying about him. "This runs right off the kid, trust me," said LaCava. "Is he disappointed he didn't win? Of course. Is he distraught? By no means. Will he be ready to play next time there's a big tournament? Absolutely." Rickie Fowler's assessment: "Dustin really doesn't think about a whole lot. I don't think he's going to be too worried about it."
With four PGA Tour triumphs, the most recent achieved last year after his twin major messes, Johnson has shown he is resilient and knows how to win. Author George Plimpton observed that "the game requires a certain cold toughness of mind and absorption of will." Johnson will need more of that recipe to break through in a major, an eventuality his abundant talent seems likely to ensure.
His fate in the majors doesn't rest with what he says after them -- however much we might wish from him a more passionate tone -- but what he does. "The disappointment, it's a heavy weight, a very heavy weight," said Tom Watson. "By going through it, and being disappointed like that, it makes you work harder. That's what I did, that's how I dealt with it. Just do it better next time."