News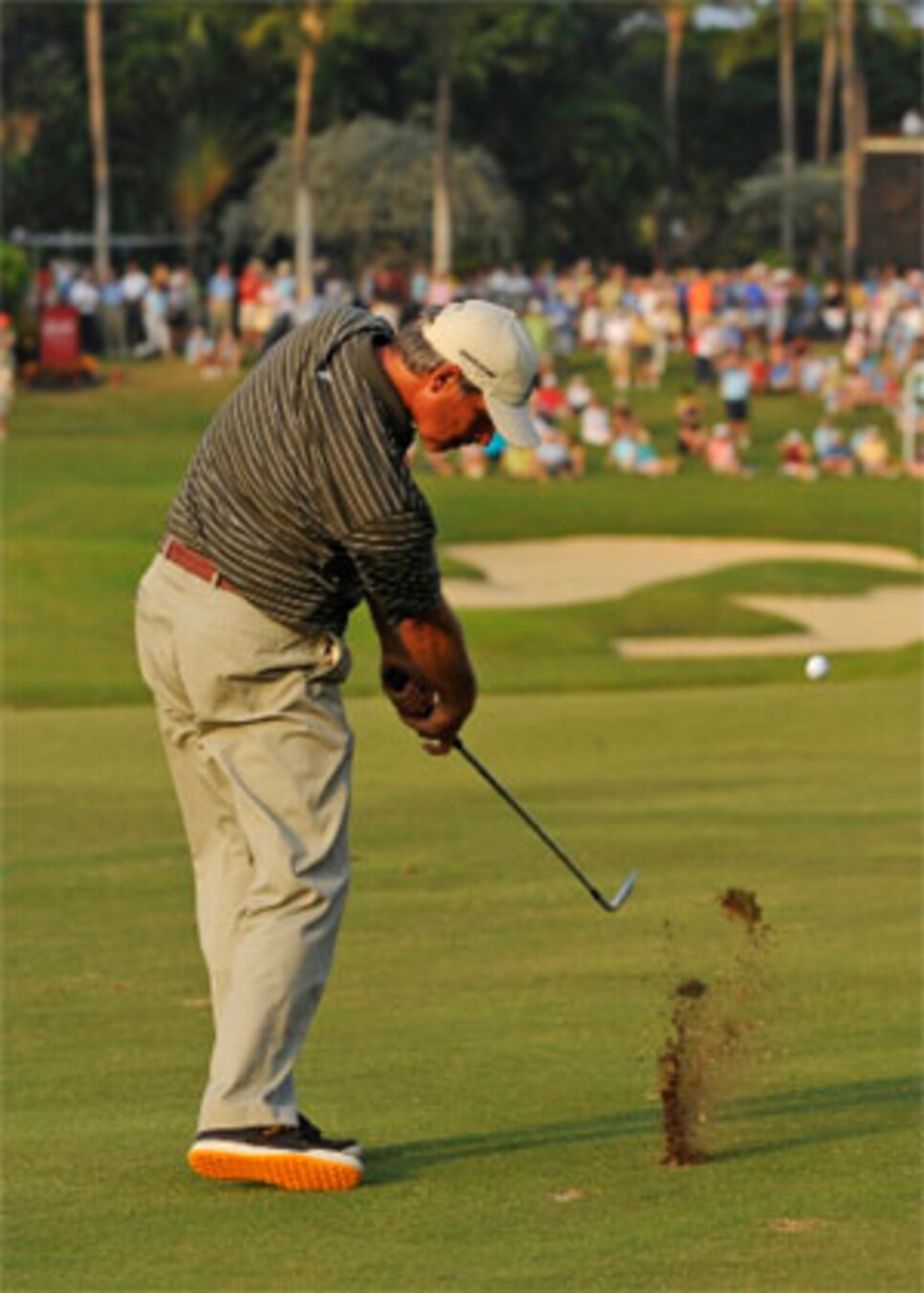 Impact Player: Couples didn't win the season-opening Mitsubishi Electric Championship, but his dramatic shootout with Watson sparked new interest in the tour.
David Skitt, tournament director of the Montreal Championship, was practically giddy as he watched Fred Couples warm up prior to the Thursday pro-am at the Outback Steakhouse Pro-Am outside Tampa. Skitt had thought Couples wasn't going to play in Canada this summer but now believed he was. There could be no better news for the first-year event, which (like the rest of the Champions Tour) had come down with Freddie Fever after Couples' dominating start -- a runner-up finish to Tom Watson in a scintillating season-opener followed by three consecutive victories -- to his senior career.
"Everywhere we go, we hear, 'Is Freddie coming? Is Freddie coming?' " Skitt said as Couples hit balls 40 feet from him with his languid yet powerful swing. "We've just got to be careful in our promotions. He doesn't want it to seem like he's the only guy." Even before it knew Couples was coming, Montreal was stoked about the July 2-4 tournament, with 60,000 spectators expected -- "Our problem is making sure we have the parking to get everybody to the event," said Skitt -- and five pro-ams already sold out.
"I think our tour is the hottest thing going right now," said Outback tournament director Amy Hawk, whose event was marked by large, lively galleries before a Sunday rainstorm forced the final round to be canceled, giving the title to 36-hole leader Bernhard Langer, who has won the two 2010 events not captured by Watson and Couples. "What we've got now is pretty special."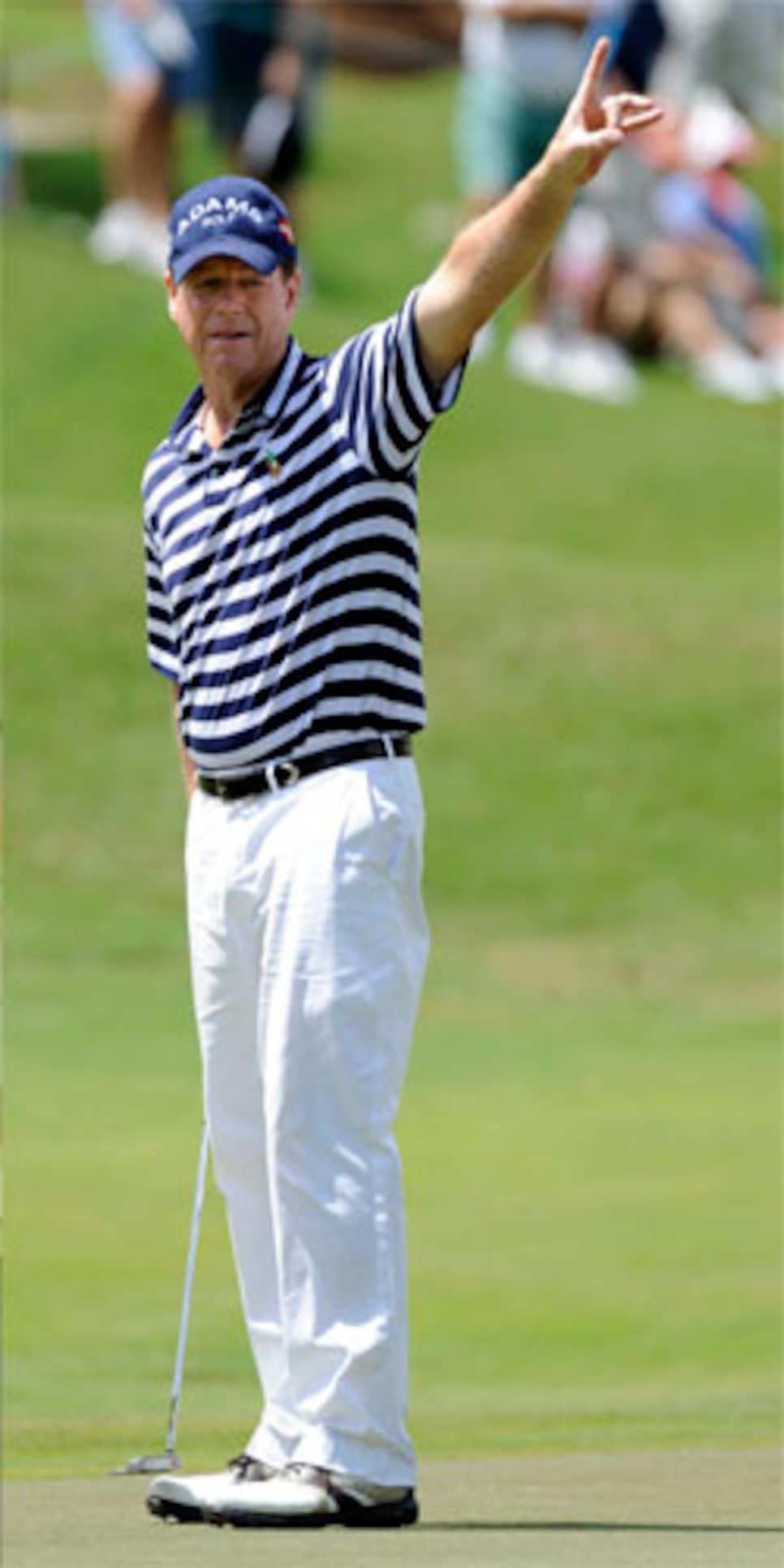 good for the Champions Tour, it has
a broader appeal when marquee names
such as Couples and Watson do well.
Couples' arrival plus quality performances by fellow marquee players such as Langer, Watson, Tom Lehman and Nick Price (the quintet atop the Charles Schwab Cup points race and money list heading into the Liberty Mutual Legends of Golf) has energized a tour that sometimes is a convenient punching bag for PGA Tour-centric critics who don't respect it. "We have our naysayers," Champions Tour president Mike Stevens told Golf World, "but don't bash us if you've never been out to see us."
Attendance is up 15 percent so far over 2009, and ratings on Golf Channel are strikingly better, too -- up 20 percent over 2009 for Couples' last two wins and up 21 percent in the first quarter with men in the 25-54 age group, according to Nielsen Media Research. The Champions Tour can be an antidote for fans who have overdosed on Tiger Woods or see a sameness to his brethren on the PGA Tour. "I think there is a larger group of people who can relate to these guys better than they can the big tour," said 60-year-old former NFL quarterback Joe Theismann, one of the amateur participants at TPC Tampa Bay. "I can't bend my body like Camilo Villegas or Adam Scott, and neither can these guys. They all feel the same way we do. They wake up with the same aches and pains we have, and they get up and deal with it." Theismann was paired with Fred Funk and his new right knee, and in the same group for two days with Couples, who is forever stretching his problematic back.
Stevens, along with his staff and tournament organizations across the tour, worked hard to get through the economic pinch caused by the Great Recession. The tournament director of the PGA Tour stop in Hilton Head Island from 1983-97, Stevens helped the slate of senior events -- which actually increased by one from last year -- pare expenses. "The tournaments are as efficient as they have ever been," he said, "so as the economy of this tour continues to grow, this tour could skyrocket. We got the full slap upside the head from the economy, and we have to look over our shoulder every now and then to make sure we're doing the right things."
Champions Tour executives have stressed player cooperation for several years, and Stevens emphasized it even more during the last year. "Some players have been asked to have dinner with clients," said Peter Jacobsen, long one of golf's most amiable professionals. "I did that at Toshiba with 15 or 20 couples. You have dinner, then stand up and do a Q&A. It's not torture. It's actually a lot of fun." Stevens told players that it wasn't the right time to quibble over secondary matters and siphon energy away from stabilizing the tour in hard economic times. For the first time in years, at the first player meeting of 2010, the oft-contentious issue of carts wasn't on the agenda.
If Stevens started that January week in Hawaii at the Mitsubishi Electric Championship in a good mood, he left it ecstatic after watching Watson outduel Couples on a dramatic final day in front of a noticeable gallery. "In Hawaii we never drew anybody," said Allen Doyle, who joined the tour in 1998. "This year, it wasn't 20,000 people, or 10,000, or 5,000, but it was 1,000 percent more than we ever had before."
"I was walking around there in the final round, and I think I said I better quit now because it may not get any better," said Stevens. "We've been riding that wave of momentum throughout the year and will continue to. The guys we have playing right now, this is as good as it's going to get."
While nothing has eclipsed the Watson-Couples showdown, until last weekend's aborted conclusion the golf has been exciting every tournament. Couples fought off Tommy Armour III's closing 61 to prevail at the Ace Group Classic. Langer holed a 45-foot bunker shot to win on the first playoff hole against John Cook at the Allianz Championship. Couples won before record crowds at the Toshiba Classic, and a day after Corey Pavin shot 63 at the Cap Cana Championship in the Dominican Republic, Couples finished with a 62 to edge him by the scenic Caribbean.
"Couples is fading," Paul Azinger kidded after the tour's hot rookie shot a first-round 71 at the Outback. Couples rallied with a 67 Saturday, when he had a big gallery in tow all the way to the end, and his nifty flop shot to four feet from behind the 18th green drew the loudest roar of the day. Despite a T-12 finish and a lackluster first round, and failing to tie Hale Irwin's record of 13 straight sub-70 rounds or Chi Chi Rodriguez's four consecutive victories, Couples still departed for the Legends of Golf, where he will team with old friend Jay Haas, with some of the gaudiest statistics ever seen on the Champions Tour.
Couples' scoring average is 65.86 strokes, thanks to overwhelming the par 5s. In 14 rounds he is 46 under on them, a whopping 18 shots better than anyone else who has played the same or fewer number of rounds (by comparison, Corey Pavin is 28 under in 12 rounds on par 5s). Couples ranks first on tour in driving distance (299.2 yards), birdie average (5.79 per round), sand saves (85.71 percent) and all-around performance, and is fifth in greens in regulation and fourth in putts per GIR.
It's hard to overstate how Couples' putting -- using a left-hand low grip with a belly model -- has come around. While he continued to play solidly on the PGA Tour in his mid- to late-40s, the last of his 15 wins came at the 2003 Shell Houston Open in part because his putting wasn't that reliable. It has been a different story on the Champions Tour. His opening even-par 71 at Outback could have been a lot worse if not for his putting on the early holes, including 10- and five-foot par-saves on his first and fourth holes, and a 16-footer for bogey on his third hole, a rare miscue on a par 5 after pushing his drive into a lagoon.
Larry Nelson, who won six senior events in 2000 and five the following season, knows what it is like to be playing with no inhibitions. "It's fun, which is the reason he's out here, and two, you think it will never end, which it will," Nelson said. "You're confident about what you're doing, and there is nothing better than coming out and doing what you love to do well. I think that's what Fred is doing now, and he's just a very happy boy."
While late-blooming success stories such as Doyle or Dana Quigley have been good for the Champions Tour, giving it an everyman's touch and a testament to the power of possibility, the circuit has thrived when familiar stars become familiar presences by winning big in their second acts, whether it is Gary Player or Lee Trevino or Watson. Couples is creating a buzz that Greg Norman, who has played only 11 senior events since he turned 50 in 2005 (and none in 2006 and 2007), might have generated.
"I think the guys out here get it," said Loren Roberts, who has been a regular winner as a senior but didn't bring a high profile with him to the Champions Tour. "We've got to have the name players, and we've got to have the name players playing well. It's fun, even if you have to battle Freddie. It's going to be tough because he's so good. That's what makes it fun at this age -- maybe Freddie is a better player than I am, but I'm going to have fun trying to beat him."
Couples has always been a fan favorite, not only for his swing-easy, hit-hard action but his California cool persona, even though he grew up in Seattle. "I don't analyze it," Couples said last week when asked about his popularity and launching into an answer that would make Yogi Berra proud. "I don't dazzle them with dress, although lately I've been getting a lot of talk about my tennis shoes...I usually have people on my side when I go out, and there's a lot of 'em. I've always liked that...I don't think I'm the greatest at signing autographs...Main thing, when I go to a tournament, I won't say I try my best. Sometimes I pack it in and just hit the ball around. But I try to put on the best show I can [by] hitting good shots and playing a strong game of golf. People like that."
His peers are a bit more succinct. "Fred is competitive, but he's noncontroversial," said Jerry Pate. "There are guys who are competitive but are wired tight. Freddie is a perfectionist, but he is so easygoing. It doesn't show. He doesn't wear his perfectionism on his sleeve, and that's what makes him such a crowd favorite." Jacobsen said simply, "There are guys in golf who we know and love, and they need to win. Fred is just one of those legendary, lovable figures who needs to win."
While Couples' winning streak came to a halt at the Outback, he still seems poised for the most productive year on the Champions Tour in a long time. No one has won more than four events in a season since Craig Stadler won five in 2004. Could the all-time mark of nine victories, shared by Peter Thomsen (1985) and Hale Irwin (1997), be within reach? "The way he's playing right now," said Fuzzy Zoeller, "you bet he could do it."
If Couples keeps abusing the par 5s and holing plenty of putts, all should be well with his world -- and the Champions Tour -- as long as his back doesn't flare up more than usual. "What I don't want to have happen," he said, "is what happened four or five times in the last 20 years, where it just blows out. Then I'm gone for two or three months. That I don't want to happen."
Nor, certainly, do a lot of other folks.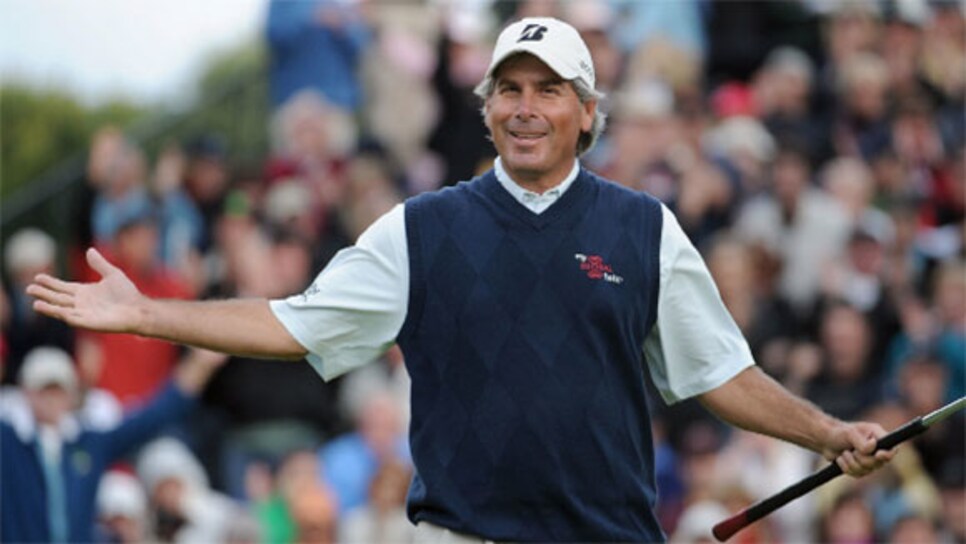 Bellying Up To Victories: Thanks to better putting and a mastery of the par 5s, Couples won three straight, including the Toshiba Classic. (Harry How/Getty Images)