News
Tiger Returns To Golf Needing The Game More Than It Needs Him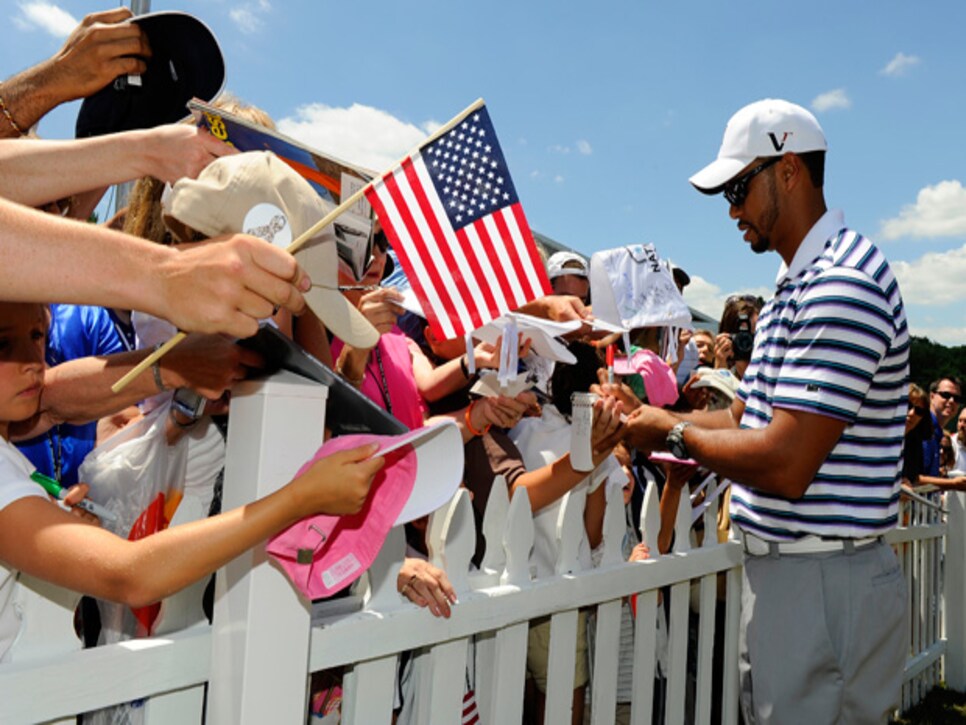 Woods still attracts many fans, but his absences from the game have allowed other favorites to emerge.
Tiger Woods begins yet another comeback, this time at Firestone CC in the WGC-Bridgestone Invitational. His latest absence from the game will have lasted 11 weeks, during which he missed two major championships.
There will be, you can be sure, all the usual Tiger Theatrics. He will likely have talked at his pre-tournament press conference about how good it feels to be back. He will also have ducked questions about firing long-time caddie Steve Williams and played coy about who will replace him. He'll explain why he decided to stick with Steiny -- agent Mark Steinberg -- rather than remain at IMG, the giant management company that first put his father on its payroll as a "junior talent scout" when Tiger was a teenager.
It will be Tiger-business as usual. If he goes out and plays well -- either in Akron, or a week later at the PGA Championship in Atlanta -- the golf world will herald his long-awaited return. If he doesn't, he will tell everyone once again that this is all a process.
But there is one thing that has changed: For the first time since he welcomed himself to the PGA Tour with his "Hello World" declaration in Milwaukee 15 years ago, Tiger Woods needs golf more than golf needs Tiger Woods. Will TV ratings go up if Woods contends? Of course. Will people become breathless if he goes on an early Sunday birdie-binge the way he did at Augusta this past April? Sure.
If none of that happens, though, what we now know is that the sport will go on. It will happily welcome Woods back to the point where Tim Finchem and TV executives might line up to throw rose petals at his feet. But it will move along without him if need be.
Since Woods won his last major title at the 2008 U.S. Open, 12 players have won the 13 majors that have been contested. What that has done is create new stars: Rory McIlroy, Martin Kaymer, Charl Schwartzel and Graeme McDowell among them. It has also rekindled some older players: Phil Mickelson, Darren Clarke and Angel Cabrera come to mind. That doesn't include the young Americans who have shown potential to break through.
Woods is still more famous than all of them combined. But he is as famous for his life failures these days as he is for his golf accomplishments. He'll certainly hear cheers when he plays good golf, but he will never again have the aura he wrapped himself in before he wrapped his car around that fire hydrant. A Woods victory at the PGA would drive ratings, but so would a win by Mickelson or McIlroy or Rickie Fowler. Golf isn't all-Tiger, all-the-time anymore. Fans will embrace this next group of stars.
Now, turn the table. How important is golf to Woods? Once, he could take it for granted. He could play wherever and whenever he wanted and, for the most part, win wherever and whenever he wanted. It isn't nearly that easy anymore. Just getting to the course has become a challenge. Woods missed two months after the 2008 Masters; eight months after the 2008 U.S. Open; four months after hydrant-gate; and, except for nine holes he shouldn't have played at the Players in May, four more months since this year's Masters.
That's a lot of missed time for someone who should be in his peak years as a golfer. He's divorced now, living in the mansion he built in Florida with some visitation time with his kids. One wonders what he does with himself day in and day out. Recently, he said he hadn't hit a practice ball since the Players. Does he play video games? Read the classics? Watch old tapes from the glory days? Skype with Steiny?
Tiger Woods is a golfer. It has defined his life since his father first stuck a club in his hands. Any real joy that there's been in his life has come from golf. Right now, more than ever, he needs golf.
Golf, on the other hand, would be happy to see him back. But the relationship has changed. The golfer now needs the game more than the game needs him.