News
'Low American' -- A Golf Term That Is Starting To Catch On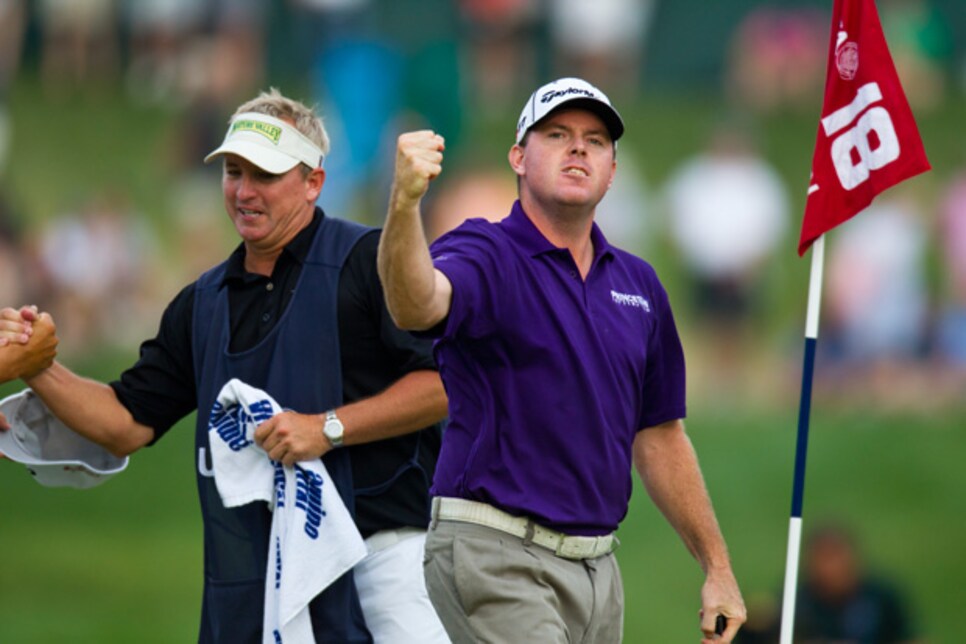 Robert Garrigus (right) surprised fans by tying for low American honors with Kevin Chappell.
NBC's Dan Hicks was the latest to bring it up. Sunday afternoon at Congressional, as Kevin Chappell prepared to hit his second shot at 18, Hicks said Chappell was in good position to be "Low American."
That's how far American golf has sunk in the past 14 months: Low American has almost become a separate category along with low amateur. Maybe next year at Augusta, the Low American will be invited to Butler Cabin to sit alongside the champion and the low amateur.
Preposterous? Consider the last five major championships: Not only has no American won any of them, few have seriously contended. At Congressional, Chappell and Robert Garrigus finished T-3, 10 behind Rory McIlroy; no other Americans were in the top 10. At the Masters, Tiger Woods finished T-4, Bo Van Pelt was T-8 and Ryan Palmer was 10th. The only serious chance for an American to win since Phil Mickelson's victory at Augusta in 2010 came at last August's PGA Championship when Bubba Watson lost a playoff to Martin Kaymer and Dustin Johnson lost his chance to join them because he hadn't studied the local rules sheet.
What the heck is going on here?
Sports is cyclical. After Tony Jacklin won the 1970 U.S. Open, it was 40 years before another European won the championship. Now, two men from one tiny European country -- Northern Ireland -- have won it in back-to-back years. Europeans won the Masters 11 times between 1980 and 1999. No European has won it since. In baseball the National League almost always won the All-Star Game in the 1960s and 1970s. In the 2000s the American League has dominated. In tennis Pete Sampras, Andre Agassi and Jim Courier won 26 major titles in 14 years. It has now been eight years since an American man won one major title.
In short, there is no reason to panic or even to start looking for reasons for the U.S. "slump." The junior system doesn't need to be blown up, and players don't have to start following the European model of turning pro as teenagers in order to succeed. What's happened is fairly simple: For a good long while Woods and Mickelson were the two best players in the world. Now, they're not. That has left a void.
The Next Ones from overseas are already making their mark, notably the last five major champions who range in age from McDowell at 31 to McIlroy at 22. They aren't coming, they're here -- and likely to stay for quite a while.
Meanwhile the American Next Ones haven't taken that step yet: Watson might be the world No. 1 had he won the playoff at Whistling Straits; Johnson and Nick Watney were close that week. Rickie Fowler, the American who can best challenge McIlroy for likeability, probably needs to spend less time making videos and more time figuring out how to win. Steve Stricker and Matt Kuchar are both ranked in the top 10 but are still major-less.
One major victory changes a player's place in the golf pantheon considerably. Think Tom Kite, Davis Love III and Fred Couples.
Being Low American is another story. At last look there wasn't a Low American wing in the Hall of Fame. Coming close to winning a major is a little bit like coming close to catching an airplane. If you miss it, you miss it -- and in the case of golf there is no guarantee you'll catch a later flight. Ask Ed Sneed. Or Dan Pohl. Or Mike Donald. Or Loren Roberts. Or, more recently, Rocco Mediate.
In simplest terms, regardless of whether Woods can come back or Mickelson can make a couple more runs, it is time for the younger Americans to move past being potential champions and become champions. In the last 12 months McDowell, Oosthuizen, Kaymer, Schwartzel and McIlroy -- emphatically -- have shown how it is done.
The young American players need to get the term Low American out of the golf lexicon before it catches on.