News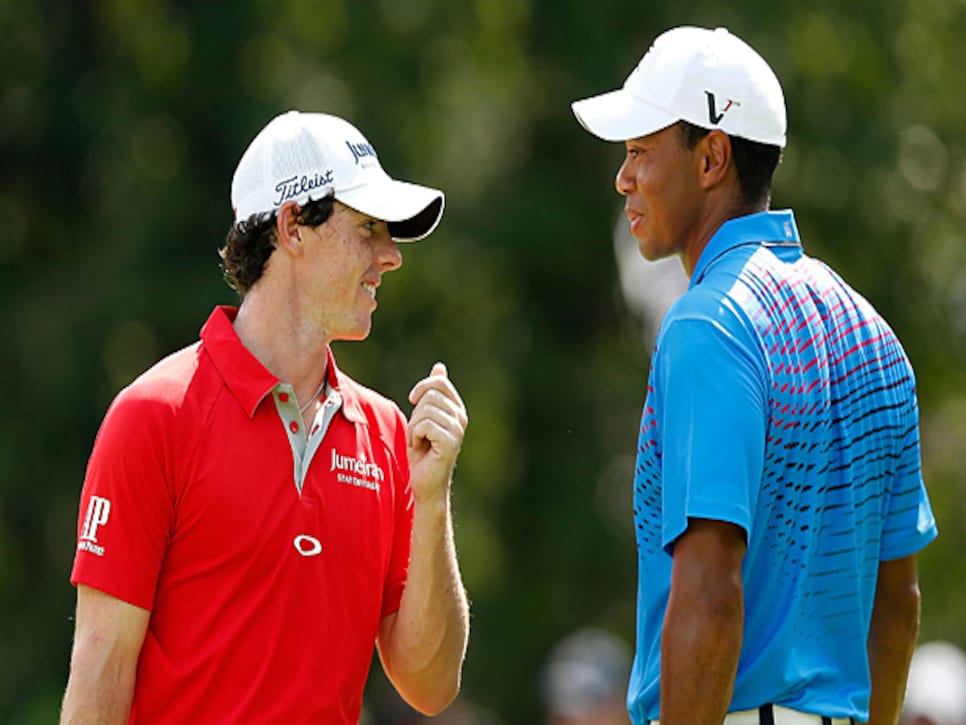 McIlroy and Woods have been having fun, but recently, Rory's been getting the last laugh.
Welcome to another edition of Fantasy Fix, where like an NFL team, we use the bye week to come back even fresher. Any lingering stingers from close calls or bruises from bad beats have healed and we've had even extra time to prepare. For a genius like Bill Belichick that almost always translates into a win. Unfortunately, I'm no genius, but I'm certainly extra amped up for this week's tournament thanks to an acute case of FedEx Cup fever (Catch it!). Here's how I see things playing out.
The PGA Tour heads to East Lake for the FedEx Cup Playoffs finale, the Tour Championship. After two-straight shootouts, expect the scoring to be a little higher this week. No one has finished double digits under par at East Lake in each of the past four years. Then again, this will be the first time Rory McIlroy tees it up in the event. . .
Random tournament fact: Tiger Woods once finished second in this event to Bart Bryant in 2005. By six shots! Unfortunately for the journeyman, he peaked waaaaaay too soon. Two years later, that victory would have been worth a lot more money.
Bill Haas. As a fellow member of Wake Forest University's Class of 2004, it pains me to say that last year's big winner isn't in the field this year. He has no one to blame but himself after bogeying four of the final five holes at the BMW Championship to fall to No. 32 spot in the FedEx Cup ranking. The good news for him is that from what we hear, the $11.4 million he earned here last year goes a long way.
Woods only has one win at East Lake (he also won the 1999 Tour Championship at Champions GC in Houston), but he has finished runner-up there four times. Speaking of four, at the outset of this season, we predicted that's how many wins Woods would have in 2012. We're not about to back down from that now.
After what he's done the past two events, it would almost be a shame if McIlroy didn't walk away with all the postseason loot, however, that's part of the playoffs' charm (FedEx Cup fever!). It's tough to pick against a player who is hotter than a typical summer day in Atlanta, but he can't possibly beat Tiger six times in a row, right? Then again, I thought the same thing about him doing it five times. . .
STUD OF THE WEEK (NOT NAMED TIGER OR RORY)
Brandt Snedeker. Sneds has been so sharp in the playoffs -- shooting in the 60s in 11 of 12 rounds -- that we are willing to overlook his T-16 and T-29 finishes in his only two previous trips to East Lake. Having been picked to represent the U.S. squad at the Ryder Cup, his confidence level is at an all-time high and this southern gentleman would like nothing more than to cap his PGA Tour season with a win in Atlanta. And if he does that, by virtue of being in the top five in the FedEx Cup standings, he would automatically win that shiny trophy and the $10-million bonus. With that kind of cash, we might have to change his nickname to "Feds", as in the Federal Reserve System.
"Hey, Alex. I just want to thank you for all your fantasy help this year. I've already wrapped up my first league title. Take that, Arnie! All the best, Jack Nicklaus."
No problem, Mr. Nicklaus! OK, so Jack didn't actually write me, but that doesn't mean you shouldn't -- even in the off-season. Email me at Alex.Myers@GolfDigest.com
) if you just feel like making fun of my picks or sharing your thoughts on Tiger's cutest "bromance" through the years.
Justin Rose. It's risky picking against someone in such a small field, but that's why they pay us the big bucks. Rose hasn't played particularly well in the playoffs (A T-16, A T-46 and an MC), and he's never finished in the top 10 in his three attempts in Atlanta. That might not sound that bad, but remember, those results have come against just 29 opponents.
"SLEEPER" PICK OF THE WEEK
Ryan Moore. The 2004 U.S. Amateur champ is coming off back-to-back top 10s and finished T-9 in his first trip to East Lake last year. After sneaking into the top 30, he should feel like he's playing with house money -- a lot of house money.
FREE FANTASY FOOTBALL ADVICE
Don't be afraid to pull the trigger early in your draft on Robert Griffin III. He is going to wind up being this year's top fantasy scorer. Ohhh, you wanted that advice before your draft? My bad. Hey, at least I did predict Hakeem Nicks would be the second-best fantasy wide receiver this year and he looks on his way. You're welcome.
Adam Scott. A winner here in 2006, Scott has been on a roll with a T-7 in Boston and a T-6 at Crooked Stick. He also finished T-6 in this event last year. There's no reason to think a similar performance isn't in the cards this week.
Phil Mickelson. Golf's a crazy sport, huh? One minute, a player can look washed up and the next, he's back to his old gun-slinging ways. That's the case with Mickelson, who has contended at the past two playoff events after the worst slump of his career. Hmm. Perhaps that claw putting grip isn't as dumb as it looks. . .
Jim Furyk. A good performance here would certainly take some of the pressure off him heading into next week's Ryder Cup as perhaps Davis Love III's most controversial captain's pick. Remember, just two years ago, he made history here by becoming the first golfer to win on the PGA Tour while wearing his hat backwards. Again, only in the playoffs. Catch the FedEx Cup fever! Woo!
WEEKLY YAHOO! ROSTER SELECTIONS
Starters: Adam Scott, Tiger Woods, Rory McIlroy, and Jason Dufner
Bench: Jim Furyk, Brandt Snedeker, Dustin Johnson, and Louis Oosthuizen
PARTING IS SUCH SWEET SORROW
It's been another great year of talking fantasy golf, the genius of Katy Perry, and my weird obsession with chain restaurants (What do I have to do to get Chili's as an official sponsor?!) among other things. The three seasons I've done this have flown by more quickly than an Eli Manning slant pass. And usually, OK, sometimes, my picks have been just as accurate. Regardless, as always, thanks for reading and good luck beating that really annoying guy in your league. . .
*-- Alex Myers is a contributing editor for GolfDigest.com. Feel free to email him
since he has self-esteem issues.*