News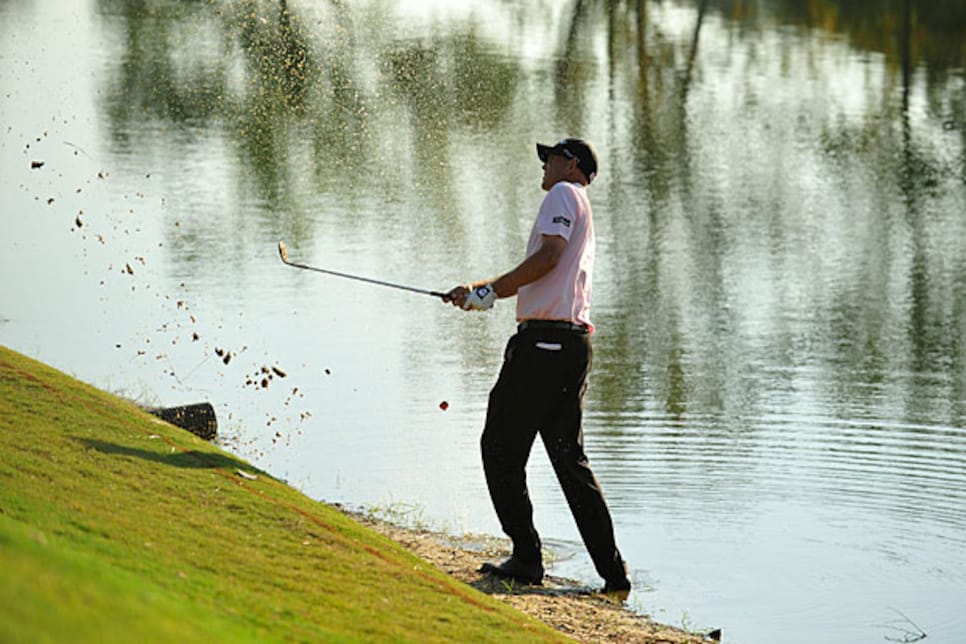 What happened the last time Bill Haas played in a limited-field event? Um, this.
And... we're back! Welcome to a season-opening edition of Fantasy Fix, where instead of "fantasy guru," we prefer the term "dream maker". Did that fantasy football season not go as well (Thanks a lot, Jahvid Best) as you planned? Are you getting restless waiting for your fantasy baseball draft? We've got you covered with advice to help you make the fantasy golf season fun and successful. So set your sights high as 2012 begins. This could be the year you finally win that league title -- or at least, beat that annoying friend who likes to brag a lot.
The PGA Tour kicks off the 2012 season with the aptly-named Hyundai Tournament of Champions, a winners-only event played at Kapalua's Plantation Course in Maui. It's tough to handicap the field based on who is playing well since these guys haven't teed it up in ages. Oh wait, there is no golf off-season anymore? Scratch that.
, despite the fact that it's a small field with a huge purse that's being played in a tropical paradise. You'd think these guys would be chomping at the bit to start their seasons after such a long layoff. Oops, I forgot about there not being an off-season again...
Jonathan Byrd. Last year, J-Byrd birdied the second playoff hole to pick up his fifth PGA Tour title. More impressively, he wasn't distracted by Robert Garrigus' children's putter during the extra holes. By the way, when we say "the defender," we really mean it. Byrd happens to be the only player in the field who has won this tournament before. While another win is unlikely, with that fact in mind, you could certainly do a lot worse than taking the Clemson product.
Rory Sabbatini. There may not be another former champ in the field other than Byrd, but Sabbo has come the closest with two runner-up finishes. The last time he played here, he shot a final-round 63 to nearly catch Geoff Ogilvy. (Side note: I played this course once. I did not shoot a 63.)
MY OBVIOUS PICK(S) OF THE WEEK
Bill Haas. If you've read this column before, you should know by now that I don't hide my bias for Bill Haas, a fellow graduate of the Wake Forest class of 2004. In fact, the off-season was so short, I'm still riding high from his remarkable par save from the water that helped him win the Tour Championship and the FedEx Cup Playoffs. But there's good reason to like him this week as well. Of all the returning players from last year's field, only Steve Stricker finished higher. And as we mentioned, he fared pretty well the last time he played in a limited-field event...
And sticking with the Demon Deacon theme, when is playing Webb Simpson not a good choice these days?
KNOCKOUT PICK OF THE WEEK
Rory Sabbatini. While we've highlighted one-and-done picks before, this year we'll feature it even more. In fact, look ahead to our contest for each of the four majors, as well as the Players Championship. Yes, there will be prizes. No, one of them isn't getting to have dinner with me, sorry. There will be more details to come, but it will involve Golf Digest/Golf World's Facebook page so stay tuned.
WE WANT YOU! TO GET INVOLVED...
) for a chance to appear in next week's column. Now onto more pressing email matters...
"Hey, Alex. Welcome back! I'm looking forward to another great year! What are you predicting for me this season? Talk to you later, Tiger Woods."
Thanks for checking in, Tiger, and a belated happy birthday to you. 36? Wow. You're almost as old as my boss. Hope you liked the Justin Bieber CD I sent to make you feel younger... No, Tiger didn't actually write, but you didn't think we'd make it through the first installment of the year without mentioning him, right? I'm going to predict four wins and a major in a player-of-the-year campaign for the former top-ranked player. And seriously, please feel free to email me
with comments, questions or just to make fun of my picks. And of course, you can follow me on Twitter
BCS CHAMPIONSHIP-FLAVORED PICK
David Toms. The former LSU Tiger undoubtedly can't wait for his alma mater's showdown with Alabama next Monday night. But he should also be excited for the 2012 PGA Tour season after having a resurgent 2011 campaign, which included a win at Colonial. One of only two major winners in the field of 28 (Lucas Glover is the other), Toms also has a solid track record at Kapalua with four top 10s, highlighted by a runner-up in 2002.
AREN'T THE GOLD TEES FOR SENIORS?
Bubba Watson's latest course record at his Scottsdale-based Estancia Club came from the gold tees. It's tough to get on the guy, though, when he shot a 58 to achieve the mark. He finished near the bottom of the pack in his first attempt at Kapalua last year, but we expect better this year -- provided he doesn't incur any penalties for teeing off too far forward.
All the guys who qualified for this event, but aren't playing. Right now, Tim Finchem is probably regretting sending them Christmas cards.
FREE FANTASY BASKETBALL ADVICE
Because I'm such a nice person, I like to help people with their other fantasy sports endeavors. Here's a simple philosophy: don't draft bad guys. I usually refrain from doing this, but this year I strayed from this strategy and it's taken about a week to backfire on me. First, Andray Blatche criticized the way the Washington Wizards were using him on offense -- after the first game! He also identified himself as the team captain to the home crowd before the game. He's not. And now, DeMarcus Cousins has been banished by the Sacramento Kings after the 20-year old demanded a trade. The moral of the story: Be careful. Toxic egos can derail your season just as quickly as injuries.
EXPECT A LOT FROM THIS GUY THIS YEAR
Nick Watney. How did the Fresno State product respond from his collapse at the 2010 PGA Championship at Whistling Straits? With the best (so far) season of his career in 2011. We expect the 30-year old to be in the mix for PGA Tour POY yet again this year and there's no reason he won't get off to a fast start in Hawaii.
To show you that I actually have a vested interest in my picks and that I don't take joy from trying to lead you astray, each week, I'll show you my personal Yahoo! fantasy golf league lineup. Hopefully, this squad will get me off to a hot start...
Starters: Rory Sabbatini, Bill Haas, Bubba Watson and Jonathan Byrd.
Bench: Nick Watney, Chris Kirk, David Toms and Ben Crane.
"SLEEPER" PICK OF THE WEEK
Chris Kirk. OK, so it's tough to be a sleeper in a winners-only event, but the second-year man from the University of Georgia is about as under the radar as they come this week. Plus, I like where his head was at coming into this week. Check out what he said from his Twitter handle @Chris_Kirk on Jan. 1: "Happy new year everyone! No hangover on new years day for the first time in forever. Time to get to work." For a 26-year old, that's showing a lot of discipline and focus...
*-- Alex Myers is a contributing editor for GolfDigest.com. Feel free to email him
since he has self-esteem issues.*