News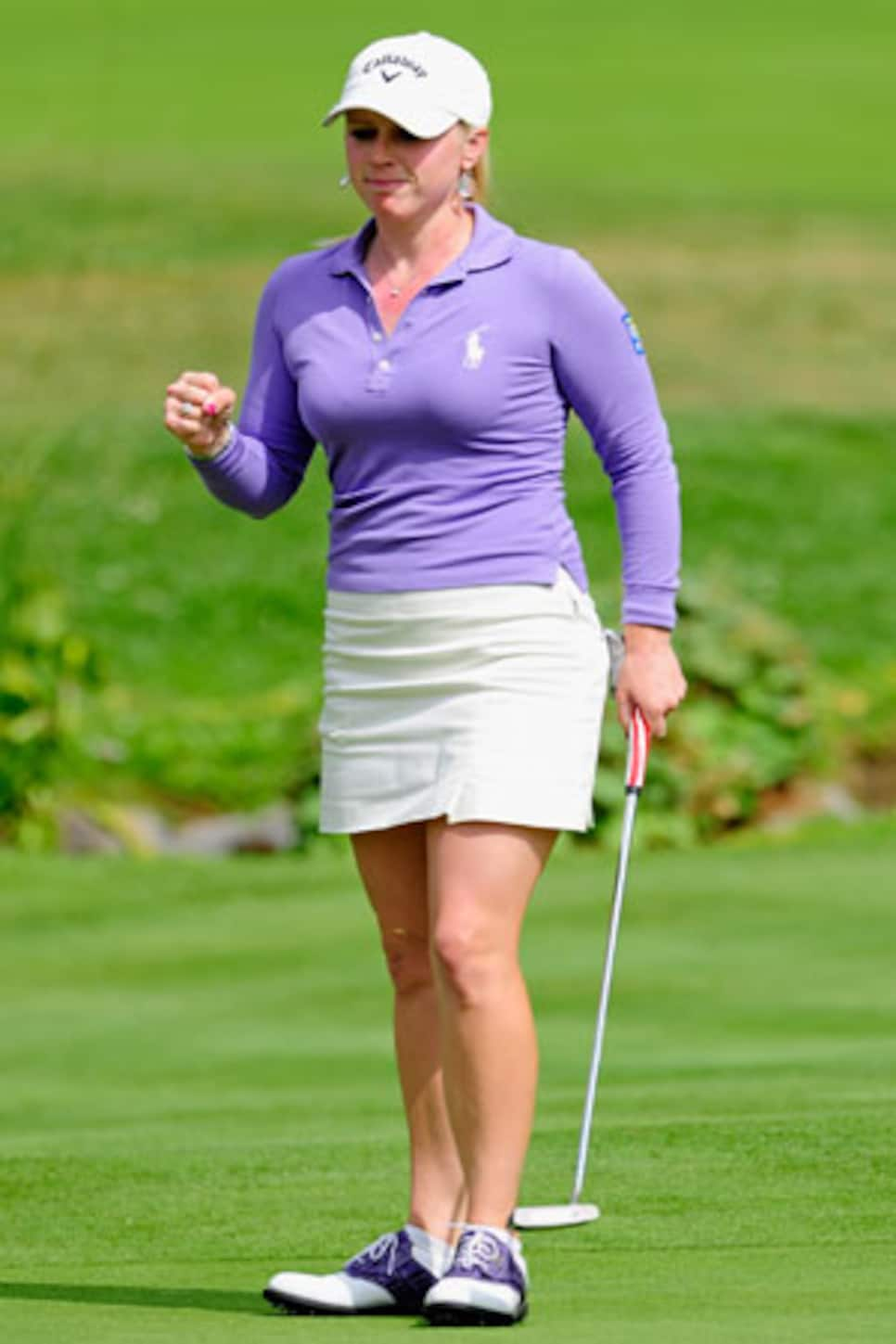 Pressel is looking for his first Evian Masters title.
EVIAN-LES-BAINS, FRANCE -- Morgan Pressel took full advantage of the calm, soft conditions, going for flags relentlessly on her way to a 67 and the top of the Evian Masters leader board. Pressel shot a 67 that included a sensational 32 on the inward nine, making birdies on the par-4 13th and the par-3 14th, as well as an eagle on the tight par-5 18th.
"A great day," Pressel said. "A good start with a birdie. Play was faster today which helped after the long day yesterday and all the rain."
Korean Jiyai Shin, No. 4 in the Rolex Rankings, fired a 4-under 68 to move into a tie for second with Jeong Jang, two shots behind Pressel.
"My play is so simple. Hit drive, hit an iron and two putt and sometimes I make birdie," Shin said. "I enjoy playing, I have a chance to regain No. 1."
Jang, runner-up at the 2007 Evian Masters, feels her game is coming back after a wrist injury hampered her last year. She is confident, but is also trying to avoid putting too much pressure on herself for the final round.
"My play is getting better. I cut down on my bogeys with my irons getting really good," she said. "I had lots of chances to putt for birdie."
Brittany Lincicome is also in contention, having shot a 65 to vault up the leader board into a tie for fourth. Lincicome's play moved up a gear on the 8th as she made back-to-back birdies to finish the front with a 34. She eagled the par-4 16th, holing a gap wedge on her second shot. She nearly holed out again on the par-3 17th, leaving a tap in birdie.
"I was hitting it close, my putter was working, and this is my best round here in my four visits," said Lincicome.
Playing in her first Evian Masters, teen star Alexis Thompson tore up the course with six birdies and an eagle finish on the par-5 18th, where she played a driver, then a 5-iron to 5 feet.
"My goal was to finish in top 10 here, and being in fourth place three shots back is great," said Thompson, whose father is on her bag this week. "Tomorrow I will just be free swinging and going for birdies."
Mayu Hattori, Na Yeon Choi, Mika Miyazoto, and M.J. Hur sit four shots off the lead, hoping to get into the mix for Sunday afternoon drama.
Every year rumors circulate about the Evian Masters becoming a major, and the 2010 buzz is no different. Discussions have begun and a decision should be reached sometime this fall.
"Majors come from three things - major vision, major sponsors, major venues," explained LPGA Commisioner Michael Whan. "You lock arms when you find the three and see if you can make it happen."
Although its popularity is unquestioned, not everyone feels the Evian is ready to make the major jump. "The course is not quite there for defining a major championship," said Suzann Petterson. "But it is our favorite stop on tour as the biggest tournament in Europe. Doesn't matter if its a major, they will have the best field throughout the year."
"Why is everyone making such a big deal about majors?" asked Hall-of-Famer Karrie Webb. "Evian Masters gets a great field yearly. We need tradition, history, consistency in our Majors like the men. The LPGA has 60 years, our majors should relate to our history. I love this event, one of my favorites and I will always support it for all that they do for women's golf."