News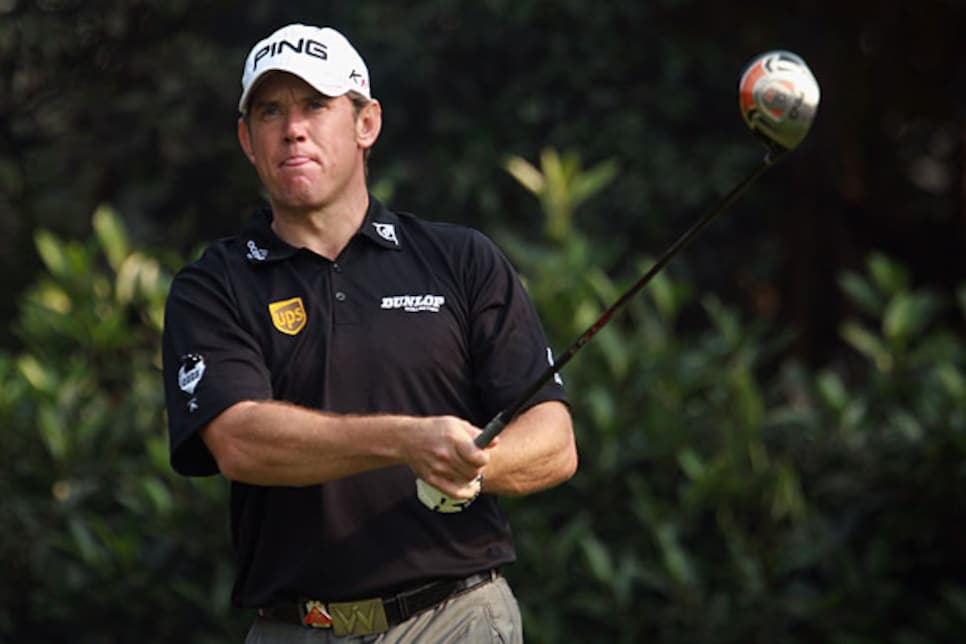 Westwood ended Woods' streak of being ranked No. 1 for 281 straight weeks.
DUBAI, United Arab Emirates -- As the European Tour returns to this economically-stricken nation for the second playing of the grandly-titled, season-ending Dubai World Championship, the contrast between the current fortunes of the world's second-biggest circuit and the venue for its richest event could hardly be more marked.
While executive director George O'Grady this week described 2010 as "possibly the greatest year in European Tour history," the 12 months since Lee Westwood won the inaugural DWC – and the season-long "Race to Dubai" -- with a 23-under par performance renowned coach Bob Torrance called "as good as a man can play" -- have been less kind to the Greg Norman-designed "Earth" course on the Jumeirah Golf Estates. Today, it remains surrounded by the same unfinished and ghostly buildings that provided such an incongruous backdrop to the lavishly funded tournament a year ago.
Still, O'Grady is entitled to be outwardly buoyant about the bigger picture. For the European Tour things have not looked this good since the halcyon days of the 1980s, when the so-called "Big Five" of Seve Ballesteros, Nick Faldo, Ian Woosnam, Sandy Lyle and Bernhard Langer were in their pomp. Gathered here in the Gulf are three of this year's major champions, six of the world's top-ten -- all of whom are European -- and 19 of the game's 50 best players, only four of whom are not eligible for the next European Ryder Cup side. And, oh yes, all 12 of the men who saw off the United States at Celtic Manor two months ago are present, too. It is, all in all, a potent gathering of golfing talent.
What O'Grady hasn't been saying -- not out loud anyway -- is that the European Tour is more and more becoming the place to be for more and more of his star names. While the lure of the Yankee dollar continues to attract the majority of the more talented European Tour members (the likes of Ian Poulter, Justin Rose, Paul Casey, Robert Karlsson, Graeme McDowell and, just this week, a brace of South Africans in Open champion Louis Oosthuizen and Charl Schwartzel) the news that PGA champion Martin Kaymer will be joining the likes of Westwood and Rory McIlroy in declining PGA Tour cards in 2011 has provided a welcome boost to an organization previously resigned to second-best status. Throw in Westwood's recent supplanting of long-time world No. 1 Tiger Woods at the head of the rankings and Europe's basket of goodies is closer to full than it has been for a very long time.
"Last week I sat down with my manager and made my decision," revealed Kaymer this week. "We had a look at the schedule and it doesn't really fit both tours for me next year. So I will stick to the European Tour."
Combined with the concession made this week by commissioner Tim Finchem that will allow Westwood to play 11 instead of ten PGA Tour sanctioned events next year as a non-member, this was seen as yet more evidence of, as London's Daily Mail put it: "the anxiety gripping the U.S. Tour, which has long sold itself on the premise that it is home to all the big names."
"There is no question that playing the European Tour is now the best way to make yourself a truly great golfer," chimes in Denis Pugh, who coaches the Molinari brothers, Edoardo and Francesco. "Apart from Tiger, that's where the very best players are currently coming from."
Pugh is not alone in that assessment either. Former European Tour player Mark Roe, now a successful short game coach and commentator for Sky Television, is another who sees these as shifting times.
"The balance of power is fast shifting towards Europe," he maintains. "We have always had the most important championship in the Open and now we have the best players to back that up."
Two of those big names, McDowell and Kaymer, remain the only two contenders to succeed Westwood atop the Race to Dubai, what was once the Order of Merit and remains the European money list. With just four rounds to play, the U.S Open champion trails the German by €290,910 (approximately $390,000). But with first place here worth €910, 348 ($1,250,000) victory for either would bring with it a year as "Europe's No. 1." And, even these days when a player's world ranking is the prime determinant of status, that is a position each is keen to own.
"I feel a little bit more pressure than in normal tournaments," admitted Kaymer. "And I am sure Graeme feels the same. But I am leading and there is always a little bit more pressure on the leading person, because everyone is expecting me to win."
He better get used to that sort of thing. On today's European Tour, expectations have never been higher.