The Loop
Phil Mickelson's putter change draws attention to the importance of loft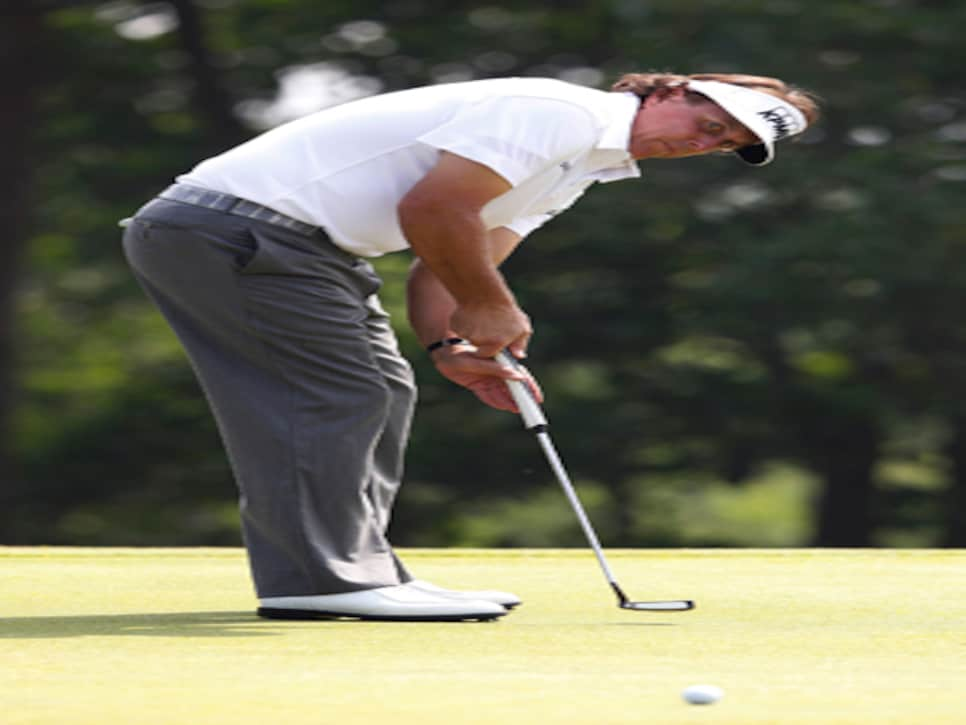 A player using a putter with that little loft is not unusual. However, at various times in his career, Mickelson has used a putter with as much as 7 degrees of loft. The example drives home the fact that putter loft can be overlooked as a key to success on the pro tours.
Each putter design has minor differences in loft, intended to create a pure roll. But the design is effective only if the person putting uses the appropriate stance and stroke. And since virtually every player inadvertently adds or subtracts from his putter's inherent loft to some extent, tweaking the loft of the putter is necessary. Mickelson is an excellent example. Earlier in his career when he used a significant forward press, Mickelson needed the added loft to compensate. Now that he has eliminated much of that press (as well as incorporated a claw grip), he delivers the club at a more level angle thus requiring less loft.
In short, putters are like drivers -- you need the proper loft to produce the proper launch angle. In fact, if you had talked about the importance of launch angle on putts to a tour player five years ago, they would have looked at you somewhat curiously. But just one degree can make a huge difference. If golfers notice their putts bouncing and skidding, then they probably have the wrong loft on their putter.
What are the dangers of having the wrong loft? Too much will cause the ball to hop more on impact, producing more skid than is ideal. Too little loft will drive the ball into the turf too soon, making it difficult for it to settle into the proper roll.
For some top players, more loft meant fewer putts. Putting guru Dave Stockton won a pair of PGA Championships with a stroke that had his hands considerably forward at impact. As a result the putter he used for most of his career had between 5 and 6 degrees loft. Olin Browne was another requiring more loft. In fact, days prior to the 2011 U.S. Senior Open at Inverness, Browne added 2 degrees to his Odyssey Black Series i #1 putter, raising it from 4 to 6 degrees. He went on to win the Senior Open by three shots, averaging 27 putts per round.
Others need less loft. It's not unusual for players using long putters (where there's no forward press and the stroke generally strikes the ball on somewhat of an upswing) to use as little as 1 degree of loft. Ball position also plays a role in determining the proper putter loft. Jim Furyk, for example, positions the ball off his front foot and routinely uses a putter with 1 to 2 degrees of loft to compensate for that. Others, such as Retief Goosen and Mike Weir, tend to add loft with their stroke and therefore need less loft.
Course conditions are also a factor. "For the average guy, unless you're on perfect greens, you need some loft," two-time U.S. Senior Open champion Allen Doyle told Golf World in 2009. "Most guys probably never think to increase loft on bumpy greens, but they should." Doyle, who grew up playing on bad greens, got so accustomed to a putter with 6 degrees loft that he continued to use it even during his tour days.
Regardless of the amount of loft, the goal is the same: launch the putt between 3 and 4 degrees. "Four degrees at impact gives me optimum roll," Mickelson told Golf World in 2011. "If you have too little loft, it beats it right into the ground and then the ball has a hop to it, as well as what I call a hot roll where the ball takes off on you. If you have too much loft, it is coming up off the ground before it starts to roll and will often come up short."
At the Humana Mickelson averaged .877 strokes per round better than the field according to the strokes gained/putting statistic. Obviously the man knows what he is talking about.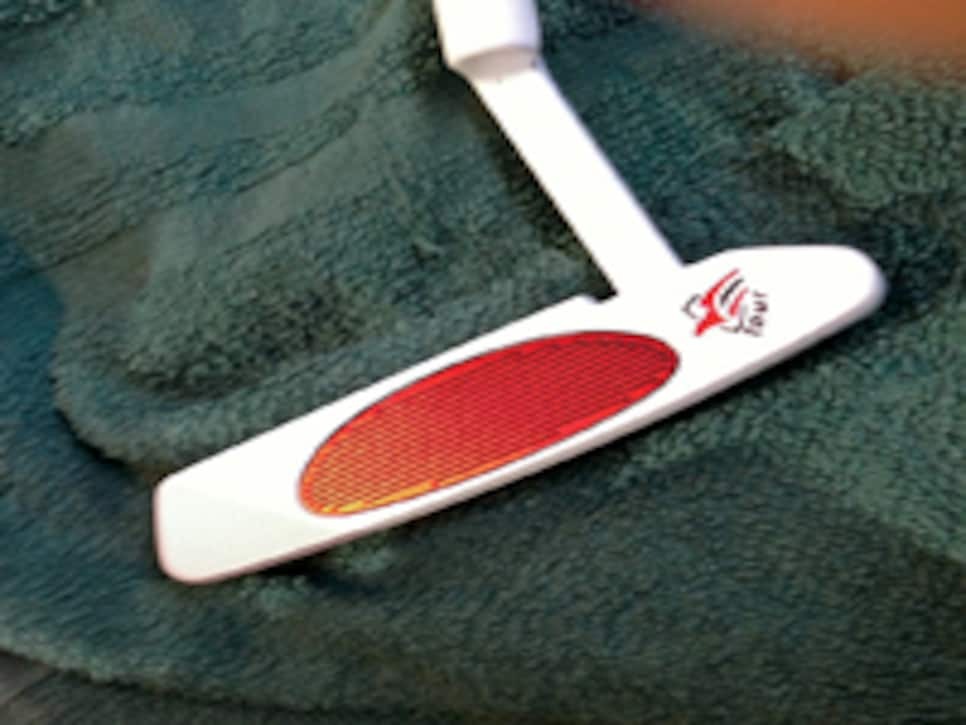 Tour players are a particular bunch and nowhere is that more apparent than with their putters. One such case came at the Humana Challenge where Web.com Tour graduate Casey Wittenberg was trying a TaylorMade Ghost Tour prototype but had some issues with the insert. For starters, Wittenberg didn't like that he could see parts of the black insert at address. There also was a performance aspect to consider -- the ball didn't come off the Surlyn insert as fast as Wittenberg would like.
To address Wittenberg's concerns, TaylorMade had a red "Pure Roll" insert driven from its Carlsbad, Calif., headquarters to Palm Springs where putter rep Shawn Mullin changed the inserts. The red insert not only fit Wittenberg's eye better, but produced the quicker release off the face he was seeking.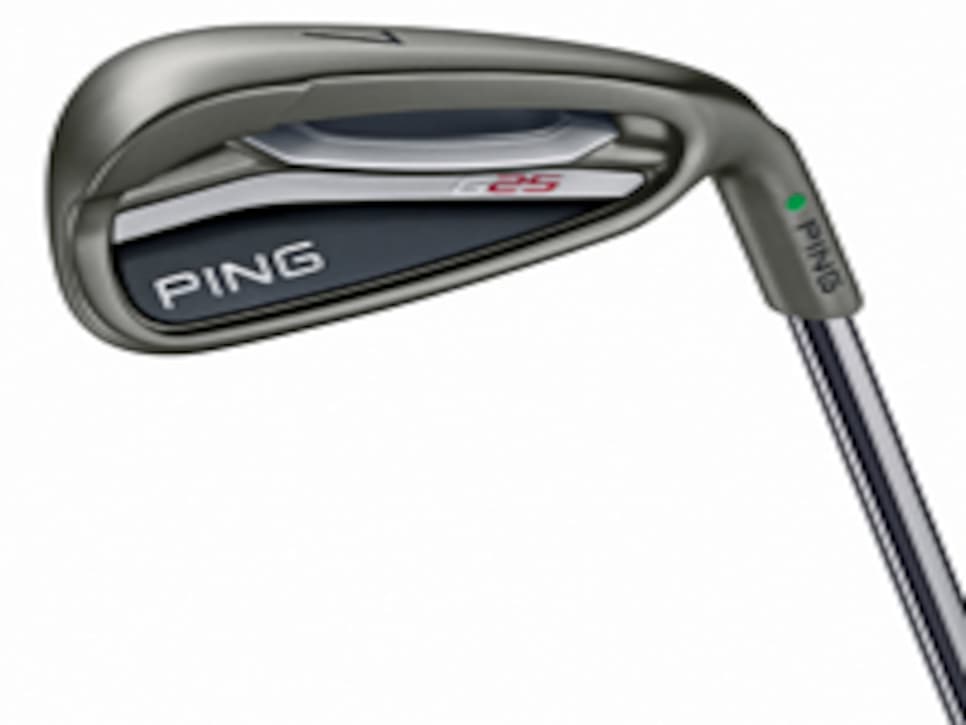 PRICE: $780 (set of eight, steel)
The tuning port in the cavity has been integrated into the sole to position the center of gravity for higher shots. The sole widths get thinner from long irons to short irons.
At his Jan. 14 press conference announcing his signing with Nike, Rory McIlroy said, "From now on I'll be playing a Method putter," referring to Nike's putter line. That held true for one round. After an uninspiring 75 during the first round at the Abu Dhabi HSBC Championship, McIlroy returned to the Scotty Cameron by Titleist Studio Select Newport GSS prototype he used in 2012. McIlroy shrugged off any suggestion the move was a major occurrence. "I wasn't getting the ball to the hole," McIlroy told Golf Channel. "The greens here are a little slow, and the Nike putter I used yesterday is quite light, so for practicing on fast greens, it's great. But when you get on greens that aren't quite as quick like here, I felt like I was having to hit it a bit more. So it's just a weight issue. The one I used today is a bit heavier, so I thought I could stroke it a bit more. That was it." ... Roberto Castro was among those who switched to TaylorMade's R1 driver at the Humana Challenge. During testing, Castro, who played a TaylorMade R11 at the Sony Open in Hawaii, tried an R1 with a Mitsubishi 'ilima shaft but felt he was spinning the ball too much. A switch to Mitsubishi's Diamana Blue S+ took care of that, and Castro found he picked up 2 to 3 miles per hour ball speed with better dispersion.