News
Els Honored With GWAA's Bartlett Award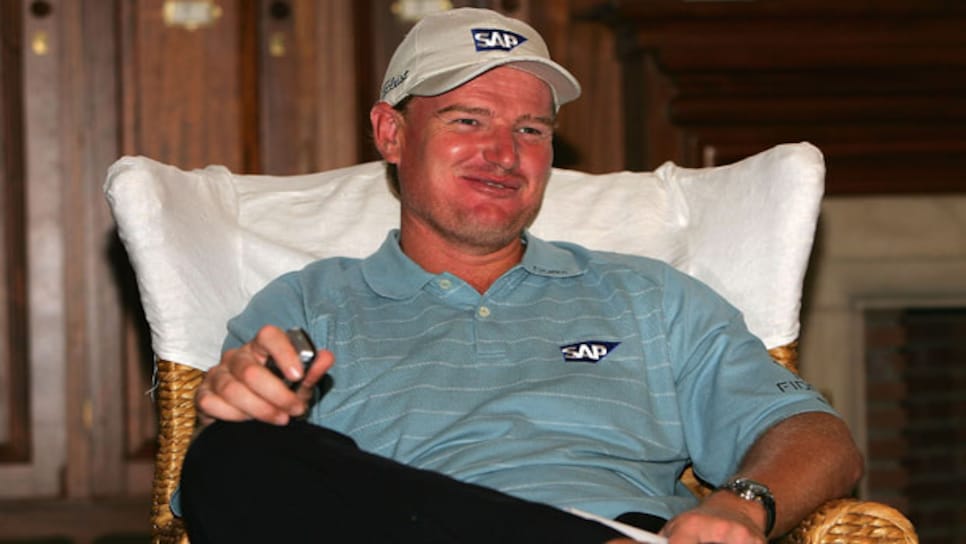 Three-time major champion Ernie Els has been honored with the Golf Writers Association of America's Charlie Bartlett Award. The award, named for the first secretary of the GWAA, is given to a professional golfer for his/her unselfish contributions to the betterment of society.
Els, 40, has been a passionate advocate for autism since his son Ben, now 7, was diagnosed four years ago. He and wife Liezl founded the Els Autism Foundation in 2009 and are now undertaking a capital campaign to raise $30 million for the Center for Excellence. The center will be the first of its kind in the world, combining cutting-edge education, therapy and research for children in the autism spectrum.
Through its digital learning program, the Center will have a global outreach which will allow professionals and those families with ASD around the world to have access.
Els began his work in his native South Africa in 1999 with the Els Foundation, which assists young golfers from families of limited resources with education and playing opportunities. The foundation joined forces with the Fancourt Foundation in 2006.
Since his son's diagnosis at the age of 3, Els has worked to improve autism awareness. In a current public service announcement, Els notes the odds of winning the U.S. Open twice, which he did, are 1 in 1.2 billion. The odds of being diagnosed with autism is 1 in 110.
The Center will be in Palm Beach County, Fla. and will offer services to help students transition to college and adult life.
Els has said, "The mark of a true man is not what he takes in life, but what he gives back." He will be honored at the GWAA Annual Awards Dinner April 7 in Augusta, Ga.
Els is following Tiger Woods (2007), Greg Norman (2008) and Jack Nicklaus (2009) in receiving the Bartlett Award, and Golf Digest senior writer and chairman of the Bartlett committee Tim Rosaforte said Els "epitomizes the spirit of the award" and the work being done by professional golfers toward the betterment of society.
Other former Bartlett winners include the Louisiana trio of Hal Sutton, David Toms and Kelly Gibson, Val Skinner, Betsy King, Tom Watson, Payne Stewart, Tom Lehman, Arnold Palmer, Kenny Perry, Brad Faxon and Billy Andrade, Patty Berg and Andy North.