News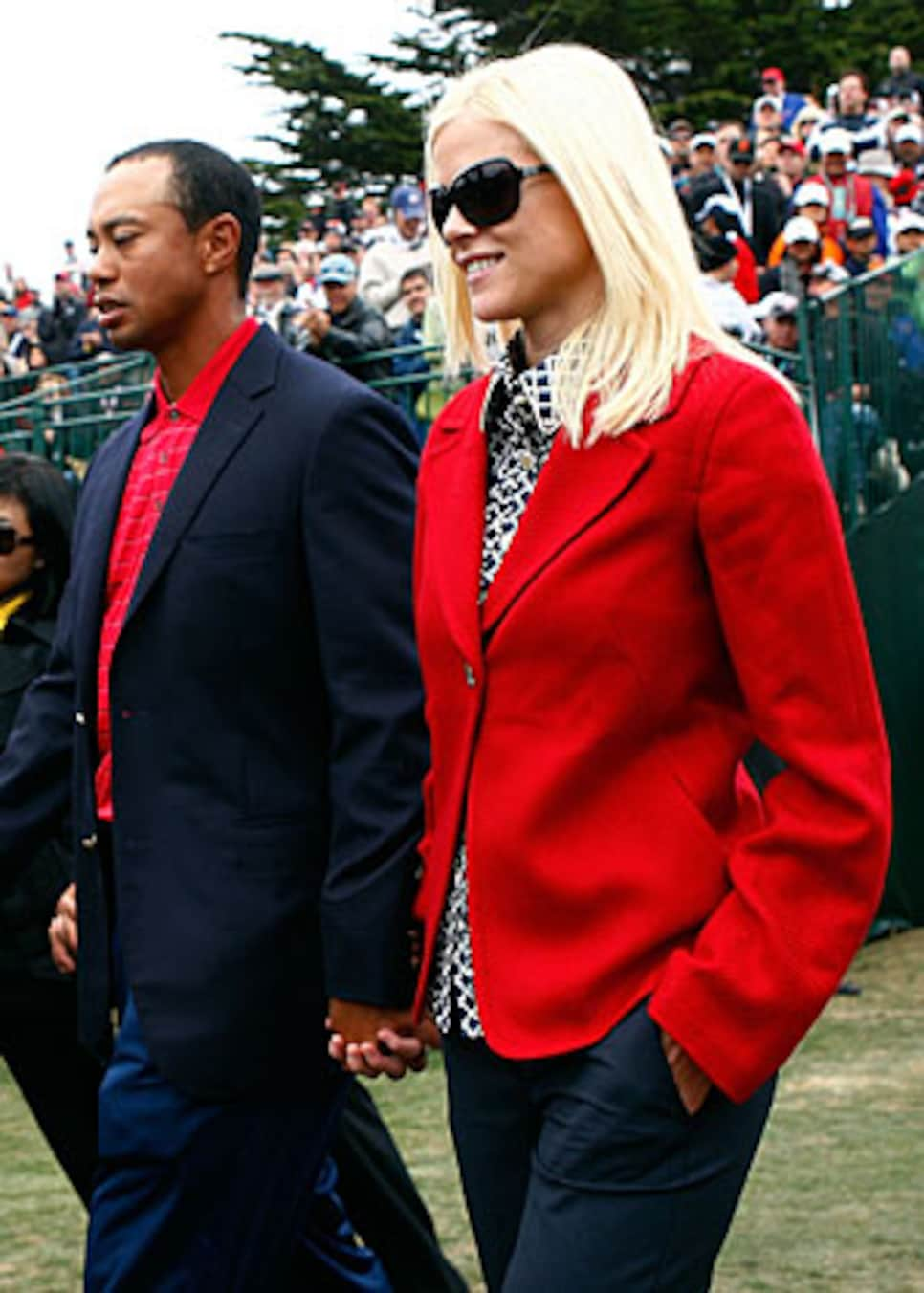 Woods and Nordegren had been married since 2004.
WINDERMERE, Fla. (AP) -- Tiger Woods' ex-wife Elin Nordegren said she has "been through hell" since her husband's infidelity surfaced but she never hit him, according to an interview released Wednesday.
Nordegren told People magazine she and Woods tried for months to reconcile the relationship. In the end, a marriage "without trust and love" wasn't good for anyone, she said.
On Thanksgiving night outside their Florida home, Woods drove his SUV over a fire hydrant and into a tree, setting off shocking revelations that sports' biggest star had been cheating on his wife through multiple affairs. The couple officially divorced Monday.
Nordegren told People that she never hit Woods on the night of the car crash.
"There was never any violence inside or outside our home," she said. "The speculation that I would have used a golf club to hit him is just truly ridiculous."
Nordegren said Woods left the house that night and when he didn't return after a while, she got worried and went to look for him. She said that's when she found him in the car.
"I did everything I could to get him out of the locked car," she said. "To think anything else is absolutely wrong."
The magazine said the interview was conducted over four visits lasting a total of 19 hours at the rented Windermere, Fla., home where she now lives with their two children.
"I've been through hell," said the Swedish-born Nordegren, who began losing her hair in the days before the divorce became final. "It's hard to think you have this life, and then all of a sudden -- was it a lie? You're struggling because it wasn't real. But I survived. It was hard, but it didn't kill me."
Asked about his ex-wife's interview, Woods said Wednesday, "I wish her the best in everything."
"You know, it's a sad time in our lives," he said from The Barclays golf tournament in New Jersey. "And we're looking forward in our lives and how we can help our kids the best way we possibly can. And that's the important thing."
While Nordegren said she has watched little TV in the last nine months, she sometimes followed the scandal on the Internet. Friends also kept her informed.
Nordegren credits therapy for helping her deal with her emotions and kept a journal. "I haven't gone back to read what I wrote in December and January; I'm afraid to," she said.
In an interview on NBC's "Today" show on Wednesday morning, People magazine reporter Sandra Sobieraj Westfall said Nordegren and her team approached the publication.
Westfall said Nordegren wanted people to know three things: she's not violent and never hit Woods; she had no idea this was going on; and it was a real marriage for her.
Claudia DiRomualdo, the magazine's public relations director, said no one received payment for the story.
Nordegren met Woods when she was working as a nanny for Swedish golfer Jesper Parnevik, and said she fell in love with him because they had "so much fun, and I felt safe with him." She called their Oct. 5, 2004, wedding in Barbados "one of the happiest days of my life." The couple have a 3-year-old daughter, Sam, and an 18-month-old son, Charlie.
In the interview, Nordegren would not disclose the amount of the divorce settlement but did say "money can't buy happiness or put my family back together."
"I'm so embarrassed that I never suspected - not a one. For the past 3½ years, when all this was going on, I was home a lot more with pregnancies, then the children and my school."
When she learned of Woods' infidelities, Nordegren said she felt "absolute shock and disbelief."
"I felt stupid as more things were revealed - how could I not have known anything?" Nordegren said. "The word betrayal isn't strong enough. I felt like my whole world had fallen apart. It seemed that my world as I thought it was had never existed. I felt embarrassed for having been so deceived. I felt betrayed by many people around me."
Woods, who was playing a pro-am round at The Barclays in Paramus, N.J., early Wednesday, hasn't commented on the couple's divorce.
Shortly before 8 a.m., when the People magazine story broke, his agent, Mark Steinberg, stepped outside the ropes of the first fairway and was on the phone for the next 10 minutes, as was Woods' spokesman, Glenn Greenspan.
Nordegren said she would eventually forgive Woods, but that she is still working on it. Though the two share custody of the children, he needs her permission to get past the guard in the gated community where she lives.
"Forgiveness takes time," she said. "It is the last step of the grieving process."
Meantime, Nordegren said she is excited to start the next chapter of her life and intends to stay in the U.S. with her children. She is studying for her bachelor's degree in psychology, and continued her schoolwork during the divorce proceedings.
She also said she has "not watched one minute of golf."