News
Quiros Wins, Tiger Falters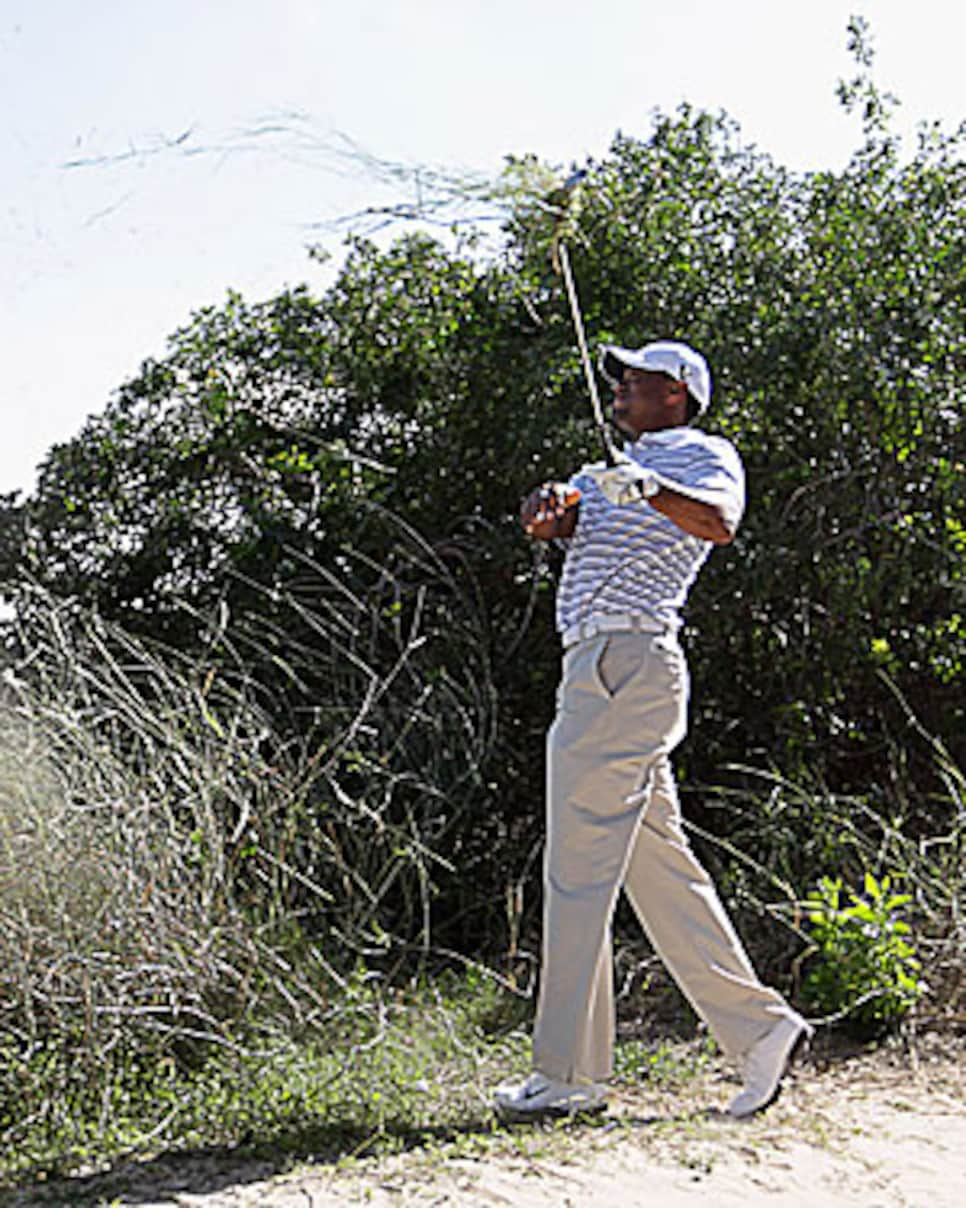 Woods had another disappointing weekend struggling to break par.
DUBAI, United Arab Emirates (AP) -- Tiger Woods stumbled in a bid for his first victory in 15 months Sunday, leaving Alvaro Quiros to win the Dubai Desert Classic with a wild round that included a hole-in-one and triple bogey.
The 70th-ranked Quiros shot a 68 to finish at 11-under 277, one stroke ahead of Anders Hansen of Denmark (70) and James Kingston of South Africa (67).
Woods had a 75 to end tied for 20th at 4-under 284.
"There were quite a few positives this week but a couple of glaring examples of what I need to work on," Woods said.
He entered the round one stroke off the lead, but for the second straight day he started with two bogeys in his first three holes. He managed to claw a shot back when his approach on the sixth ended up a few feet from the pin. However, Woods offset two birdies with two bogeys on the back nine and then double bogeyed the 18th.
"All my old feels (for the clubs) are out the window when the winds blow," he said. "That's the thing when you are making change. It's fine when the wind is not blowing. But when you have to hit a shot when the wind blows ... the new swing patterns get exposed."
Woods had trouble for much of the day with errant drives, and his putting -- which he credited with helping him shoot a 66 Friday -- also was shaky, leading to several missed birdie chances. He also showed flashes of anger, at one point yelling at photographers for disturbing his shot.
Woods, who won in Dubai in 2006 and 2008, is now in the longest victory drought of his career. His last title came at the Australian Masters in November 2009.
Coming into Sunday, it was still anyone's tournament and Woods was among the top players who seemed poised for victory. Northern Ireland's Rory McIlroy was tied at the top with Hansen, and a resurgent Sergio Garcia of Spain was tied with Woods and five others a shot back. Twenty players, including Kingston, were within three shots of the lead and many of them made runs Sunday.
Quiros struck early with an eagle on No. 2 and two birdies on the next three holes to take a three-shot lead. But just as dramatically, he fell back into a tie with Hansen and several others at 8 under when he triple bogeyed the eighth hole -- hitting an unplayable drive and then a second shot into a tree.
The Spaniard recovered quickly with a birdie on nine and then a dramatic hole-in-one on the 11th, hitting a wedge 145 yards that landed on the green and rolled into the cup to give him the lead.
But Hansen went back up by a stroke after he eagled the 13th and Quiros had a bogey on No. 14. Quiros regained the lead with a birdie on No. 16 and Hansen's bogey on 15. The Dane could have tied down the stretch, but missed several birdie putts, including a 30-footer on the 18th.
"It was incredible for you guys, outside but for me it was a difficult situation," Quiros said of his fifth European Tour victory. "The beginning of the day was perfect, but after the eighth hole I was shaken."
The hole-in-one restored his confidence.
"It was the perfect shot. Once a year, it happens," he said. "It was a big point in the round. After the 10th hole, I was second or third with some of the other guys and then after the hole-in-one I was the leader."
The 70th-ranked Hansen, who had his best finish since taking second at last year's Singapore Open, was left to rue his missed chances.
"Obviously, a little disappointed," he said. "I gave myself a chance after leading and got myself out of it early but brought myself back in it. Thought I played nicely but Alvaro played great."
Woods was not alone among the big names on the star-studded leaderboard to falter down the stretch.
Garcia, who lost the lead Saturday after two bogeys and a double bogey, had similar problems Sunday. He briefly tied for the lead after a birdie on the opening hole, but fell back with a bogey on the fifth and ended his chances on the ninth with a triple bogey after his ball ended up in the water. The Spaniard shot a 75 to finish with Woods among the group of eight tied for 20th.
McIlroy lost the lead early after opening with a bogey. He pulled two shots back with birdies on the third and 10th, but trailing by three shots, he fell back down the leaderboard after three consecutive bogeys on the back nine to finish with a 74 and in a tie for 10th.
Top-ranked Lee Westwood quietly made a run, moving to 8 under with four holes to play. But then he had a double-bogey on 17 when his ball got stuck in a tree and ended with a bogey on 18 to shoot 72 and finish in a tie for 15th at 5 under.
"That will piss you off pretty quickly, won't it, sticking it up a palm tree when you think you have a chance of winning," Westwood said.
But Westwood took several positives away from a weekend during which he initially struggled with distance and control and only started making his putts Sunday. It was an improvement over Qatar, where he missed the cut, and the Abu Dhabi Championship, where he finished 64th.
"Positives are I had a chance to win," Westwood said. "First long putt I've made all week was on the 14th. I haven't played my best, and had a chance with two holes to play to post a total that would have been probably half decent, I guess 10 under, if I could have birdied the last two holes. Plenty to take out of it."