News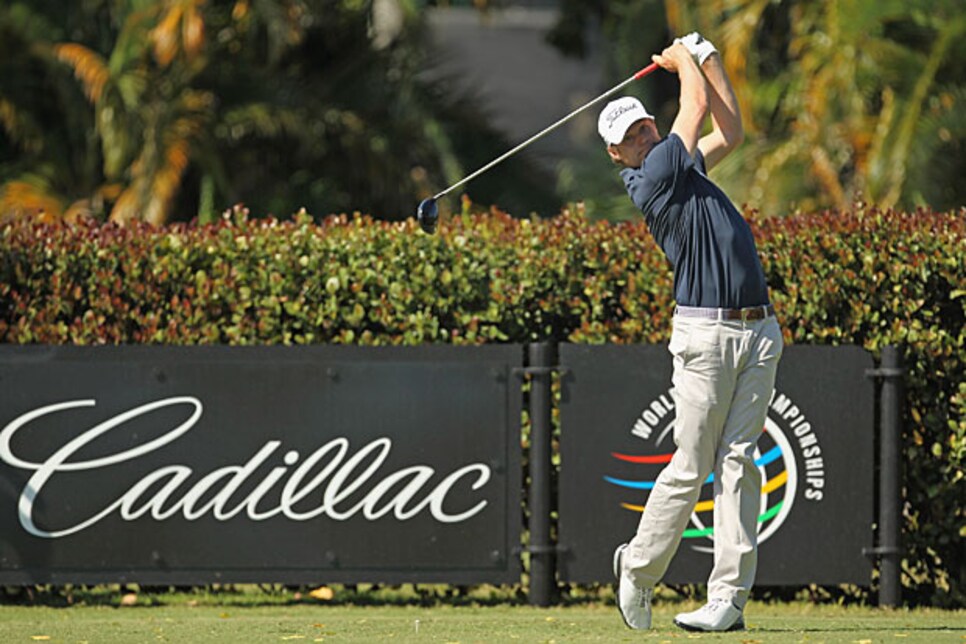 Watney has five top-10 finishes in five starts this year.
DORAL, Fla. (AP) -- Nick Watney had every reason to see nothing but trouble as he stood on the 18th tee at Doral, a tough tee shot in any circumstance, let alone with a World Golf Championship on the line.
History was hardly on his side Sunday at the Cadillac Championship.
Two years ago, he lost a duel against Phil Mickelson by one turn of the ball on his final putt. Only the day before, Watney lost focus and pulled his tee shot into the water to make double bogey and fall out of the lead.
Presented yet another chance, Watney seized it.
He belted his tee shot down the middle, fired an 8-iron over the corner of the lake and sank a 12-foot birdie putt for a two-shot victory over Dustin Johnson.
"I wasn't nervous," Watney said. "I really wanted to take care of business and to grasp this opportunity. I actually love that feeling; you don't get it too often. But I really love to be ... yeah, I guess I was a little nervous.
"But it's fun," he said when the laughter subsided. "That's why you play. I'm thinking, 'I have to be in this moment - right now - because this is all that counts.'"
He made it pay off with the biggest win of his career, one that puts him in the conversation of top American golfers.
Watney closed with a 5-under 67 with a birdie he felt was important, especially with Johnson behind him in the 18th fairway after a big drive of his own. Johnson hit a 9-iron that covered the flag and settled 8 feet away. Typical of his final round, he missed it and shot 71.
"I did everything I wanted to do, and just couldn't get it in the hole," Johnson said.
Butch Harmon is the swing coach for both of them, and he got choked up when he hugged Watney after his press conference. Harmon started working with Watney when he was a raw talent at Fresno State, hardly one of the elite in the game at the time.
Few players have such a pleasant disposition, so much that Watney's college buddies called him "Rube" after the character in "Major League II" because he was so polite to the seniors. Against Johnson and the rest of a world-class field, Watney showed no mercy.
"Top-10 finishes are nice," Watney said. "But winning is what counts out here, and that's how you're measured. To win this tournament against this field, it's a huge honor. I'm very excited. I'm very proud."
Francesco Molinari, who won the last World Golf Championship in stroke play last November in Shanghai, closed with a 69 and tied for third with Anders Hansen (67), who will move into the top 50 and now has to stay there the next two weeks to get into the Masters.
Tiger Woods matched his best score of the year with a 6-under 66, and when Rory McIlroy dunked his tee shot into the water on the 18th hole and made bogey, that enabled Woods to tie for 10th.
It was his first top 10 in an official PGA Tour event in nine months, dating to the U.S. Open.
"I want to win golf tournaments ... and I didn't do that this week," Woods said. "But I showed positive signs for the next time I play, which is a good thing."
Watney finished at 16-under 272 and earned $1.4 million, moving him closer to cracking the top 10 in the world ranking.
"All I can do is try to keep improving, hopefully keep winning tournaments," said Watney, who has yet to finish out of the top 10 this year. "The world rankings are what they are. But that's not why I play. I play for feelings like this."
Johnson opened with a birdie and went 12 straight pars before his next one, a fairway bunker shot that hit the flag and settled 2 feet away on the 14th. But he came undone on the 16th, going bunker-to-bunker for a bogey at the worst time.
"Nothing went in the hole all day," he said. "The 18th hole kind of sums it up."
That wasn't the case for Watney.
He opened with back-to-back birdies and took the outright lead with a birdie on the par-5 10th.
But he won this tournament with pars.
On the tough par-3 13th, Watney went well right into a bunker and blasted out weakly to 18 feet. Right when it looked as though he would drop a shot, he holed the par putt to keep his one-shot lead. On the next par-3, Watney went long into a bunker and faced a downhill shot. He was so careful that it barely crawled onto the fringe. He drained that one from 25 feet for par to stay tied.
"I feel like that's what happens when you win a golf tournament. You make some putts that you really need to," Watney said.
Johnson missed an 18-foot birdie putt on the 17th that would have tied Watney, and he figured his last chance was a birdie on the 18th, the toughest at Doral where only two players had made birdie in the final round.
Johnson was in the fairway after a 326-yard tee shot when he watched Watney make the putt.
"I kind of wanted to make him hole in order to tie," Watney said. "It worked out great. After yesterday, I couldn't have asked for a better ending."
It wasn't a bitter ending for Johnson. He spends a lot of time with Watney, sometimes in Las Vegas while working with Harmon, sometimes in practice rounds in some high-stake games.
"Nick is a good friend of mine," Johnson said. "I told him walking off that if I was going to lose to somebody, I was glad it was him. And he played really well. I didn't give him the tournament. He earned it. He played well."