The Loop
Golf Digest Podcast: Josh Scobee on being pro sports' best golfer, calling out Tiger Woods, and the pressures of kicking in the NFL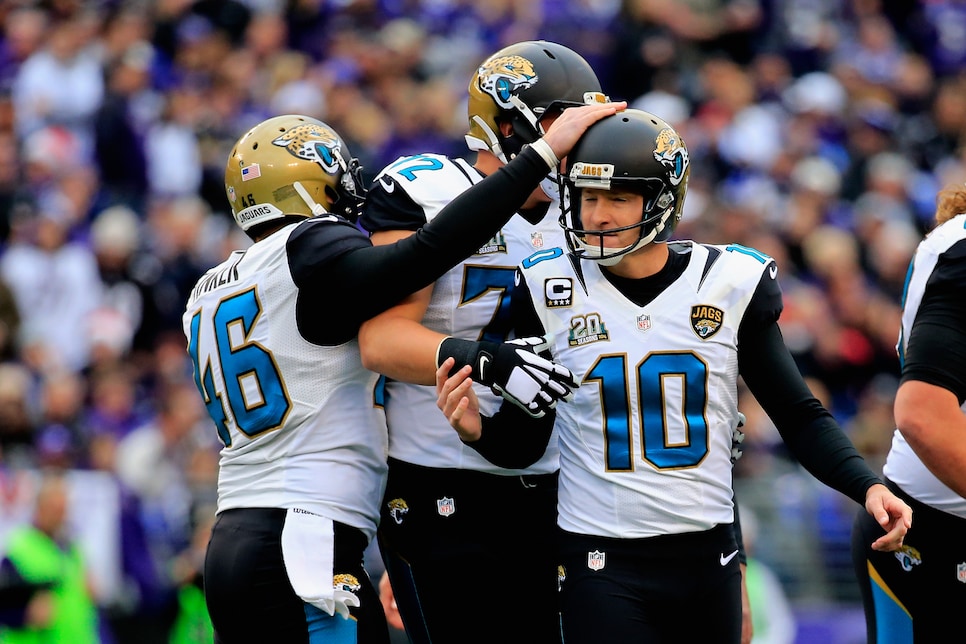 For more than a decade, Josh Scobee was one of the NFL's best kickers. For the past couple years, though, he took more pride from being the best golfer in pro sports.
"To be able to get to the top of a celebrity ranking in a different sport was pretty special to me," Scobee said. "So I was pretty proud of that, because golf takes a whole lot more hard work than kicking a ball does."
Scobee was honored as such in Golf Digest's 2015 ranking, which listed the Jacksonville Jaguar's all-time leading scorer as a plus-2.5 handicap. Turns out, the figure wasn't entirely accurate.
"That was wrong, actually," Scobee said. "I was a plus-3.5 at the time, but that's OK, I won't be angry."
Yep, Josh Scobee is legit golfer despite not seriously picking up the game until a few years into his NFL career. There's a common joke about people having a certain amount of time to make it on the senior tour, but in the case of Scobee, who turns 35 in June and recently hung up his cleats, it's not that crazy.
Scobee recently joined the Golf Digest podcast to talk about his future plans and goals, what it's like to have a football game come down to a final field goal attempt, and that time he called out Tiger Woods on Twitter. Here's a breakdown of our chat.
1:30 . . . His recent retirement after signing a one-day contract with Jacksonville
6:30 . . . Being No. 1 in Golf Digest's pro-athlete ranking
10:30 . . . His nominations for the NFL's new king of swing
16:05 . . . His infamous Twitter call-out of Tiger Woods
21:45 . . . His unlikely path to the NFL
25:45 . . . The magic number for NFL kickers
29:00 . . . Having an entire football game resting on your foot