The Loop
Golf Digest Podcast: Jim Furyk joins the chorus of pros unhappy with the USGA's handling of the rules issue at Oakmont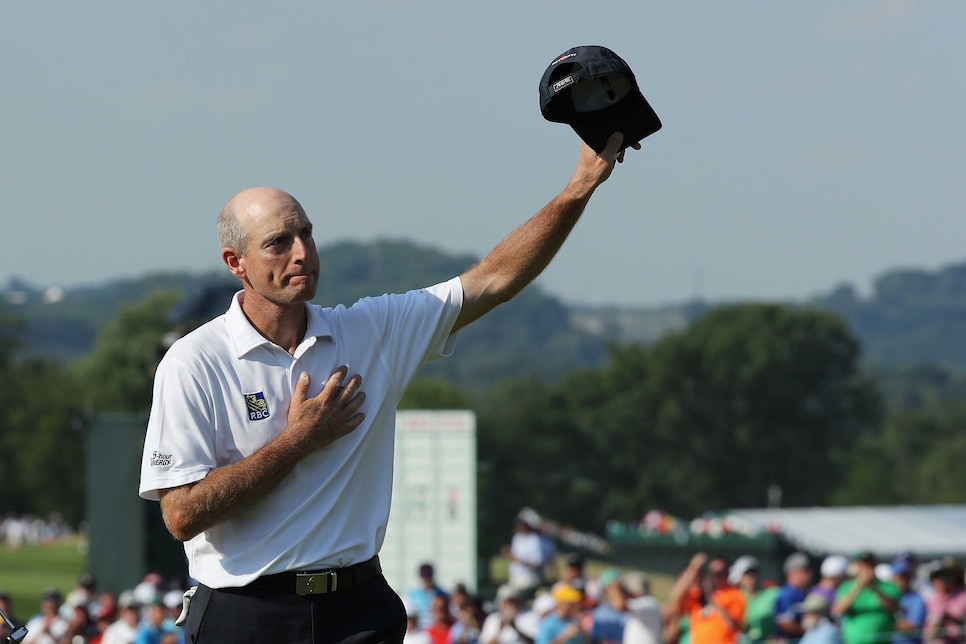 Why wasn't Jim Furyk on hand during the U.S. Open award ceremony Sunday at Oakmont Country Club? After shooting an impressive closing 66, the PGA Tour veteran and former U.S. Open champion finished tied for second, three strokes back of winner Dustin Johnson. But when USGA president Diane Murphy acknowledged the runners-up, only Shane Lowry and Scott Piercy were present on the 18th green.
As a guest on this week's Golf Digest Podcast, Furyk provides a logical explanation for his absence. Recall that Furyk had started the round 10 shots back of the leader, Lowry. And he closed out his impressive Sunday performance while the leading groups were just making the turn (the USGA hadn't even approached Johnson at this point and set in motion the wild storyline that played out Sunday). Furyk was T-6 when he finished playing and figured his one-under-par 279 total would not win or even get him into a playoff. So he cleared out his locker and headed to the airport when he got a call from his father, Mike, informing him of the craziness that was transpiring at Oakmont.
"He said you might not want to get too close to the airport or far away," Furyk said. "Being it would be a Monday playoff, I watched the last four holes from the Allegany County Airport with a number of different players."
During the podcast, Furyk joined the chorus of pros who were unhappy with the way the USGA handled the rules issue with Johnson. He also discussed the progress he's made since returning to action last month after having been undergoing surgery for a left wrist injury in February, what he did during the months away from the tour, and his role with the U.S. Ryder Cup team as the September match at Hazeltine National draws closer.